MHADA to invite bids early to avoid poll code of conduct
In a bid to avoid flouting the code of conduct before the upcoming elections, the Maharashtra Housing and Area Development Authority (MHADA) has decided to advertise its 3,000 homes in the city and Virar by February 15. But, the lottery would be held on May 31 as usual.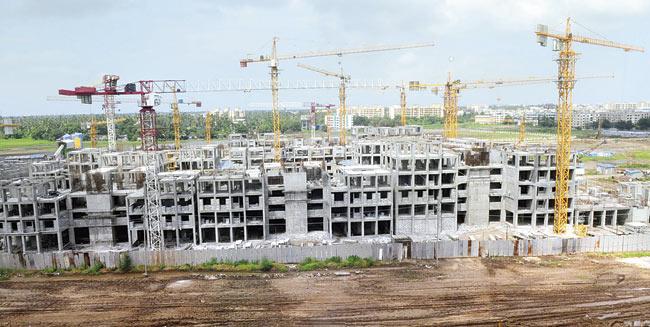 Site in Virar where the MHADA flats are being built. File Pic
"We have decided to initiate the process from February 15. The advertisements would be out by February 15 and the applications shall be accepted from April. As we will start the process before the elections, the code of conduct won't be applicable ," said N Sudhanshu, chief officer of MHADA's Mumbai board.
While location details for 1,000 city homes are awaited, the remaining 2,000 flats that belong to the Konkan board are in Virar. Satish Gavai, MHADA vice-president, said, "Our move is to beat the code of conduct and fulfil our promise of delivering the apartments."
Going hi-tech
MHADA has decided to make its entire staff computer savvy, as it would be taking the entire lottery system online. Starting February 3, MHADA would be accepting documents for 'lucky applicants' of the 2013 lottery online. These are people who weren't allotted homes earlier, but have now got a second chance to apply for them. A special room large enough for 20 people has been designed, where the IT department would teach its staff how to operate computers. "We will teach them basics and how to send an e-mail," said a senior IT official.