Policing touches new heights, kite-flying banned at Chowpatty
A ban on flying kites at Girgaum Chowpatty riled many enthusiasts that arrived at the beach to send their kites soaring into the sky yesterday. Cops said the decision to curb kite-flying was in compliance of a 2005 High Court order that restricts the activity on the beach, adding that they chose to enforce the ban to address the concerns over the injury threat to beachgoers, caused by the glass-coated thread (manjha).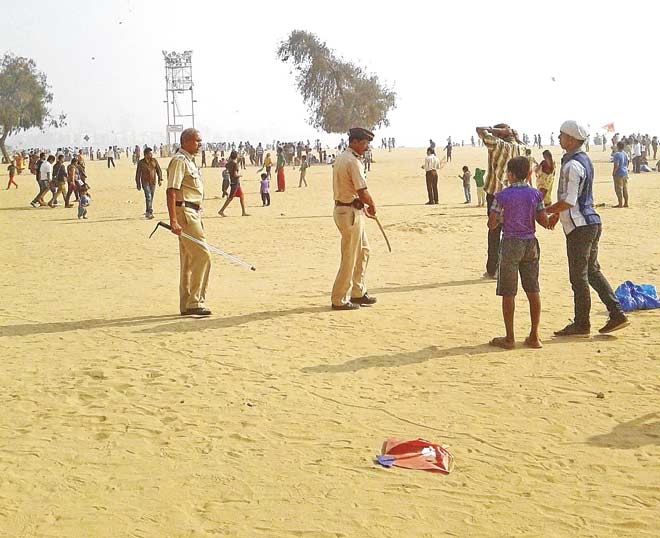 Police officers prevented people from flying their kites at the Girgaum Chowpatty in compliance of a 2005 HC order
But, kite-flyers who came from far-flung corners of the city expressed outrage at the restrictions, terming the move as ridiculous. Borivli resident Sunny Purohit said, "They [police] should not have stopped us from flying kites, as we had come from far-off places. They should have at least allowed us to fly kites for a stipulated time, but banning it completely is outrageous. It is such a disappointment and this is the first time I have seen it happening at Chowpatty."
Police officers patrolling the beach, however, maintained that they were only following the orders from their superiors. After stopping several people with kites at the entry points, the cops scoured the beach for kite-flyers and asked them to pack up their stuff. Dharmesh Baria, a resident of Nalasopara, who had come with his family, said, "This is very sad and disappointing, as we have been coming to the beach for many years to celebrate the festival. Even last year, they had stopped us, but only towards the end of the day."
Along with the patrolling, there were continuous announcements on the loudspeaker asking people not to fly kites, warning them of strict action. The police, however, was finding it very difficult to patrol, as the crowds began to swell in the afternoon. "There have been incidents in the past when kite-flyers have intentionally hurt members of the public taking a stroll on the beach.
It was difficult to prevent all of them from flying kites yesterday, due to a manpower shortage. We were only following orders from the authorities to stop people from flying kites at Chowpatty," said a police officer, who was on patrol duty at the beach, on condition of anonymity. Ajit Surve, senior police inspector, D B Marg police station under whose jurisdiction Chowpatty falls, said, "This is not a playground, it is a beach and according to the 2005 High Court order, only five events are allowed here and nothing else. Hence, we were stopping people from flying kites there."
Kite-flying claims two lives in Nagpur
The kite flying festival snuffed out the lives of two men in Nagpur yesterday. Rahul Vishwananthan (26) was on his way to office when a thread of the kite slit his throat. The incident took place at 10.30 am at Bharatmata Nagar, after which he was rushed to a nearby government hospital where he was declared dead on arrival by the doctors. "The relatives of the victim were in shock after we informed them about the incident," said a police official from Sakkardara police station, where the case was registered. Around 2.30 pm, 35-year-old Deepak Kudu Nagose lost his balance while flying a kite and fell from the fourth floor of a building. Police said Nagose died on the spot.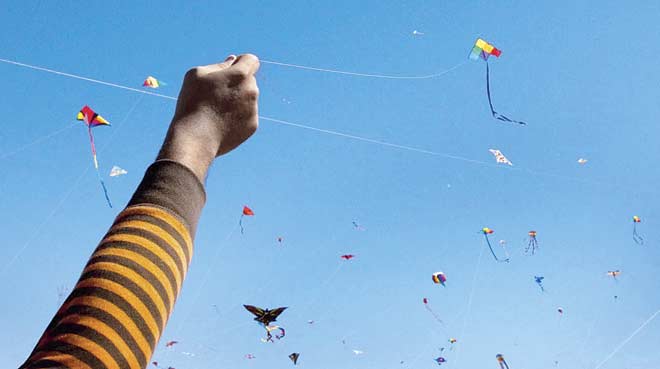 4 birds die, 10 hurt during kite festival
Fourteen birds were reportedly rushed to the Bombay Society for the Prevention of Cruelty of Animals (BSPCA) hospital in Parel, after they were injured by the manjha yesterday. Eight pigeons, two egrets, three kites and a flamingo were taken to the animal hospital, out of which three pigeons and an egret did not survive. The remaining 10 birds were under going treatment and doctors said they would take time to recover. "Most of them have injured their wings and legs. Only one pigeon has injured its neck," said Dr Mayur Dangal, manager, BSPCA.
Bird-lovers treat 23 injured birds
A group of animal lovers based in south Mumbai treated 23 birds that sustained injuries during the kite flying festival yesterday. The injured winged creatures included 22 pigeons and one eagle that got entangled in the manjha. The eagle and eight pigeons later succumbed to their injuries.