Shiv Sena workers litter grounds, put up several illegal posters
While the Shiv Sena is at the helm of affairs at the BMC, which is the city's civic agency, its party workers showed a shocking disregard for civic etiquette at a rally held in Chunabhatti yesterday.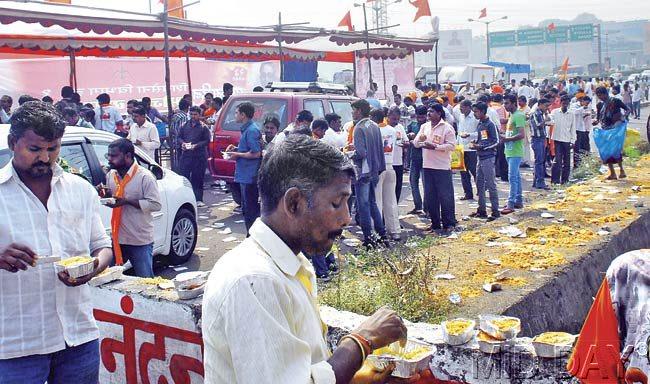 Paper plates and thermocol glasses used by Sena supporters during the rally were strewn all around the ground, transforming the ground into a waste bin. Pic/Sayed Sameer Abedi
The party workers had made arrangements for food on the side of the roads nearby, and workers littered with impunity, throwing the paper plates and plastic and thermocol glasses after their meals. While it is not mandatory to take BMC's permission to distribute food in a private ground, the BMC's Solid Waste Management (SWM) department will be imposing a fine on the organisers for the littering.
Neither had the organisers taken permission for the banners that they put up for the rally all the way from Sion to the Somaiya ground. It is mandatory to take permission for the same from the Sena-run BMC. According to its own rules, the BMC is expected to extract fines for illegal banners.
One of the BMC officers said, requesting anonymity, "There are a lot of issues. For all the waste and littering, a minimum fine of Rs 1,000 will be imposed for every 200 people present at the rally. The waste that is collected will ultimately reach BMC's SWM department and they will have a tough time getting rid of it."
Assistant Municipal Commissioner Alka Sasane said, "The rally took place on a private ground, for which the BMC is not responsible. The BMC did not grant any permission, as they are taken from the owners of the private ground. However, the banners will be removed, as there was no permission granted for any banners to be put up. We cannot fine anyone as there is no trace of any individual who has put up these banners. We will clear the defacement of the city."