A film that is touted as a porn-com, one wasn't really expecting many signs of intelligence and 'Kyaa Kool Hain Hum 3' doesn't disappoint in that matter. What the movie also offers in addition to expected levels of crass and crudity is a total absence of logic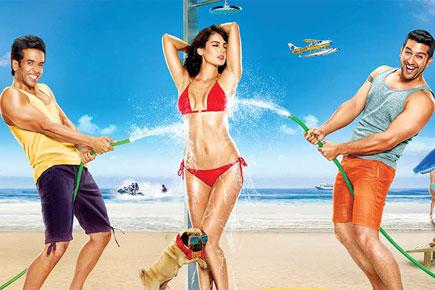 'Kyaa Kool Hain Hum 3' - Movie Review
'Kyaa Kool Hain Hum 3'
A; Sex comedy
Director: Umesh Ghadge
Cast: Tusshar Kapoor, Aftab Shivdasani, Mandana Karimi, Gizele Thakral, Claudia Ciesla, Krushna Abhishek
Rating: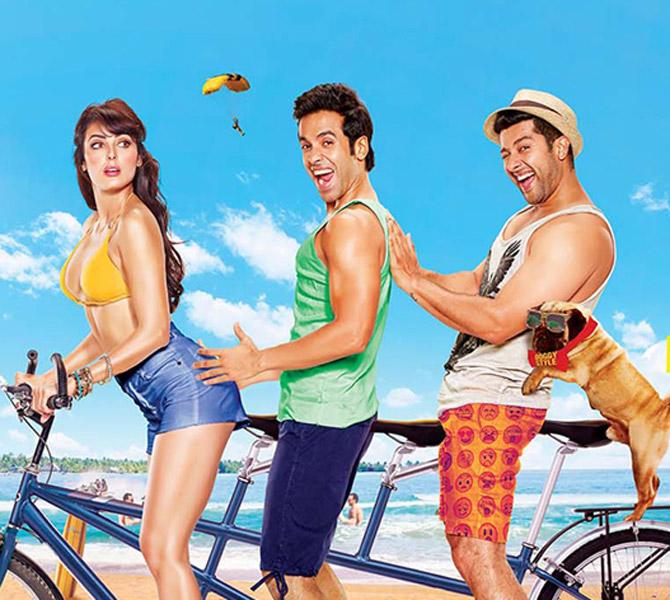 'Kyaa Kool Hain Hum 3' poster. Pic/Santa Banta
ADVERTISEMENT
There is a scene in 'Kyaa Kool Hai Hum 3' where most characters of the film are stuck in a quick sand area, wailing for help and struggling to get out. Watching the film was more or less a similar kind of experience.
A film that is touted as a porn-com, one wasn't really expecting many signs of intelligence and it doesn't disappoint in that matter. What the movie also offers in addition to expected levels of crass and crudity is a total absence of logic or semblance.
Tusshar Kapoor and Aftab Shivdasani play friends, who end up working as 'sexy' porn stars in Thailand (Told you not to look for logic). Their friend (Krushna Abhishek) is the producer/director of the said sex films and his other cast include two ever-orgasming young women (Claudia Ciesla and a pair of big lips) and two random men. While one is trying to figure out why anyone would pay to watch any of them indulging in sexual acts, in comes the heroine (Mandana Karimi), who is from a 'sanskari' family and her second name unimaginatively is Karjatya (inspired by Barjatya if you still haven't got the hint). Now, Tusshar is in love with the Karjatya chick and he needs a family to impress her father. So, the porn stars come together to play his fake family and, as they say, rest is no mystery.
There are a few rare scenes where popular Bollywood films are spoofed to fit into porn style and they manage to raise a chuckle or two. But apart from those few scenes, this film is unfunny and unimaginative.
The inane, supposedly naughty dialogues are outright embarrassing, and watching actors like Sushmita Mukherjee and Darshan Jariwala mouthing them makes it worse.
It is tragic that Bollywood sex comedies are still stuck in a pre-puberty stage and are still amusing itself with 'popat' jokes.