'Tanu Weds Manu Returns' is a Kangana Ranaut vehicle. The film takes off from where the original ended and though Kangana has grown by over the 5 years since, the same cannot be said about the sequel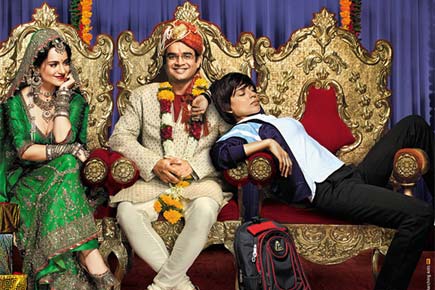 Tanu Weds Manu Returns review
'Tanu Weds Manu Returns'
U/A; Romantic/Comedy
Director: Anand L. Rai
Cast: Kangana Ranaut, R. Madhavan, Jimmy Sheirgill, Deepak Dobriyal, Eijaz Khan, Swara Bhaskar
Rating: 

Once in a while, an actor overpowers the movie, and Kangana Ranaut does that with this one. It takes a lot of effort to take your eyes off this girl, who dazzles with dual performances, as she plays two dramatically diagonal roles — one as the ebullient, effervescent, free spirited Tanu and the other as the rustic Haryanvi, budding athlete Kusum. As she moves from one role to another with such incredible ease, ironically making it increasingly difficult for you to believe that it is the same actor who's played the two roles. And that is a huge achievement.
ADVERTISEMENT
Photos: Screening of 'Tanu Weds Manu Returns'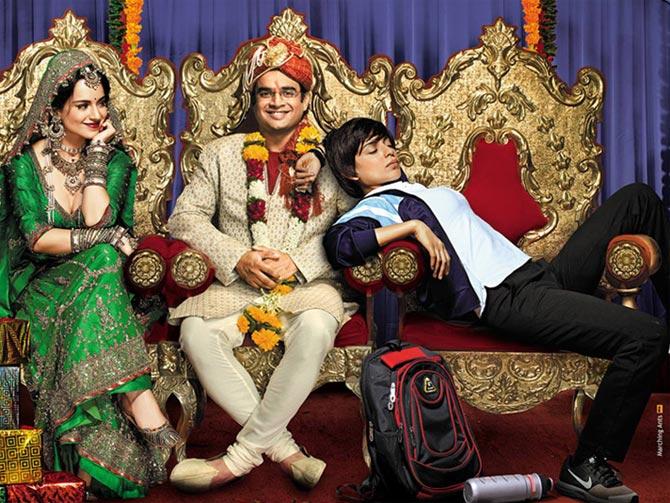 'Tanu Weds Manu Returns' takes off from where the original 'Tanu Weds Manu' ended five years ago, and the 'mismatched' couple (Kangana and R Madhavan) is already four years into their marriage with this one. To his credit, director Aanand L Rai and writer Himanshu Sharma choose a rarely touched upon issue — how marriages get into the danger of rotting and dying when expectations get bigger than reality, how the very qualities that one finds appealing in the courtship stage becomes irritating after too much familiarity. 
Also read: Bollywood celebs give a thumbs up to 'Tanu Weds Manu Returns'
Four years into their marriage, Tanu refuses to grow up while Manu has grown up and grown wider too. Their marriage is crumbling as Tanu now finds Manu too boring and he thinks she is too demanding. Tanu moves back to Kanpur and tries living her old life with gay abandon with admirers teeming around her, and in the meanwhile, Manu falls in love with her lookalike, Kusum.
The film shockingly starts with a rather tacky mental hospital scene and just when your heart starts sinking at the travesty of the team, it soon gets back into the familiar, feel-good mode and life is good again.
After Kangana Ranaut, the best thing about this film is the dialogues. Highly original and consistently connected to the roots and the ambience that it is used in, the more often than not hilarious lines add a lot of value to this largely delightful film.
There are some grouses though. First, Rai, who's by now proved that he's fantastic at dealing with emotions and relationships, only skims over the issue at hand — a breaking marriage. Tanu's frustration over the dead marriage seems more gimmicky than real, as the audience is not made privy to the situations that led to the cracks in their relationship. Second, while the original seemed effortlessly agreeable, this one seems a bit forced at times. The second half dragged a bit leading to a rather predictable climax and a tad underwhelming experience.
If you get the chance to take your eyes off Kangana Ranaut, you notice that the other actors in the periphery including Madhavan, Swara Bhaskar and others lend good support. Madhavan deserves a special mention as it takes a decent actor like him to know when to underplay to accommodate the two strong women characters he's dealing with. Deepak Dobriyal hams at places, but otherwise makes a decent effort.
Even though Kangana Ranaut has evidently grown by leaps and bounds in confidence over the five years since she starred in the original, the same can not be said about the sequel.