Special movie screenings including Madhuri Dixit starrer Bucket List, Being Bhaijaan, For the love of a Man and An Insignificant Man enthral the audience
Tejas Deoskar at 9th Jagran Film Festival
In-progression, the 9th edition of the Jagran Film Festival received a wide audience response as they continue to watch the whole variety of movies telecasted from across the world, of different genres. The third-day highlights included an interactive session with Director-Writer Tejas Deoskar. He spoke in volumes on the Jagran Film Festival initiative, while engaging his audience on his successful professional stint in Marathi Cinema. Among other celebrities was also Director of 'Ashwatthama', Pushpendra Singh.
Day 3 of JFF saw special screenings of films like Madhuri Dixit starrer 'Bucket List'. It garnered the same attention and enthusiasm from the audience as it was when it was released on celluloid. The event also showcased a special screening of 'Being Bhaijaan', a documentary on the heartthrob of Bollywood, Salman Khan. Followed by a screening of 'For the love of a Man', a documentary on the legendary actor, Rajnikanth. The festival also showcased Khushboo Ranka & Vinay Ranka's 'An Insignificant Man' and Shoojit Sircar's 'October'.
ADVERTISEMENT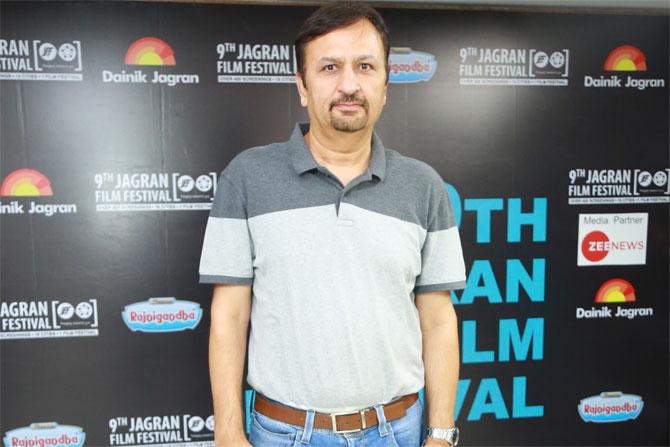 Pushpendra Singh at 9th Jagran Film Festival
The 2018 edition of the Jagran Film Festival that will connect 18 cities and showcase over 400 films will commence in Delhi and tour to other Indian cities like Kanpur, Lucknow, Allahabad, Varanasi, Patna, Dehradun, Ranchi, Jamshedpur, Bhopal, Indore, Gorakhpur, Agra, Ludhiana, Hissar, Meerut and Raipur before concluding in Mumbai in September.
• Dates: Friday, 29th June - Tuesday, 3rd July
• Venue: Siri Fort Auditorium, Delhi
• Time: 10.00 am onwards
• Registrations: www.jff.co.in
Catch up on all the latest entertainment news and gossip here. Also download the new mid-day Android and iOS apps to get latest updates