Known to be reticent, naturally shying away from public glare, one of India's finest film actors opens up on her sabbaticals, cinema, and the showbiz sense of humour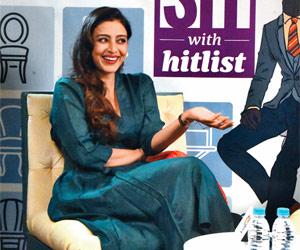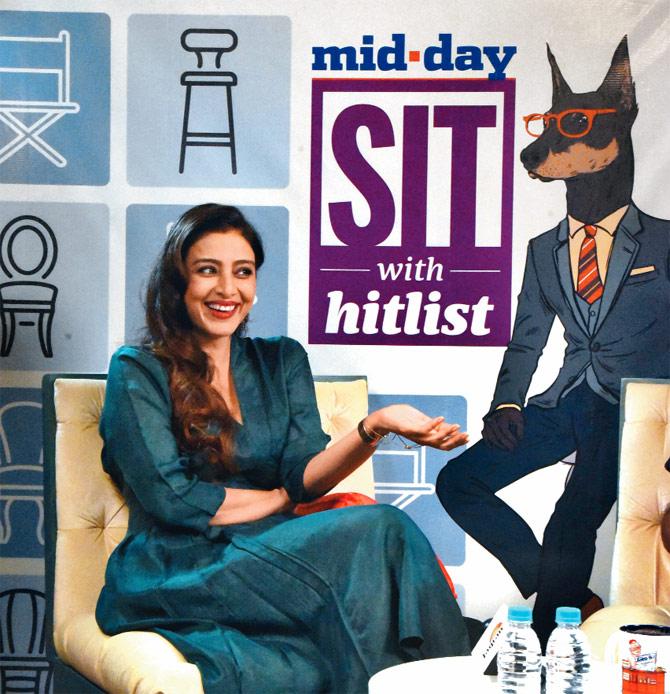 Tabu at the third edition of Sit With Hitlist, before a live audience, at the mid-day office. Pics/Nimesh Dave
It's rather easy to hold a free-wheeling conversation with Tabu. Here's why. She's been around for over three decades, having done over 80 films, which would mean, a fair number of post-release rounds of press interviews across news/entertainment media. And yet, it's incredible how little we know about her. The mystique, aura, whether planned or not, remains. And we can actually begin the chat with the most basic query, on her name. Hence the first question, and similar ones that follow!
Excerpts from the conversation
You're Tabassum Fatima Hashmi, which is a beautiful name. How and why did you choose to call yourself Tabu in the first place?
It's my pet name.
Sure, but it's like Govinda calling himself Chi Chi on screen.
Tabu works though, you think? When I was working on my first film, as a child artiste [in Hum Naujawan, 1985], Dev [Anand] Saab thought Tabu was beautiful too, and that I should adopt it as my screen name, and that just never changed. Nobody had ever called me Tabassum, except for my teachers and school friends. And I came to Bombay right after school.
A common perception is that you started out as an outsider [from Hyderabad] to showbiz, Bombay. Goldie Anand's wife was your mom's friend. Shabana Azmi's your aunt [mum's first cousin]. You've worked with Dev Anand. Shekhar Kapur wished to cast you as a debuting lead [Shekhar himself is Dev Anand's nephew]. Clearly you're an insider!
That's right. I think the impression of me being an 'outsider' comes from the fact that I never intended to be in the movies. I showed up here by circumstance, accident, you can say. I went back to school after finishing my first film, and I never wanted to come back.
Were you holidaying in Bombay when you got your first part?
We used to come every summer for our holidays, because my mum's older brother, Ishaan Arya, was a DoP, he shot Garam Hawa [1973], Bazaar [1982]. I grew up with his sons Sameer and Sagar, we were like siblings. My sister [Farah] and I were at Dev Saab's office, where he was taking a screen test, and because he thought she was so beautiful, he took her screen test as well. I did the movie. We forgot her screen test. She was 16.
And one day, we got a call from Yash Chopra. He told my mother about wanting to cast my sister [for the film Faasle, 1985], since Dev Saab had showed him her screen test. My mum didn't know who Yash Chopra was, she checked with my aunt [Shabana], everyone was really excited. This is how my sister and mom moved to Bombay, and I was too attached to Hyderabad and my school, so I stayed back with my aunt for three years. By then my sister had done a thousand films, and become a big star. And due to my sister, there was natural curiosity in the industry if I'd like to act in films too.
Shekhar [Kapur] Uncle saw me, said I had to debut in [his film] Prem, which I said no to. He insisted that I do just this one film, and that he would then send me abroad for further studies. Which never happened. In fact, I did the film, and he ran away [from the project].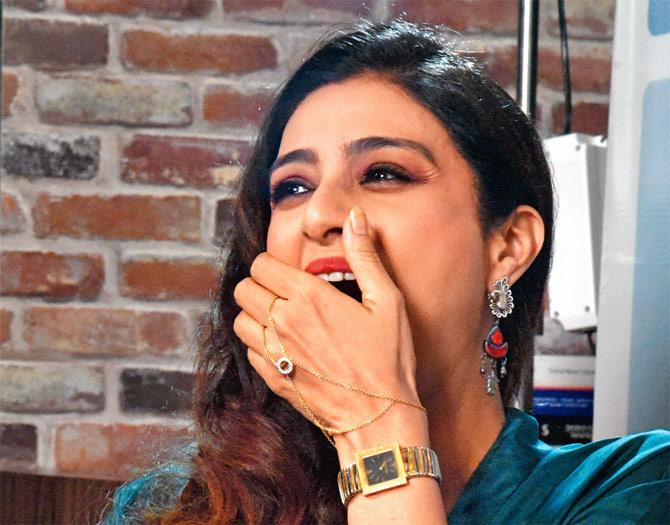 That was a massive debut.
Yeah, it was huge.
Rather early in your career Gulzar called you a combination of Nutan, Meena Kumari and Nargis! Anyone would fall off their chair hearing that.
(Long pause) I don't know what to say, I try and see it from the outside, and then hope to do my job well.
And ideally stay from the traps of showbiz?
My life is [in the] showbiz, it isn't so separate from my work. Yet, regardless of my profession, I would still remain the same person — someone whose internal life, is distinct from the madness outside. And I've always been like this, through school, college. It takes me a long time to open up with people, media, work-associates… It's just a personality type. I don't have the bandwidth to be out there, be everything, to everyone.
You're more the 'board-game night with close friends' kinda person?
I do that. I essentially like being with people I can laugh a lot with. And people in the movies [unlike in many other professions] generally have a sense of humour. There's a common thread of jokes that exist in the film industry, with a very specific language.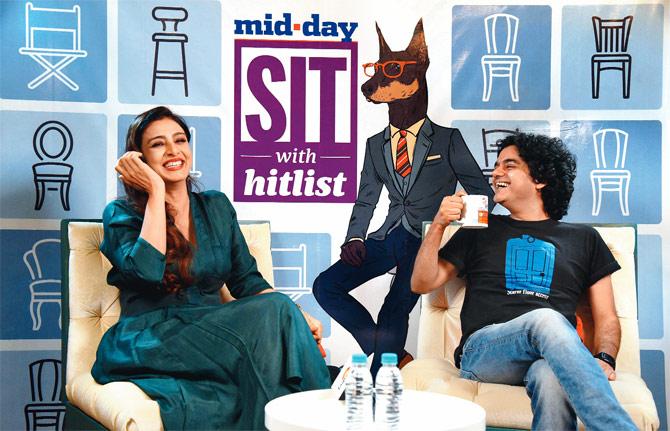 Give us an example.
"'Cut to' usne aise bol diya." "Maine aise bola aur woh 'stop block' mein gayab ho gaya!" This is still '90s, but there are really specific terms. "Arrey yar, yeh toh bahut bada twist aa gaya teri kahani mein!" "Yar, kya 'game' kiya usne girlfriend ki life mein!" "Uski band baj gayi…"
What I find amazing is how film critics go gaga analysing your performances, sub-text in your work, etc. But when you're asked about films that you loved doing, you say Saajan Chale Sasural [1996], Biwi No. 1 [1999], and in a recent interview you said Jaal: The Trap [2003]. Have not even seen Jaal: The Trap, what's this finest movie you've ever made?
(Laughs) Don't exaggerate, I didn't say Jaal: The Trap was the finest film ever! I think it was a great role for me to do, back in 2000, so early in my career, nobody had cast me like that. Mere role mein twist aa gaya! You just haven't seen the movie, and so you don't know. Didn't it look like I was having fun in Biwi No. 1?
In Saajan Chale Sasural, the audience had fun, I had fun, the producers made money, it was a fun experience! It was a treat to watch Govinda take a scene to other levels. On paper, it would look like, okay, this is what's going to happen, and it's funny. But you would never be able to imagine the flavour Govinda would bring to a scene, turning it into something so tasty. And that's his forté.
I know someone who hung out with you on the sets of Chandni Bar [2001]. What amazed him is that he'd be chatting with you, you'd go off, do an intense scene, and just come back to continue the chat. Does that switching on-off come naturally to you?
Gulzar Saab also used to say the same thing. Actually, I don't know, I've really not been able to decode the process of acting. I've tried. I still don't think I'd be able to articulate it [the process] into a few lines or paragraph. At all times, there've too many factors determining what I was doing, or how I was doing it — the inspirations, people I was surrounded by, what kind of access I had regarding a role.
I also don't think you can carry around what you've given in a shot, because there's a finish point with 'cut', and a beginning with 'action'. And I don't know what happens between the 'action' and 'cut'. It's just in front of the camera, after which the moment is over.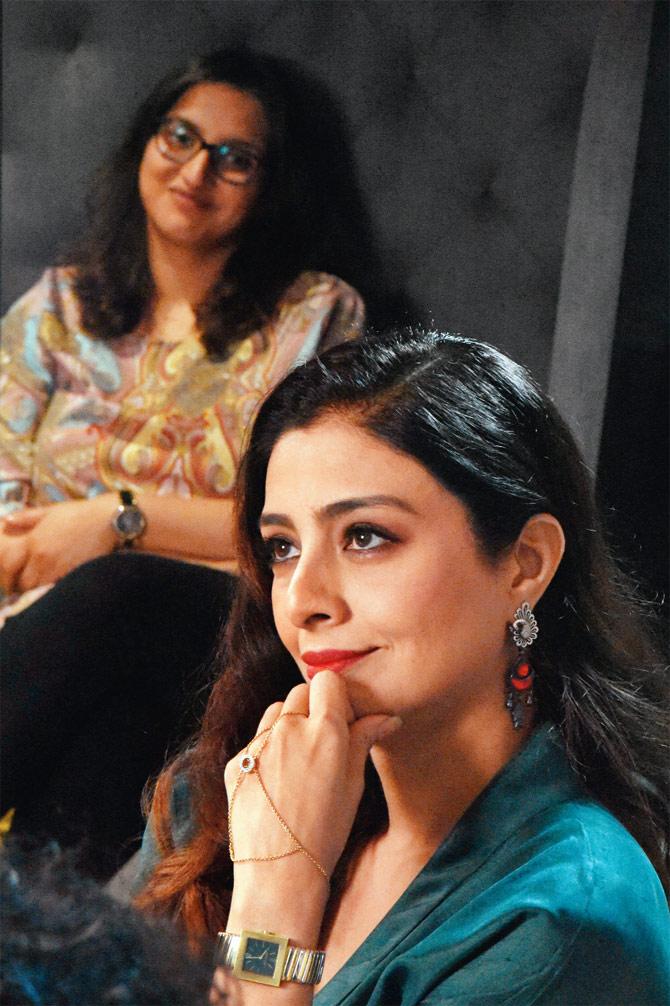 Do you rehearse for that moment though?
The lines and movement, of course, you have to rehearse. But I really don't know what'll happen in the 'take'. Even the director might give you different instructions in subsequent takes.I remember Ang [Lee] doing that [for Life Of Pi, 2012]. He would try the same shot with different interpretations to arrive at what he wants from a scene. For different actors, different kinds of briefs work. I don't know what kind of actor I am. Only someone who's observed me may be able to answer this. Also I've come to the conclusion that there is no right or wrong way of doing anything in life — as people as well, we're evolving.
In action sequences, you obviously have to rehearse a lot. You can't just show up and slap someone. Otherwise, sometimes you just lose it when you rehearse a lot, and at other times, you can only get it right once you rehearse a lot.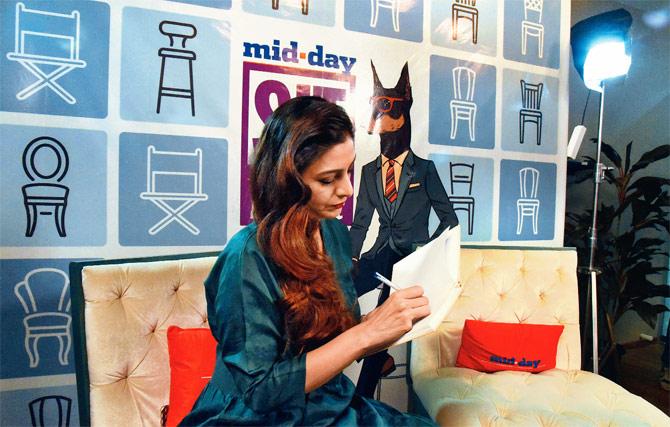 Can you recall a character that you rehearsed extensively for?
You're taking my exam.
Okay, did you rehearse a lot for Ashima's role in The Namesake [2006]?
We just had one reading in New York. I got into the film just two weeks before the shoot's start, which took me by surprise, and I was so not prepared for it. To my advantage, I had already done a film in Bangla [Abar Aranye, 2003], with Gautam [Ghose] Da, which I had dubbed myself. I had a certain understanding of the culture, people, and place — that really helped a lot during The Namesake. I also had a lot of friends to refer to, especially since there was no dubbing involved. The dialect was Bengali accented English specific to someone, who's lived in New York from 1977-2005!
But The Namesake was an experience that changed a lot in me. There are milestones that you can look back on, and this film would be one of them. I was in America and didn't know anyone except Irrfan [Khan]. The entire unit was American — no one making any filmy jokes! I lived in an apartment in New York, and the first 10 days were devastating. It was cold, snowing, my sisters were in California and Chicago, and I would call them and cry, because I could not get my favourite brand of corn flakes in the supermarket. I would ask them: How come the tea doesn't taste like in California? This was my struggle.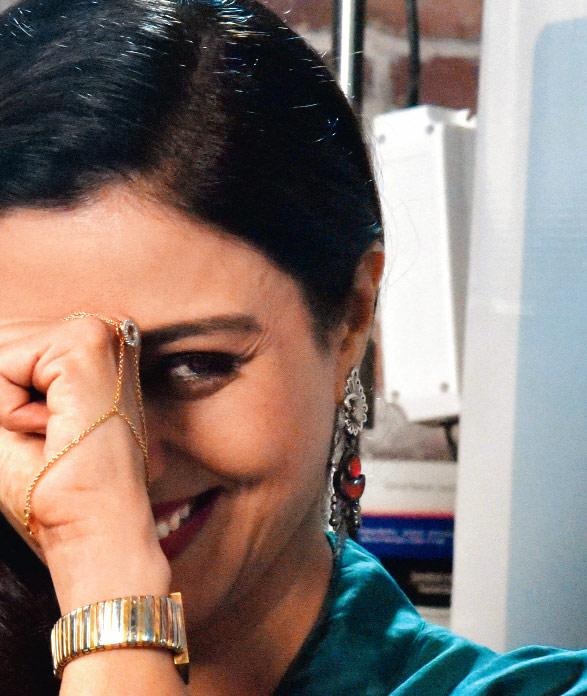 Those are serious first world problems. We feel sorry for you.
No, I thought it would've been better if I could bring my team along. But once we started shoot, came into a routine, it turned out to be the most valuable experience of my life. I made friends. We worked five days a week. I also learnt the way America approaches cinema, acting, style of shooting, contracts. The Screen Actors' Guild [reps] would come and check on us. I still get residuals from The Namesake, almost twice or thrice a year, in dollars!

Every time we watch The Namesake on TV, something goes in your pocket.
Yes, you are paying me. That's the way it should be, and I really respect that.

What are the other milestones you can think of?
From the beginning? Then it has to be Maachis [1996], Astitva [2000], Hu Tu Tu [1999], Chandni Bar [2001], and The Namesake, because of geographical exploration. Then Life Of Pi, and Cheeni Kum [2007], in a very nice way.

You've said that of all the characters, the one in Cheeni Kum has been the closest to you. What do you mean by that?
That is one character that I can identify with, in the sense that I could be that person.
Means you could fall for Amitabh Bachchan?
Of course. That is why I did the movie! I could totally fall for somebody like that, but has to be exactly like him. I could totally understand my character's headspace, and I guess that's why R Balki wrote the film keeping me in mind. Coming back to milestones: Haider [2014], and Maqbool [2003], definitely.

The first milestone for you, one imagines, would be Maachis, and your association with Gulzar. The two of you share a fabulous relationship. How did you first meet?
I still don't know what made him [Gulzar] cast me in Maachis, and I still ask him that. At the time, my song, Ruk Ruk Ruk [from Vijaypath, 1994] and trailers of Pehla Pehla Pyar were on air — full-on dancing. But he still does not answer my question. It is now that I understand that the director, and the cinematographer, has a completely different perspective on an actor. They have an eye.
Vishal [Bhardwaj] has had the ability to see me in a very different light. I was caught off guard, when he approached me with Maqbool. It was like a drug to feel that someone looks at you like that. He could see the deep layers of madness, sexuality, lust. I felt completely bare with him. With Maqbool and Haider, I saw and met myself in so many different ways than I had ever known.

So Gulzar saw you in the promos of Pehla Pehla Pyar and called you up?
He called up Shabana aunty. I said, of course, I'd give anything to be a part of his film. He's made films like Mausam [1975] and Angoor [1982] in which his characters are so real, and still they are the leads. So I went to meet him at his house. I always narrate this incident, as it is the strongest memory that I have: So he had a cold, and he kept sniffing into his handkerchief, I went and sat. We both just sat for an hour. And I was thinking, "Kya bolenge yeh mujhe. Main kya jawaab doongi [What'll he say]." I was completely tongue-tied.

He's sitting across you, sniffing, and you are just sitting too. I'm sure he must be reading something.
I think he was writing something, and I kept waiting. After an hour, I said, "Achha Gulzar saab." And he was like, "Achha thik hai." It was his way of saying that you are doing the film. Two-three days later, he handed me the script, which was such an 'Oh My God' moment. It was the first time I was holding a script.

First time holding a script. What are you saying?
Yes, after Prem.

Vijaypath didn't have a script? They just told you, 'Aap madam udhar se ayenge, or Ruk Ruk Ruk karenge'?
Aise dance karne ka, aur romace karne ka. I was like, "Yay, very good. Feels nice to dress up. Ajay Devgn is my friend [Laughs]. Outdoor main mazaa karenge [will have fun]. Pehla Pehla Pyar was shot in Switzerland, so I was jumping with joy.

You're not making this up.
No, I was just too happy to be on sets. Chintuji [Rishi Kapoor] would offer me chocolate. Later he would instruct, "Seedhe khade reh [stand straight]!" But then Gulzaar Saab happened. So he read the script to Chandrachur Singh, and me. I didn't understand what I was doing in the film. I couldn't understand anything.
Were you intimidated?
The subject was so heavy, and deeply political, which you would get now. You can figure what the film meant to him, and what it was saying. Gulzaar Saab was obviously there like a father-figure, and he made it feel like a picnic. Then of course, my relationship with Gulzar Saab impacted me the most in life. I found a home in him. He's somebody completely divorced from the craziness and predictability of the movie industry. He also encouraged me to write. He would give me blank notebooks, and after few months would ask me if the book was over.

What kind of writing?
Observations, encounters, experiences, and I would read to him. And he'd say, "Bohot achhe beta!" That meant everything to me.
In that sense, you'd say Maachis probably turned around how you perceived show-business in the first place. If we see your films before that, you really wanted to go to Switzerland, and have fun.
I still want to go to Switzerland. I think when you experience everything, you can enjoy everything. You can't do that if you are putting yourself out there for one kind of experience alone. It's going to exhaust you, and burn you out.
Is that why you take long sabbaticals?
This line is always thrown at me as an accusation. It's a good thing though. I recommend it.
Is there another sabbatical coming up?
No. There's so much time between films that I don't have to consciously take a sabbatical. Anyway, films are so spaced out these days — nobody does 10, five, or even two films at a time.
But you've done that. In 1996, if I'm not mistaken, you had eight releases.
Yes, [I was doing] three shifts a day. I once had four releases on the same day. It was crazy, but it was the way it was. Also, you're much younger and you have much more enthusiasm, and energy, to be everywhere, doing all that a young girl loves — wearing good clothes, romancing, acting.
What are the biggest changes you've seen in showbiz since the time you entered?
Social media. That's the biggest change.
Can't imagine you being active on social media.
I'm on Instagram. You don't have to engage, opine, listen, and it doesn't take up that much time. Another change is that everything, except the actual shoot, has become a project. It's not just about the film, or the product anymore. The quality of preparation you put in post-shoot, and everything else, has also come into focus. So you don't know where your actual energies are getting distributed.
Speaking of distributing energies, there was a time that you took a really long break to learn Spanish. Were you able to master it?
That was over 10 years ago, in 2004. I planned to finish everything in a year-and-half, and not work for a year — just not do movies for some time. But no, I've forgotten Spanish. [It's] Only when I go to California and order food in a restaurant that I get to practice it.
How many languages do you know?
Telugu. I can speak Marathi; little bit of Tamil, and Malayalam. And Bengali, fluently.
For people who love your work, and have only seen your Hindi movies — could you recommend some of your non-Hindi films [a retrospective if you may]?
Ninne Pelladata [1996, Telugu], Kandukondain Kandukondain [2000, Tamil], Iruvar [1997, Tamil], Kaalapani [1996, Malayalam], Rakkilipattu [2007, Malayalam], Andarivaadu [2005, Telugu], Abar Aranye [2003, Bengali].
Audience Questions:
Did you plan how you wish to chalk out your career — follow a serious film with a light-hearted one?
I don't think my generation of actors was the planning type. Because so much was happening, I was just doing what I wanted to do — sometimes because the money is good, or the role is great. I did Aamdani Atthani Kharcha Rupaiyaa [2001], for instance, especially because Raghavendra Rao was making it. That was my second film with him. I consider him my guru. My first film, Coolie No 1, was with him. I learnt stuff from him — that you should have your own house, own money. Be careful with your time. Always be punctual. Do your work, and not think about anything else. He's taught me so many things about conduct: Always walk properly, dress well, look nice, and beautiful. Sleep on time. Enjoy life. Also he packs up at 5.30 pm, and would take us on picnics in Singapore!
Now we know how you can be cajoled into signing up for a film. Picnic pe chalte hai, picture banayenge!
Shopping karenge. Mall mein jayenge.
I was thinking about Drishyam [2015]. There was such a brilliant shift in your character — you had to be tough, still looking for your missing son.
I must say Drishyam is one of the most difficult characters I have done in recent times. I knew it was difficult for me to crack, because of the conflict in her personalities. She had to be this person [strict cop], and yet the vulnerable mother. And there was a danger of her becoming completely dark and negative. Which of course was not required, because you also have to see the vulnerability. I don't think I've played somebody like her — so strong and correct. As an audience also you're conflicted between wanting to hate her, but also understanding the pain. I don't know how I did the role, but it was a journey.
-Transcribed by Mohar Basu, Sonil Dedhia and Sonia Lulla
Catch up on all the latest entertainment news and gossip here.
Download the new mid-day Android and iOS apps to get updates on all the latest and trending stories on the go