Having designed war sequences of Manikarnika: The Queen Of Jhansi, action director Nick Powell says Kangana Ranaut is a natural in the genre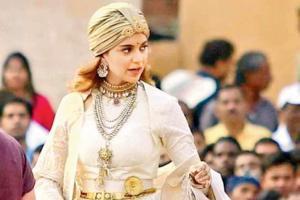 Kangana Ranaut in Manikarnika
Given how war plays an integral role in the narrative of Rani Laxmibai, it was imperative that the stunts in Manikarnika: The Queen Of Jhansi be choreographed by someone who had an innate understanding of action.
After seeing his work in Gladiator (2000) and Tom Cruise starrer The Last Samurai (2003), Kangana Ranaut and producer Kamal Jain knew international action choreographer Nick Powell would be the perfect fit for the job. Talking to mid-day about his first Bollywood project, Powell says he designed the sequences in keeping with the 19th century setting of the biopic.
"I had to be correct in terms of the artillery they used in that era. So, all my action had to centred around horse riding and sword fighting." That Manikarnika saw the action sequences being led by a woman artiste was another incentive for Powell.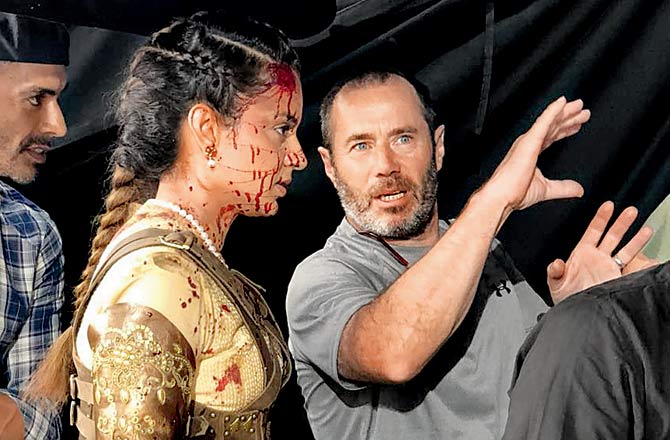 Kangana Ranaut and Nick Powell
"Kangana insisted on doing all the action herself. The idea was to show a warrior who has been learning the ropes from a young age. Kangana practised sword fighting for eight hours a day, and convincingly pulled off each stunt. I have worked with the likes of Russell Crowe, Tom Cruise and Brad Pitt, but she gave me the unique experience in which an actress was leading the pack. There were times when she pulled off smoother stunts than Tom Cruise," he laughs. Powell shot for 30 days in July last year, but was called back on set earlier this year to re-shoot some portions under Ranaut's vision.
"They wanted to better what they had achieved. So when I requested for an additional crew of 25 experts who specialise in rope work and sword fights, they immediately agreed." Having also orchestrated the action of Rajinikanth's magnum opus 2.0, Powell says he is eager to explore Indian cinema.
"I got a sense of the scope of movies in this country thanks to Manikarnika and Shankar's film. I will be returning to shoot another film in two months." Jain adds, "We reached out to Nick Powell after seeing his work and within a week, he was in my Juhu office. He was excited about designing stunts for a leading lady."
Also read: Kangana Ranaut to share the director credit with Krish for Manikarnika: The Queen of Jhansi
Catch up on all the latest entertainment news and gossip here. Also download the new mid-day Android and iOS apps to get latest updates