Multiple women come out against top Bollywood casting agents Mukesh Chhabra and Vicky Sidana, detailing how they allegedly harass aspiring actors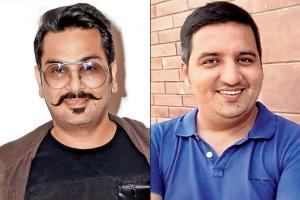 Mukesh Chhabra and Vicky Sidana

In the fortnight since Bollywood witnessed the #MeToo revolution, several actors and filmmakers have been named and shamed by the survivors. Taking the movement ahead, women have now come forward to expose the murky side of casting prevalent in the industry. In four separate incidents, aspiring actors recounted to mid-day the sexual abuse they were subjected to by casting directors Mukesh Chhabra and Vicky Sidana.
A budding actor, who had auditioned for a role in a 2015 mega budget film in Chhabra's Aaram Nagar office, revealed that he "grabbed me hard and felt me up". "He asked me to enact a scene which had the hero and the heroine hugging each other. Under the pretext of showing me how the scene should be performed, he grabbed me hard and felt me up. I could feel his hand on my butt. I was shell-shocked and immediately withdrew. He realised [my trepidation] and started vehemently apologising. At one point, he said, I thought you were fine with it because other girls are." Traumatised by the incident, she said that she left the industry and went on to pursue a career in engineering in Bengaluru.
ADVERTISEMENT
Another budding artiste, who wished to remain anonymous, shared the phone conversation she had had with Chhabra, ahead of the casting of a Varun Dhawan 2017 project. In the phone call recording that is in possession of mid-day, Bollywood's go-to casting agent can be heard telling her, "You'll have to compromise, get physical with people in power." When the woman expresses her reservation, Chhabra can be heard saying, "I am not promising that people ready to compromise get selected. Everyone is ready to compromise. It's no big deal. We can meet at a hotel tonight."
Vicky Sidana too has been accused of sexual harassment. A survivor — who was in talks with him for a supporting role in a Neeraj Pandey film — recounted how the casting director groped her sister. "Vicky was giving a gyaan session about how I won't get offers if I don't offer sex. When I stepped out for a photoshoot, he got chatting with my sister. He then pushed her on the couch and squeezed her breast, all the while muttering, 'Actress kyun nahin ban jati.' When I heard about it, I swore I would never see his face again."
Another aspiring actor recounted how, three years ago, Sidana invited her over to his house to discuss a project. "The role in question needed me to have a pixie cut. He pulled my hair away from my face to see how I would look in short hair. Then, he grabbed me from the side and tried to hug me. I could feel his d*** hard against my thigh. I somehow managed to run out."
When mid-day contacted Chhabra, he stated, "It has been years of hard work and I have been around in the industry. It is unfortunate that people are resorting to name calling and making wild allegations. Hard work and sweat cannot be erased by making false accusations. I deny any such incident took place. If anyone is indulging in rumour mongering and mischievous slandering, I will take every possible legal action to protect my reputation." Sidana said, "I have never called anyone home. If I have, my wife would have been there.
In any case, if someone is not naming themselves, how do I prove myself innocent? One has to understand, that as casting agents, we suffer the wrath of those we don't cast. They harbour ill feelings towards us and this is an attempt to malign me. I have been working since nine years and have a certain reputation. Casting directors are harassed by budding actors; they send objectionable pictures and messages."
Also Read: #MeToo: Sajid Nadiadwala To Replace Sajid Khan For Housefull 4?
Catch up on all the latest entertainment news and gossip here. Also download the new mid-day Android and iOS apps to get latest updates