'Bobby Jasoos' is a fine example of how best to capture the flavours of the area where the film is set in and make the audience a part of it. Vidya Balan bites into her role with passion and lives it like her own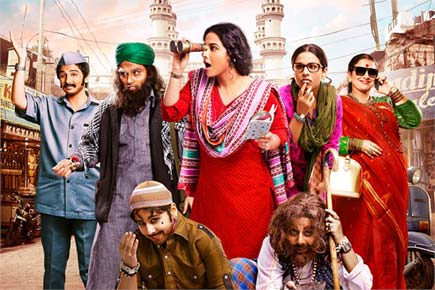 'Bobby Jasoos' movie review
'Bobby Jasoos'
U/A; Detective comedy-drama
Director: Samar Shaikh
Cast: Vidya Balan, Ali Fazal, Arjan Bajwa, Supriya Pathak, Kiran Kumar
Rating: 

The busy Moghalpura area in Hyderabad comes alive, thanks to the lovely, determined budding detective, Bilkis aka Bobby Jasoos (Vidya Balan) staying there, along with a bunch of delightful people which includes her endearing mother (Supriya Pathak), her sincere but confused friend, Tasavvur (Ali Fazal), her partners in crime, Shetty (Prasad Barve) and Munna (Akash Dahiya), the local goon Lala (Arjan Bajwa) and some more.
Photos: Vidya Balan and friends at a screening of 'Bobby Jasoos'

'Bobby Jasoos'
Here's a fine example of how best to capture the flavours of the area where the film is set in and make the audience a part of it. 'Bobby Jasoos', the film and the character, walks and runs through the nooks and crannies of this buzzing place. While the director is narrating a gripping story of a girl who is hell bent on pursuing the career of a private detective in spite of protests from her father, he also manages to introduce you to the old world charm of this colourful part of the country.
The treatment is casual and simple and hence, easy and believable. The emotions are all in place but they don't overflow and ruin the screenplay (by Samyukta Chawla Shaikh). Some situations seem too simplistic and convenient but that can be forgiven, considering the positive points of the film. Even the tender scenes in the film are handled in a refreshingly matter-of-fact manner. My favourite among the many scenes is the one where Bobby overhears Tasavvur defending her in front of his abba.
Vidya lives Bobby Jasoos. She bites into this role with passion and lives it like her own. At some points you wonder if any actress could have been able to manage this outwardly simple but complex role with such competence. The always dependable Supriya Pathak looks like she is actually part of that small house in Hyderabad. She takes us back to her mother, the great actress Dina Pathak's performances in Basu Chatterjee and Hrishikesh Mukherjee films.
The director brings together a delightful ensemble of cast, but a special mention has to be made of Ali Fazal. Fazal, so comfortable in his skin and his role of a 'second fiddle' that he actually stands out with his easy performance. Wish this actor got more offers worthy of his talent.
The director creates a charming world that you are reluctant to get out of, even when the film is over. Now that is an achievement.