Akshay Kumar's 'Entertainment' pleasantly surprises with its delightful absurdity and sure gets you roaring with laughter at several points. All in all, a fun experience. So don't paw-nder for too long, just watch this one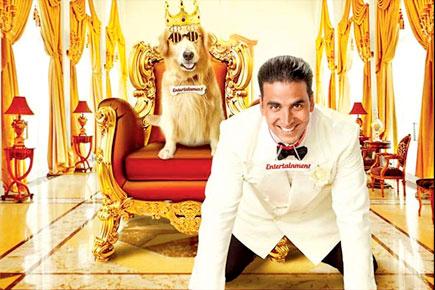 'Entertainment' movie review
'Entertainment'
U/A; Comedy
Director: Sajid-Farhad
Cast: Akshay Kumar, Tamannaah Bhatia, Mithun Chakraborty, Johnny Lever, Sonu Sood, Krushna Abhishek
Rating:
At the outset, 'Entertainment' looks like it belongs to that groan genre of Hindi films that are proudly peddled with 'this is slapstick so you can leave your brains and other valuables outside the theatre' kind of weird logic.
ADVERTISEMENT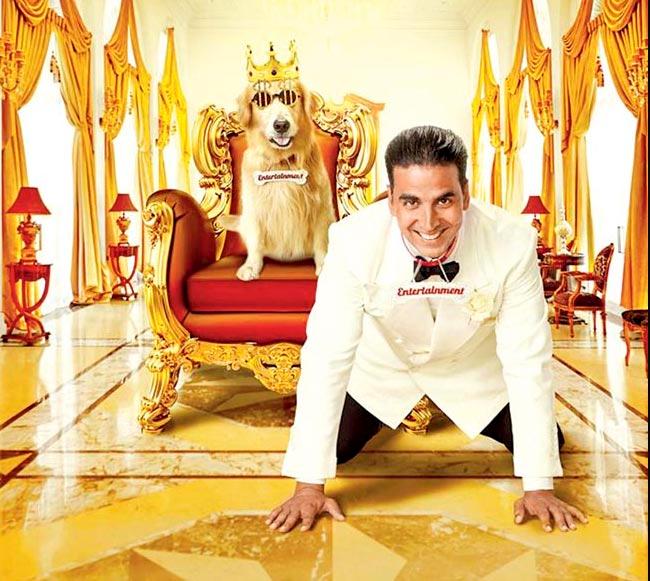 'Entertainment'

But 'Entertainment' pleasantly surprises with its delightful absurdity and sure gets you roaring with laughter at several points.
Photos: Akshay Kumar and family at a screening of 'Entertainment'
Making people laugh is a serious business and the debut director duo (and writers) Sajid-Farhad do a more than decent job of it. The story is about a poor man, Akhil (Akshay Kumar), who suddenly realises that he could be the heir to a 3000 crore property in Bangkok, but he has to compete with a pet dog, that has its name on the will. The changing chemistry between the man and the animal makes the crux of the story.
Let me count the positives first. Forgive me as I slip into dog lingo once in a while.
This film is child friendly. The humour is clean and not bow bow-dy. After a spate of films that thought funny is talking about someone's bow bow-el movements, 'Entertainment' comes as a refreshing change. The dialogues, especially the ones given to Krushna Abhishek are super hilarious and must admit, mighty clever. Krushna is a talent who needs to be seen on screen more often. A bow bow to the writers for the unique way of weaving star names into Krushna's dialogues to truly funny effect. Eg: 'Teri toh Jack-line lag gayi...' or 'Diya Mirza bhi leke dhoondhoge toh aisa Avtar gill nahi milega'...or 'Teri Anupam Kher nahi'.
Also read: I don't belong to camps, I like bungalows: Akshay Kumar
I was rather bow bow-led over by Tamannaah, who looks drool worthy and also plays her role of a TV actress breaking into cheesy dialogues at a moment's notice rather well. Akshay Kumar bites into his role with a lot of passion and comes up with a convincing performance. Trusted actors like Johnny Lever and Mithun Chakraborthy give good support.
However, there are a few bone-s to be picked with the directors...
We know dogs love meat but close ups of the 'king of hams', Prakash Raj while he's contorting his face is not really a great watch.
Too much melodrama in the second half slows down the pace of the film.
But all in all, a fun experience. So don't paw-nder for too long, just watch this one.