'Newton', starring Rajkummar Rao, represents the new, layered, millennial voice in Mumbai cinema that makes strong comments on our times, using first-rate wit, and fine, subversive humour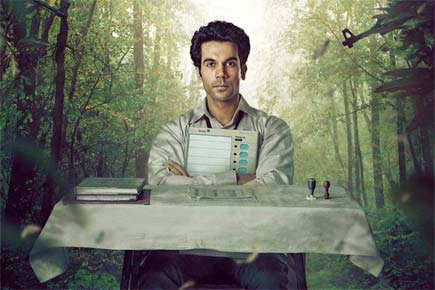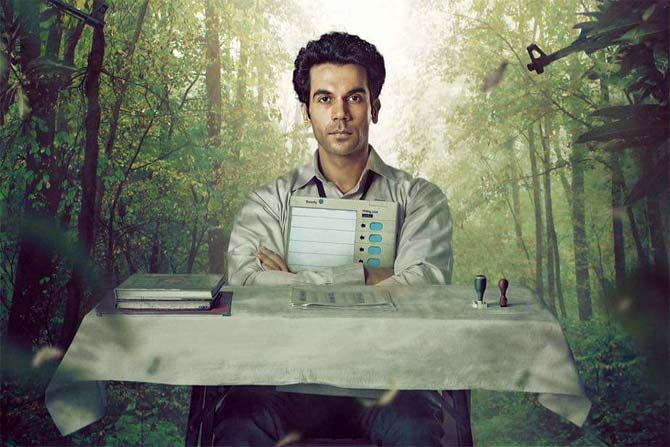 'Newton'
U/A; Comedy/Drama
Director: Amit Masurkar
Cast: Rajkummar Rao, Pankaj Tripathi
Rating: 

ADVERTISEMENT
This film's story (by Amit Masurkar; screenplay co-written with Mayank Tewari) has the germ of an idea that should make you rethink the notion that Indians have been gloating over for years--the fact that we're a liberal democracy. So what if we aren't quite the heavyweight GDP champions of the world--we can still vote in, and vote out, our governments. This apparently means we're miles ahead of the neighbouring giant China. Sure.
How does this democracy really pan out at the ground level? One isn't quite certain. But elections, we know. You can touch and feel them, as it were. And they've largely been 'free and fair' (to use popular journalese), at least ever since the early '90s.
To quote a line from this film, there are 90 lakh polling booths in India, and every Lok Sabha election, India sets a new world record for the number of people it services, only to break that record five years later. Works? Maybe.
And yet, there are certain parts of this country--for instance the Naxalite belt in the mineral-rich Chhattisgarh that this film surveys (shooting in real locations)--where democracy goes to die. As does a young man named Newton, who's put in charge of conducting an election for 76 citizens!
This part of India, as so many others, has been warring against the tyranny of the Indian state for nearly three decades. What do elections mean to these people? Not even a carnival. What does government signify in such places? No more than armed uniformed men, combing for enemies within.
Actor Rajkummar Rao plays the low-level poll officer, grappling with clueless, poor citizens, with CRPF jawans around him, and landmines in the ground beneath his feet. If you casually scan through his CV of late, without doubt, you'd known Rao has been on a roll. It's pretty much been his year (Trapped, Bareilly Ki Barfi; after cracking it with Shahid, Aligarh in the past).
Observing this curly-haired, short-built FTII grad on screen--as the shaken-up, vulnerable, yet obsessively self-righteous Newton--it's hard not to make an immediate analogy with the other FTII acting alumnus (Naseeruddin Shah), who similarly rocked the scene in the '80s. Raj, I suspect, is very much the new generation's Naseer!
It helps that here, he plays off against the fine Pankaj Tripathi (as a CRPF commandant blessed with cinema swag). The ensemble cast--Raghuvir Yadav, Omkar Manikpuri (Natha)--instantly reminds you of Anusha Rizvi's Peepli Live (2010), a much superior satire on farmer's suicides. The way the movie wraps up somewhat hearkens you back to Chaitanya Tamhane's masterpiece, Court (2014), the ironic-comedy on India's legal system.
Similarly assessing the gravity of India's Maoist insurgency situation on ground, Newton represents the new, layered, millennial voice in Mumbai cinema that makes strong comments on our times, using first-rate wit, and fine, subversive humour. Unsurprisingly, these entertainers find themselves on shelves of the world's top film festivals--a spot that, for decades, had been reserved for a chosen few regional language auteurs.
Does this film bear the scale and wide-screen drama to move you to bits and pieces? I wish it did, but unsure if that was ever the intention. To be fair, it does catch up on that front at some point. Does it hold you right till the very end, gently nudging you to think about 'the greatest internal security threat to our country?' Hell, yeah. That way, Newton packs a full-ton, and deserves full marks!