With 'Bajirao Mastani' earning widespread acclaim, Sanjay Leela Bhansali is contemplating on signing either Shah Rukh Khan or Salman Khan for the lead role for his upcoming film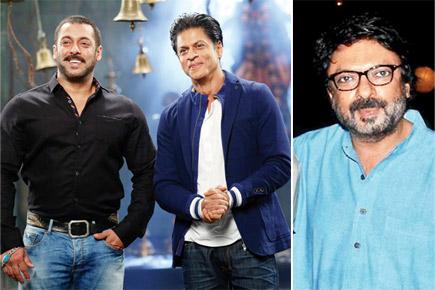 Sanjay Leela Bhansali, Salman Khan and Shah Rukh Khan
With Sanjay Leela Bhansali's last directorial 'Bajirao Mastani' earning widespread acclaim and six National Awards, there is much hype surrounding his next. The filmmaker was expected to make an announcement on his birthday last month, but he seems to be taking his time before breaking the big news to the world. While not much is known about the project, we hear Bhansali is contemplating signing either Shah Rukh Khan or Salman Khan for the lead role.

Sanjay Leela Bhansali, Salman Khan and Shah Rukh Khan
Notwithstanding Bajirao Mastani's clash with SRK-starrer 'Dilwale' at the box office last Christmas, the two have been partying together quite a lot of late. On March 21, hitlist had reported about Shah Rukh hosting an impromptu bash at his suite in Dubai which had Bhansali in attendance (Read More). And when the latter threw a party on Monday night post his National Awards win, the superstar joined in the celebrations.
As far as Salman is concerned, the filmmaker, by his own admission in an interview with hitlist (March 30), had recently visited him. "(But) Please don't ask me anything more about it," he insisted. However, that was enough to set the gossip mills buzzing about a possible collaboration (Read More).
Bhansali remained unavailable for comment, but a source close to him says, "The project is in the pre-production stage and Bhansali wants either Shah Rukh or Salman as the hero. He is sort of torn between the two Khans. Only an official announcement will make things clear."