Jennifer Lawrence was branded rude after she appeared to make a jibe at Joanna Lumley, the host of the 71st BAFTA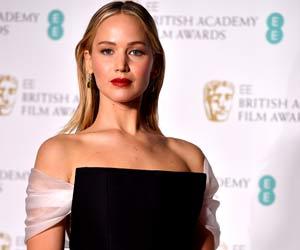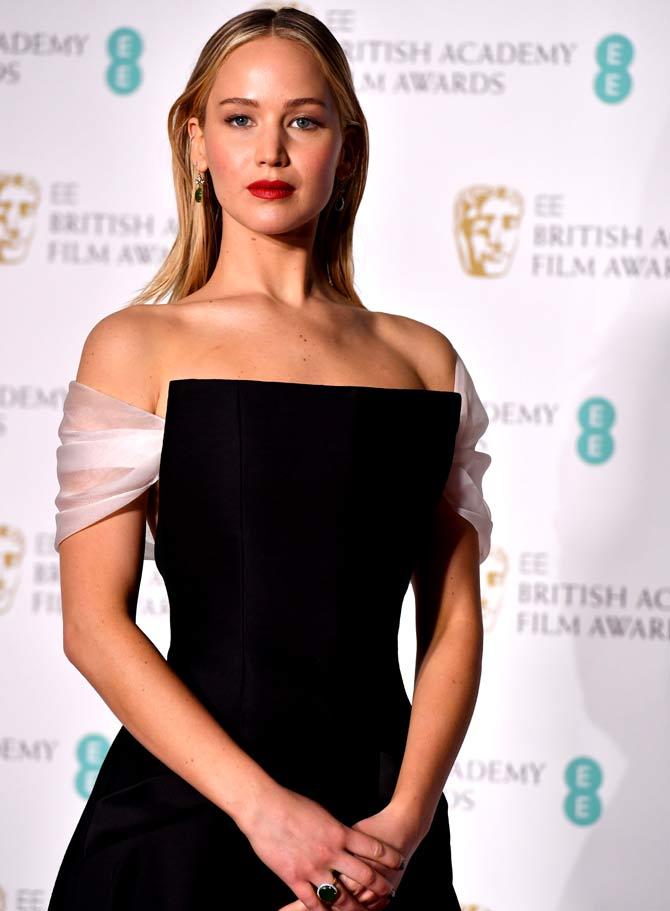 Jennifer Lawrence poses after presenting an award in the press room at the BAFTA British Academy Film Awards at the Royal Albert Hall in London. Pic/AFP
Actress Jennifer Lawrence was branded "rude" after she appeared to make a jibe at Joanna Lumley, the host of the 71st British Academy Film Awards, organised by the British Academy of Film and Television Arts (BAFTA). Lumley, who hosted the ceremony for the first time after Stephen Fry, introduced Lawrence as the "hottest Actress on the planet" to which Lawrence said "it's a bit too much", reports express.co.uk.
Starting the ceremony, the 71-year-old said, "Right let's start giving out some of those beautiful BAFTAs shall we? And we start with the award for Outstanding British Film and who better to kick the whole evening off than the hottest actress on the planet. Soon to be seen in 'Red Sparrow', it's the ravishing Jennifer Lawrence."
The "Silver Linings Playbook" actress then walked onto the stage in a floor-length black frock, which had sheer white sleeves. Taking to the podium, the actress placed the award on the stand before turning to Lumley and laughing. "Hi," she said to the audience, adding: "That was a bit much but thank you Joanna." Lumley could be seen looking off to the side of the stage as Lawrence giggled and continued to present the gong. Viewers were quick to pick up on the awkward exchange and rushed to Twitter to comment on the star's remark.
"Jennifer Lawrence that sounded rude and rather ungrateful," one viewer wrote.
Another added: "You don't tell Joanna Lumley what's too much' ...sweetie."
A third viewer posted: "Very ungracious reply Jennifer Lawrence just gave to Joanna Lumley, could have just said 'Thank you' and left it at that.." The ceremony took place at the Royal Albert Hall.
Catch up on all the latest entertainment news and gossip here. Also download the new mid-day Android and iOS apps to get latest updates