A creative exchange project ropes in three British artistes to take up intensive workshops with underprivileged Mumbai teens, for a performance that'll leave you breathless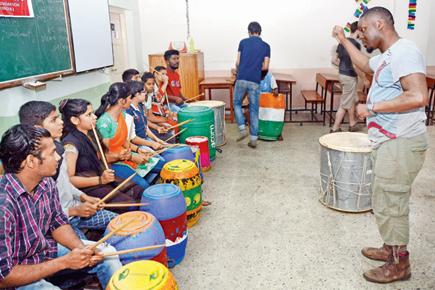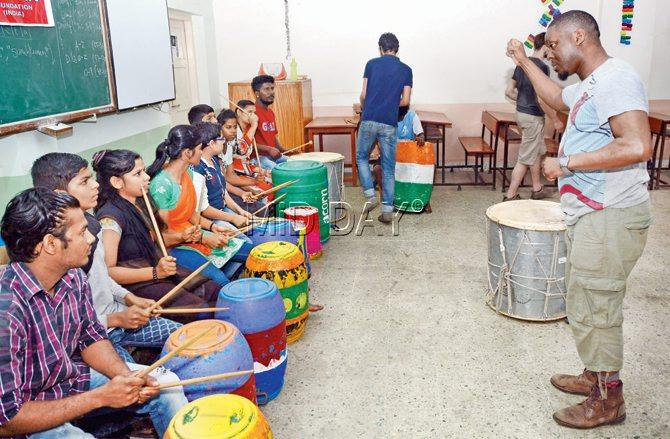 London-based drummer Sam Agard instructs participants at a drumming workshop. Pics/Sayyed Sameer Abedi
Late evening on Tuesday, a classroom at Xavier's Institute of Engineering in Mahim explodes with drumbeats as 10 youngsters from Dharavi connect sticks and hands with multi-coloured water barrels, buckets and dhols. Their eyes are on Sam Agard, a drummer from London, who uses gestures to instruct them to lower the decibels. In the centre of the room, British breakdancer Ed Stephen directs young boys and girls to match street-style moves to the beats. As soon as Agard closes his fingers into a fist, the group stops at once and a resounding silence echoes.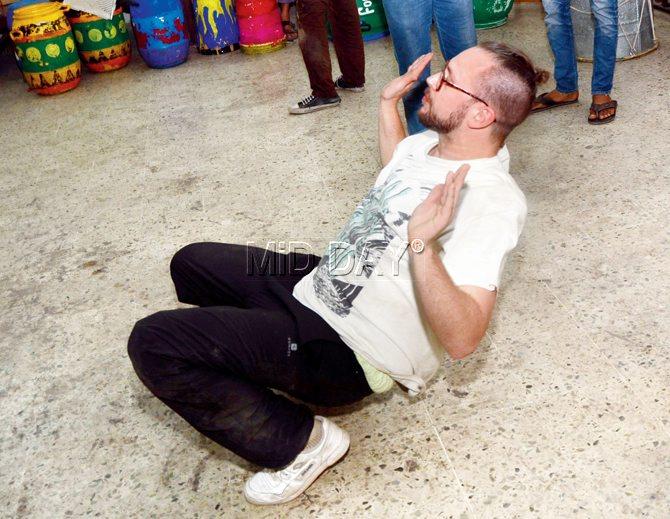 Ed Stephen teaches a breakdance move
That's owing to the sign language the group has developed over the last three days, since they began undertaking intensive four-hour workshops with the British artistes as part of the Dharavi Rocks Creative Exchange. The week-long workshops on drumming, beatboxing and breakdancing will culminate in a two-day dance and music performance at The Mumbai Assembly in Bandra and Koli Maidan in Dharavi, this weekend.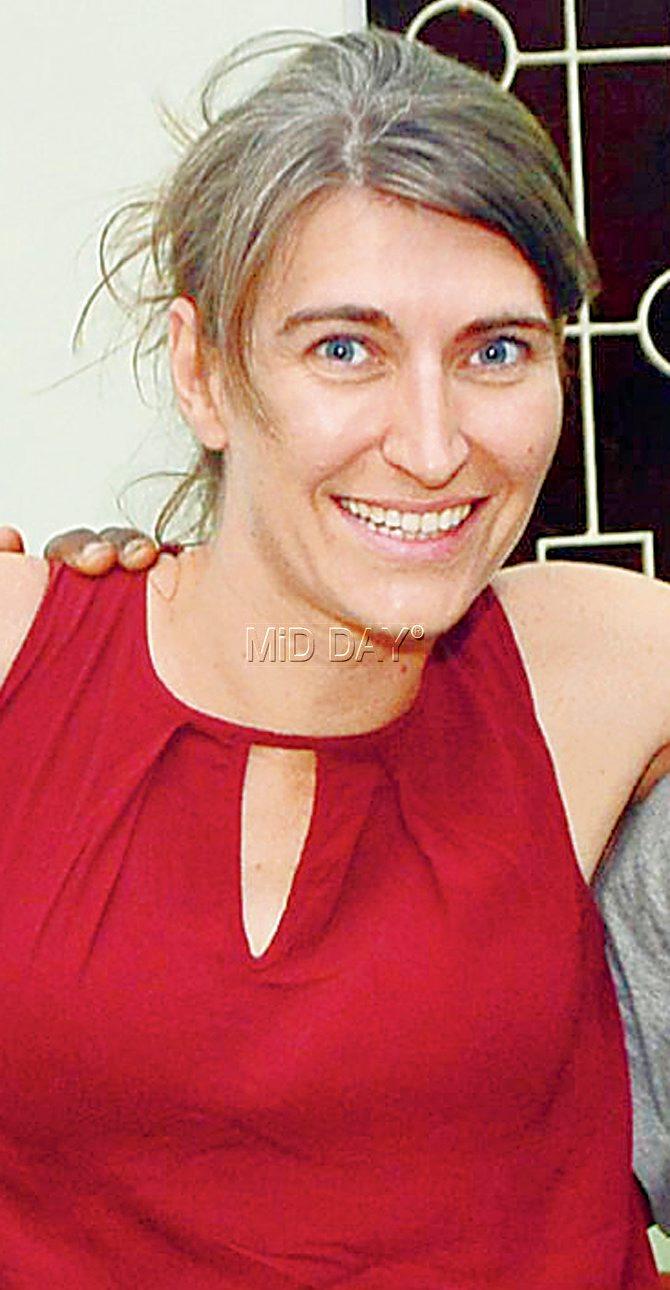 Emmanuelle de Decker, Gatecrash
The project is in collaboration with city-based non-profit ACORN Foundation, The Roundhouse — a performing arts and concert venue in London — and Gatecrash, a consulting agency that curates independent artistes for Indian and international music festivals.
London dreams
The project that's supported by Arts Council England features 30 underprivileged youngsters from the age of 13 to 25. While some of the performers are part of Dharavi Rocks, a music and dance project initiated by ACORN and blueFROG seven years ago, most of the others are newbies, selected via auditions by a panel of artistes, including singer Suneeta Rao. "We've done one-day workshops with the kids in the past but this is the first time they're receiving intensive training from foreign artistes. The idea is to offer serious musical education that will allow them to take up performing arts as a career," shares Vinod Shetty, founder of the non-profit.
Gatecrash's founder Emmanuelle de Decker, who has put the project together, adds, "The British artistes will also select four youngsters, who will be invited to perform in London in November, as part of On Mass project [organised by the Roundhouse]. It's a collaboration of 200 kids from all over the world. The organising team also plans to set up a professional structure around these young talents to support their long-term career plans."
Meet the Brit artistes
Having started drumming in 1987, Agard is part of Kinetika Bloco, a UK-based performance group, and plays brass and woodwind instruments, steel pans and drums. He says, "For this performance, I want the kids to play drums in the Jazz style of 1920s. So, I showed them videos of the Charleston dance to understand the sounds. I have arranged the junk drums in three sections, depending on the sound they produce." Meanwhile, UK's first professional female beatboxer and three-time world champion, Bellatrix (née Belle Ehresmann), has been roped in to conduct beatboxing workshops.
Stephen, who tutors the street circus collective at The Roundhouse, adds, "We won't use any recorded music for the performance. So, I will choreograph the moves according to the music of drums and beatboxers. Besides teaching them techniques, we also want to inculcate qualities of leadership and teamwork through dance and music." That's the reason Agard has asked 13-year-old Meet Ravaiya to lead the drumming group.
Since it's a creative exchange, Decker has paired each British artiste with an Indian name. While Bellatrix teaches with the help of Nagesh Reddy aka Sphere FX, Stephen choreographs along with Sumeet Suvarna aka B-Boy Ninja, popular on Mumbai's Hip-Hop circuit. Agard has been paired with 30-year-old drummer Harsh Karangale. At Saturday's performance, also watch out for popular rapper Naezy's guest set.
ON: February 4, 7 pm
AT: The Mumbai Assembly, 16 Veronica Road, Bandra (W);
ON: February 5, 6 pm
AT: Koli Maidan, Dharavi.