You have just two days to make the most of the biggest blockbuster exhibition that centres on a 2,000-year-old Egyptian mummy on display at CSMVS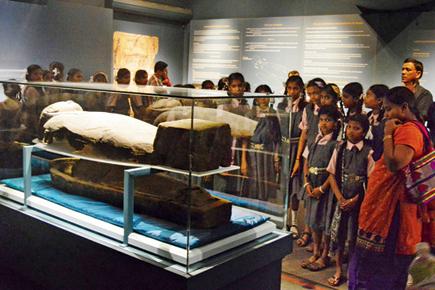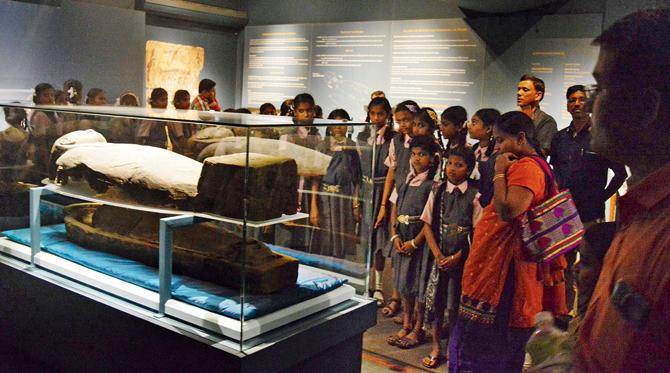 Schoolchildren gaze at the mummy exhibit 
When it opened in late October 2016, the buzz around Mummy: An Unsolved Mystery – Conserving Mumbai's Egyptian Treasures at the Chhatrapati Shivaji Maharaj Vastu Sangrahalaya (CSMVS) was expectedly high, especially since it revealed one of Mumbai's best kept secrets, a 2,000-year-old Egyptian mummy. The exhibition will close on Wednesday.
ADVERTISEMENT
The mummy, belonging to the Ptolemaic period (305 BCE–30 BCE), has been in the Museum collection since the early 20th century. It remained unseen in the Museum stores and was brought out for public display for the first time in October 2016. In this three-month period, nearly 100,000 visitors have seen the mummy. Nearly 40 per cent of this number were schoolchildren. The museum also conducted workshops and tours for schools during the period of the exhibition. "It was our objective to introduce the mummy to the citizens of Mumbai to inform and enlighten them about our rarer existing treasures and the need for their preservation. From the response, we are hopeful that we will be able to garner support to undertake further studies and restoration, with expert help. We hope to complete the studies and restoration work in the next few years, and bring the mummy back to meet the public with new and enlightening information on it," explains Sabyasachi Mukherjee, Director-General, CSMVS.
Post the closing of the exhibition, the mummy will return to the Conservation Centre, and the museum will start mobilising funding for further research and studies. The museum intends to complete the studies and restoration of the mummy and coffin with the help of British Museum experts, and thereby ensure that the mummy is back on display with new information in the next two years.
TILL: January 4, 10.15 am to 6 pm
AT: CSMVS, 159-161, Mahatma Gandhi Road, Fort.
LOG ON TO: www.facebook.com/CSMVS