After serving in the Israeli Army, 25 young people are in Mumbai teaching municipal school children a multitude of life skills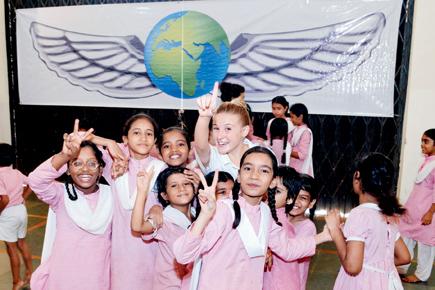 Mumbai News, Israeli Army, young people, Mumbai teaching municipal school children, Indo-Israel Friendship Association, Krav Maga
The sound of laughter and some flying dough greet one at the Mahatma Gandhi Centre in Santacruz (W). Around 20 students from Santacruz Municipal School between 5 and 12 years are seen making a dough balloon man in a room. As their teachers look on, a group of young men and women explain to the children how to stuff the balloon.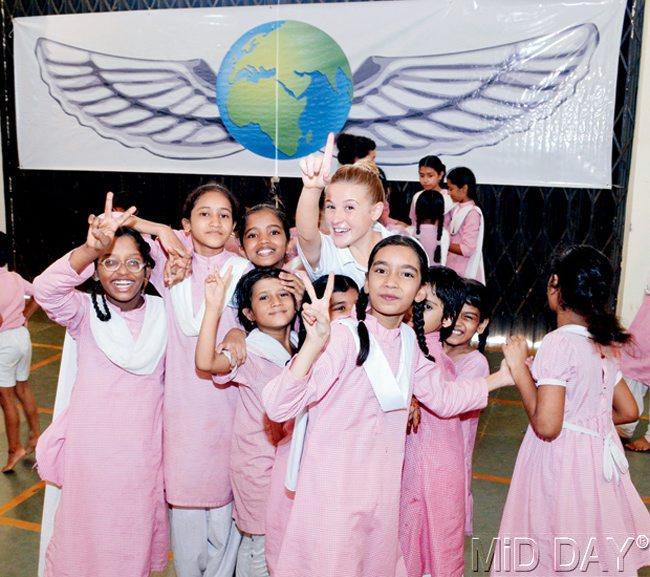 Flying high: Sivan Keller with some of the Urdu medium students of Santacruz Municipal School. Pics/Abhishek Rane

War and peace
This is not an ordinary class, but deviates from the usual classes. The youth who are teaching them are former Israeli Army personnel who have served their country for two to three years.

"In Israel, military service is compulsory for every person. So, when men and women turn 18 they are enrolled in the army. Women serve for two years, while men for three as they work in different departments of the Israeli Army.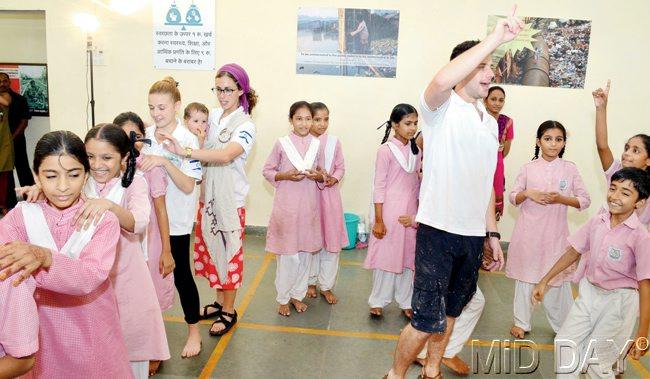 In line: Action songs were the highlight of the English class

Many of these young people come to India as backpackers and so we have decided to get them to work with the community here in Mumbai," says Micah O'Hana who has been chief bodyguard of three different Israeli defence personnel during his army career.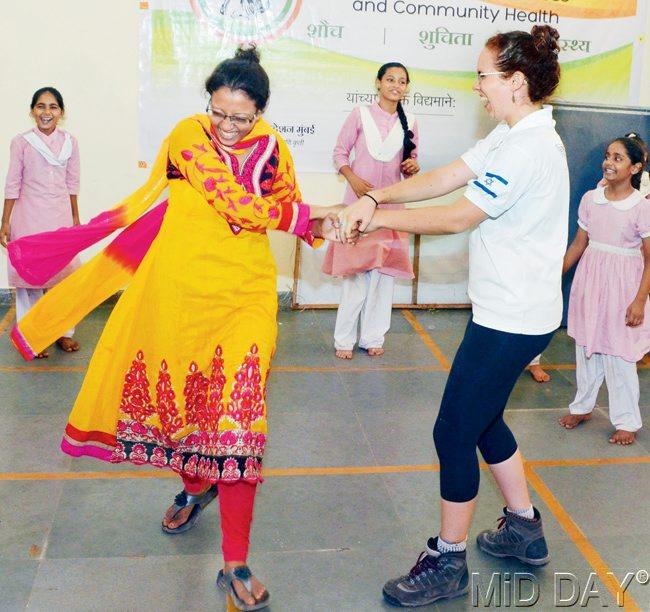 Indian twist: The Israelis have learnt fugadi from the children

Gili Cohen from Fighter for Life (FFL) which has coordinated with the Israeli Consulate in Mumbai and arranged this trip for the Israeli youth says, "Israel and India share this warm element. People in this city are much like those back home in Tel Aviv as they appreciate good humour and like to help others. This love to serve is what has drawn these young people to Mumbai. They are imparting knowledge about defence techniques and first aid to these kids here."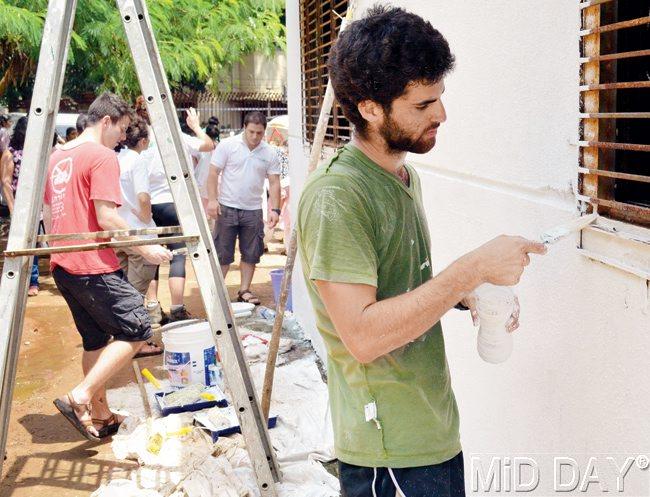 Painting wonders: After whitewashing the wall, the municipal school students' art work will be painted

Israeli Consul General David Akov in Mumbai accepted applications from youth who wanted to come to India and serve here. He says, "We had hundreds of young people who had retired from the army who wanted to come and be part of this project. I actually had to reject some as we had slots only for 17 but then we extended the number to 25. Young people back home are very interested in Indian culture and lifestyle, so many come here as backpackers.

We wanted them to do something for the community at large and so this project was conceived to give to those less fortunate than ourselves. More than monetary service, our time is the greatest thing we can give and so these young people are here in Mumbai."
Eleven day picnic
The municipal school students are benefitting from the Israeli experience and are obviously enjoying it too, going by the attendance sheet. Rubina Ansari, a teacher says, "The attendance in a class of 60 is generally 40 or less, with many students bunking at least twice a week. But for these classes, we have had 100 per cent attendance so far. The students' minds are being refreshed and so it is very positive to see some students who don't like to study in class having fun and opening up here."
Dr Mumtaz Khoja, the principal says, "This is a cultural exchange and when I was first approached by Triratna Prerana Mandal (TPM), a Non Government Organisation (NGO) that works in the area of sanitation, education and environmental awareness in the slums of Santacruz; I was very open to the idea. I knew that this was a risk as something like this is happening in Mumbai for the first time and my school would be the first to experience this, but I knew that my students would benefit."
Seeing the students enjoying themselves, receiving a lot of praise from parents has meant that Khoja has succeeded. She says, "This is like a picnic for 11 days. The students are learning more than they do in the classroom. Their parents are very happy, as students go home and teach their families and friends about self-defence, health and sanitation. So it is not just the individual but also the community which is benefitting from this interaction and exposure."
The Israeli Consulate in Mumbai and TPM have been working very closely with each other for many years. Sunita Bhavekar from TPM says, "When the Consulate got in touch with us, we decided on this school as we work with the people of this area and have good relations with the principal. For the last four months, we have been planning the program details and so, were more than happy to give our centre as the venue for the classes."
Happiness all around
The program which started on Monday, September 8 will go on till September 19 with classes from 8 am to 12 noon for the Urdu medium students and from 3 pm to 6 pm for the Hindi and Marathi medium students of the school.
Monday to Friday, the Israeli volunteers spend their time teaching the children and on the weekend plan to meet the Jewish community in Mumbai. Israeli Consul General Akov says, "The volunteers are very enthusiastic to share their experiences with the children and also at the same time learn from them. It is great to see the children suggesting what they wish to learn and also teaching our young people. This is a win, win situation."
Sivan Keller, 21 who served in the Israeli Army for two years and plans to visit North India after this says, "We are teaching the children, the importance of washing their hands, brushing their teeth and drinking water with the help of educational models. I have learnt a Hindi word Namaste and so I am very excited about that. But the children surprised us when they performed a skit on dangerous diseases explaining how malaria, typhoid and cholera spread. I learnt a lot from that interaction. It has been a great experience, putting a smile on the faces of these children."
Though the Israeli volunteers do not speak Hindi, Marathi or Urdu and the children's comprehension of English is low, smiles and hand actions are doing the lion's share of communicating. O'Hana says, "The teachers and TPM volunteers are doing a splendid job being the mediators in our communication with the children. It has also been really nice to see children waking up and coming early every day for class. They are very excited and this has encouraged all of us to teach them with more enthusiasm."
Early birds
As Krav Maga, a self-defence class ends action songs in English like Hokey Pokey and the Wheels of the bus start. Irfat Sayeed, a fifth standard student says, "I wish that we always learn this way. Books always go over my head; but here I understand everything, as the teaching is more practical. We have taught these bhaiyas and didis to play fugdi and they are having a lot of fun just like us."
Sixth standard student Tanvar Mustaqi says, "I love Geography and heard of Israel in class as well as on the news. But now I actually feel great that people from there have come to teach us. I ask them a lot about their country. They say that Tel Aviv, their big city is a lot like Mumbai. I want to go there one day and see the similarities for myself as their stories have intrigued me a lot."
Sufiyaan Khan from Standard V keeps an alarm on his father's mobile phone for 6 am to make it on time for the classes. He says, "For school, my eyes generally never open. But I want to learn and have fun here, so I wake up early to be fresh for dance and martial arts class."
As the classes end for the day, the children are given a packet of biscuits and juice as they say bye to their Israeli bhaiyas and didis promising to come back on Monday to learn some more.
Wall masterpiece
During the break from 12 noon to 3 pm, the Israeli youngsters start their work of painting the walls of Mahatma Gandhi Centre. They had planned on painting the municipal school boundary wall which is just opposite the centre but are still awaiting permission from the Brihanmumbai Municipal Corporation (BMC) for the same.
Cohen says, "We are unsure if the permissions will come through on time or not and so we have decided to whitewash this centre and paint here. The plan is to reproduce the art work of the children on the walls. The painting will be done by us, but we are trying to capture the essence and excellence of these children who have talent that can be compare to Van Gogh and Picasso."