Ever wondered how immersive it would be to spend two months as a guide inside a Mumbai museum? As CSMVS and Dr Bhau Daji Lad City Museum offer internships, we go behind the scenes to hear these stories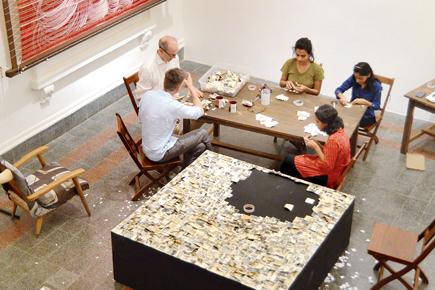 The interns assisting the artist and curatorial team with the installation of the Missives exhibition
Two months back, if you'd asked 18-year-old Rhea Chauhan to spend a day at a museum, the St Xavier's College student would've probably dismissed the idea as boring. Not any more. Chauhan, who enrolled herself for a summer internship with the Education Department at Fort's Chhatrapati Shivaji Maharaj Vastu Sangrahalaya (CSMVS), acted as a guide, conducted workshops and planned gallery activities from 9.30 am to 5.30 pm every day of the week. "Earlier, I thought museums meant only dull spaces where visitors walked around and looked at old artefacts. But now, I learnt how a museum actually works; there's so much going on internally.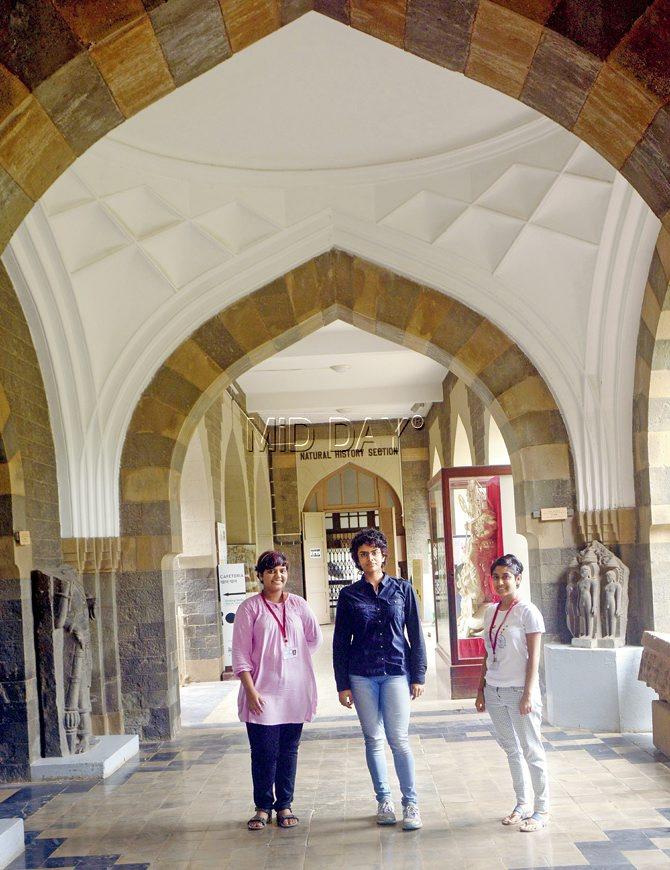 (From left) Saniya Shaikh, Meghna Saha and Rhea Chauhan were part of the recently-concluded summer internship programme at Chhatrapati Shivaji Maharaj Vastu Sangrahalaya (CSMVS). Pic/Pradeep Dhivar
I also interacted with different kinds of people daily," she gushes, a tad disappointed that her two-month internship came to an end last week. Along with Saniya Shaikh (18), Meghna Saha (23) and three others, she was selected for the eight-week summer internship programme offered by CSMVS for high school and undergrads, since 2013.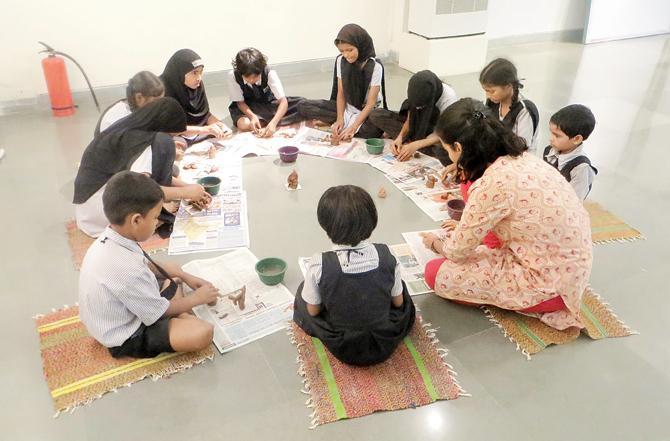 A docent assisting with Ganesh idol making workshop at Dr Bhau Daji Lad City Museum
"The idea is to help young students from different disciplines to get an access to the Indian as well as world cultural heritage that is on display at CSMVS. It is our duty to not only share our experience but to also inspire them to think deeper about research, heritage and conservation," feels Sabyasachi Mukherjee, Director-General, CSMVS. The museum offers one-year long internship programme for post-graduate students.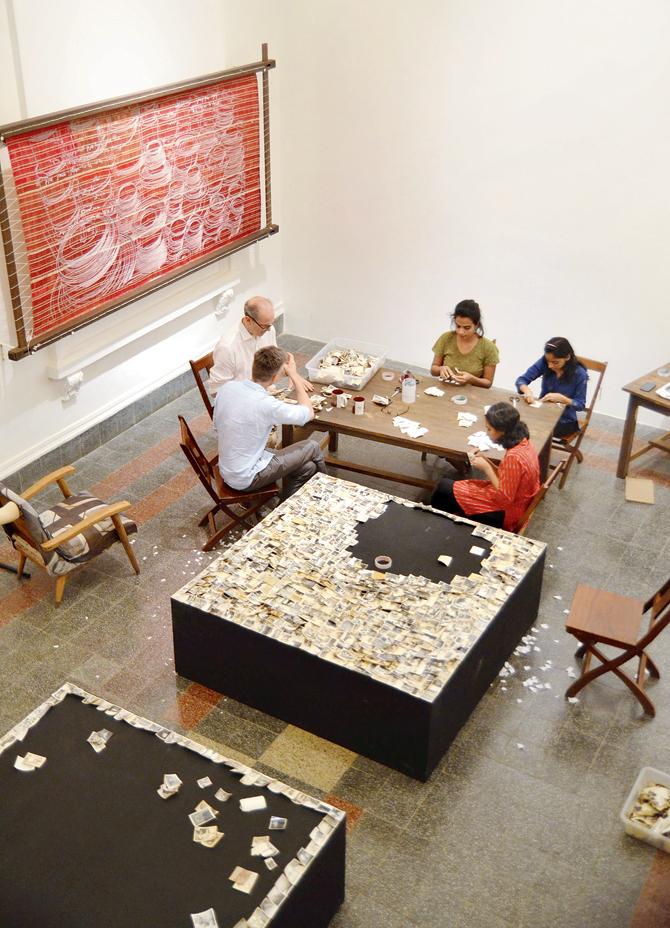 The interns (on the right) assisting the artist and curatorial team with the installation of the Missives exhibition
Meanwhile, 50-year-old Anita Yewale, a JJ School of Arts graduate, has been conducting workshops at Dr Bhau Daji Lad City Museum since last year. She is part of the two-year docent (a guide on voluntary basis) programme offered by the museum since 2013. Open to young adults and professionals interested in art, education and history, the Byculla museum also offers a year-long internship programme and plans to start short term summer internships by next year.
Why it's cool
So, you thought museum internships only meant documentation, research and back-end administrative work? Think again. From designing scavenger hunts across the museum to conducting workshops like Play With Clay and Paper Puppet Making, the interns were given hands-on experience from Day One. In fact, they even designed a temporary exhibit depicting the poor condition of mangrove forests with taxidermied animals on World Environment Day.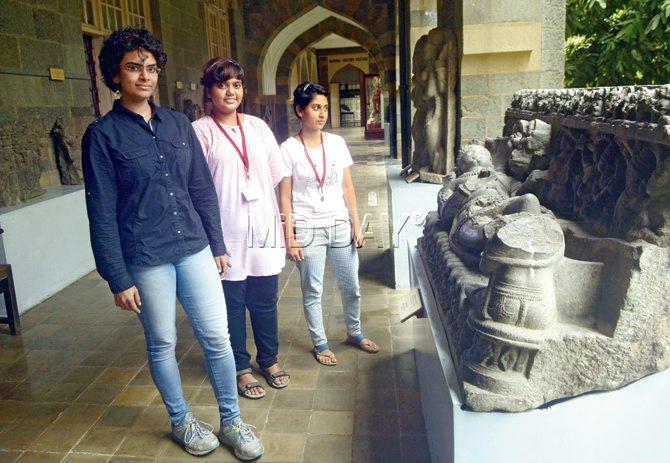 (From left) Meghna Saha, Saniya Shaikh and Rhea Chauhan at the Sheshshayee Vishnu sculpture at CSMVS. Pic/Pradeep Dhivar
"Visitors often walk around the museum and don't even read the texts posted beside the displays. We acted as communicators between the exhibits and the visitors. For instance, we helped them look at miniature paintings through magnifying glasses and told them the stories behind the paintings. We showed them how to use printing blocks at the newly-opened Textile Gallery in CSMVS. That fascinated them, especially young adults and kids, who populated the gallery during summer vacation," shares Shaikh.
Meanwhile, at Dr Bhau Daji Lad City Museum, the interns and docents helped conduct activities like the Games Mela, special events like Kahani Karnival (festival of stories for children) and even assisted with the installation and programming for recent exhibitions like Missives, Doubled Frame, Games People Play, etc. "Kids from different strata of the society visit this museum. A student from an IB school will not have the same kind of exposure as a child learning at a school run by an NGO. I learnt how to interact with each child differently, and to hold workshops accordingly," elaborates Yewale.
It's a win-win scenario
Such an internship provides an 18-year-old — who otherwise might have just whiled away time during summer holidays — with more professional experience, not to mention, additional pocket money, as both the museums offer stipends. While CSMVS pays '5,000 per month to the under-grad interns, docents at Dr Bhau Daji Lad City Museum are paid '500 per hour. On the other hand, the museums get extra hands on deck.
"The internship is mutually beneficial; we get extra work force, especially during summers when the scale of our activities, increases substantially. For the intern, it is an opportunity to build their resume," says Bilwa Kulkarni, Education Officer, CSMVS, who was part of the selection process for the interns. "We announce our internships by March; this year, we got a range of applicants across various disciplines. The selected applicants are called for an interview. Usually, we have about two interns in each department. This year, the education department selected three," she adds.
The future looks bright
From working in education and research organisations to even taking up specialised courses in museum studies, this internship can help one figure out their specific area of interest. "We recruit interns, too, should we see the capability and talent. Also, if they wish to pursue higher studies in Museology or Arts Management, abroad or in India, these internships are very helpful. In fact, many overseas universities with museology courses recommend get ting a few months of museum work experience," says Kulkarni.
The 23-year-old Bangalore-based Saha, a student of museum studies, flew down for a two-month internship at CSMVS, and now plans to stay on for a few more months. She sums up, "People often visit the museums, not only to find something new but to also see things that they can relate to. The idea is to build on their connection with the space, inspire them and help them interpret heritage. This is possible only with a practical internship, not through textbooks."