A journalist and engineer pair quits work to hit the road. After two years of travel across rural India, they will launch a project next week to crowdfund initiatives that improve the lives of those they write about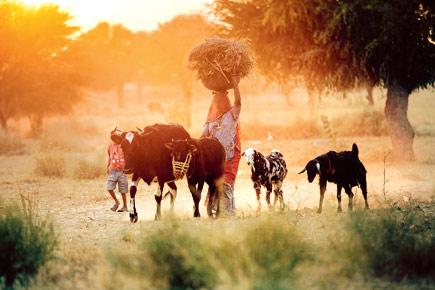 Bangalore residents
At a time when our attention is increasingly shifting from the rural to urban milieu, journalist, Akshatha Shetty, and an engineer-filmmaker, Piyush Goswami, in Bengaluru quit their jobs and sold all they owned to travel across rural India.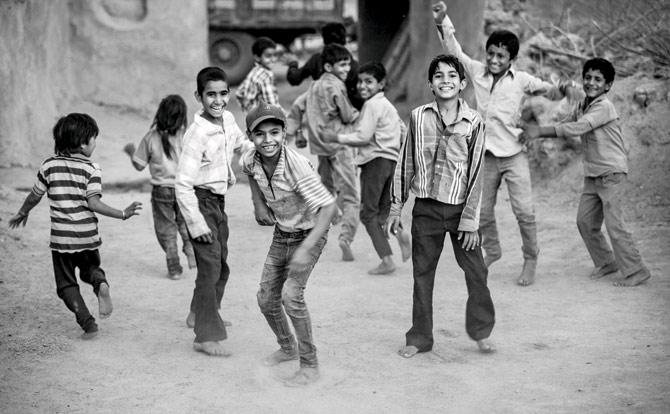 These children are from Sardarpura, in Rajasthan. Here, people don't have any regular source of income apart from agriculture. The village lacks basic infrastructure and the only hospital is dysfunctional. The condition of the schools, are abysmal with little scope for the children to compete at higher levels. Pic courtesy/ Piyush Goswami
This was two years ago. Since then, they have covered Rajasthan, Tamil Nadu, Kerala, Karnataka, Uttar Pradesh and Nagaland, while living in remote districts, and off the money they earned by writing about these experiences on travel.

A woman and her son in Rajasthan return to their village with their cattle as the sun sets. In this area of Ransisar Jodha, high fluoride content in water leads to premature arthritis. PICs courtesy/ Piyush Goswami 
Eventually, they realised that though they did manage to draw attention to the people and their hardships by writing about them it did little to actually change anything. So, this time, with the experience they gathered, they are heading out again but to bring about possible change. For this, they intend to use social media platforms to focus on specific stories of an area and use crowdfunding tools to address poverty, or lack of electricity or simply inadequate communication between providers like NGOs or government bodies and the needy. They have named this project, Rest Of My Family.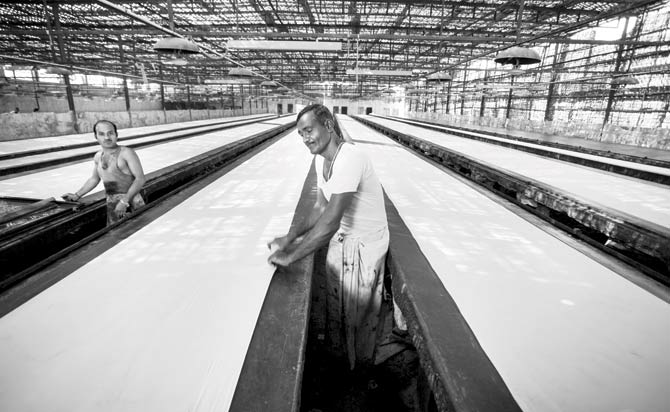 The duo learnt about the plight of Jodhpur's prosian print textile factory workers there textile printing is still done by hand
Start from the family
As part of the first leg of this campaign, the duo will embark on a drive across India, non-stop for an entire year. To sustain it they are running a crowdfunding campaign that ends on Monday. Next, they will spend time with fishermen at Dhanushkodi, a coastal village in Tamil Nadu, declared uninhabitable by the government because of repeated cyclones. But they will also halt in between and head the way the stories lead them.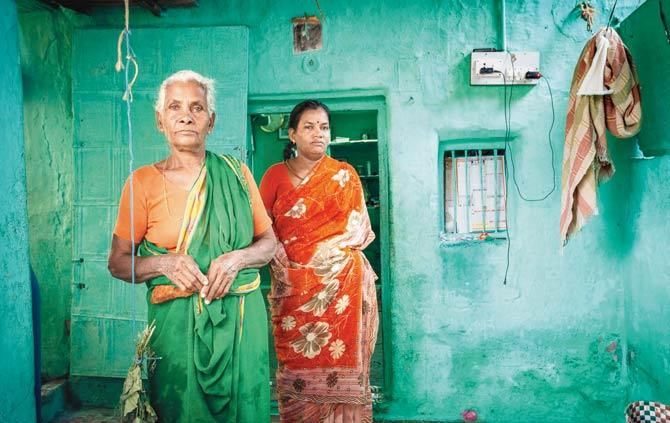 A family in Bodinayakanur, Tamil Nadu, abandoned by the men in their household 
"We decided that we wanted to create a more efficient work structure for them with our efforts, where we would not only highlight an issue but also facilitate relevant support for individuals/communities we met and documented. It's how Rest Of My Family was born. This project is an attempt to connect, re-discover our relationship and understand our responsibility towards the larger family that we are a part of," shares Shetty.
Life on the road
Giving us insight into the life stories that they've encountered, Shetty narrates one, about a boy from Bodinayakanur, Tamil Nadu, they had earlier written about. "We met 14-year-old Mari who worked at a garage and earned about R 100 a day. His mother works in the cardamom fields while his grandmother works in construction. All the men in their family have abandoned them. He left school early to lend his mother a helping hand. Mari is not interested in going to school but has a deep interest in automobiles. Hence, we are talking to automobile companies/state-of-the-art workshops that can absorb him and provide him an opportunity to shine," Shetty says.
She explains that the issues vary between regions, communities and individuals. "Since, our project is a story-driven one, the issue or the support that we are trying to extend will vary in nature and scale. With one story, we might be trying to get support for an individual or family. At other times, we might want to empower an entire community. Sometimes, the help needed might just come through an individual, otherwise we may have to try crowdfunding," she informs.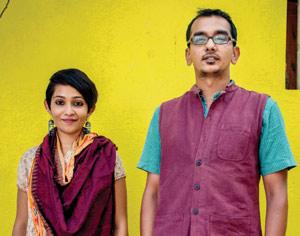 The traveller duo, (left) Akshatha Shetty and (right) Piyush Goswami.
Bring in the crowds
Though the amount collected through crowdfunding has already touched $19, 818, the uncertainty and difficulty of sustaining a project like this is still a challenge. But the team is confident.
"Our only source of income is our documentary work. We also freelance with a few publications and are living from pay cheque to pay cheque now. We are certain that as long as our journey is honest and we stay true to our philosophy, we will be able to continue to do what we have been doing. We have come so far only through our dedication and sincerity. And, we will let that decide our future," she signs off.
To follow Log on to - restofmyfamily. wordpress.com &
To contribute Log on to - www.indiegogo.com/ projects/rest-of-my-family-drive-for-change#/