Did the James Cameron movie blow your mind? Experience a similar virtual world in Mahalaxmi, courtesy a Swiss non-profit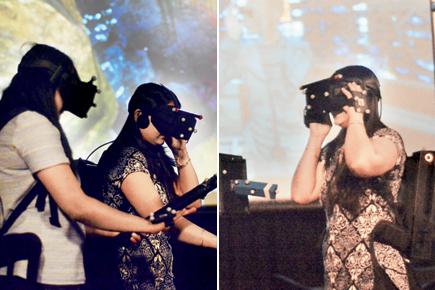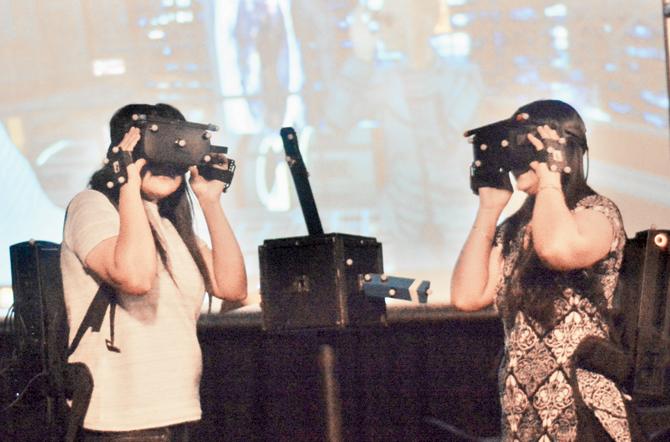 The writer explores the inside of a spaceship through the VR headset
As we eye unfamiliar gear lying on the floor of a dimly lit G5A studio in Mahalaxmi, we feel like we're on the sets of Avatar. Sylvain Chagué asks us to strap on gloves, pockmarked with motion tracking sensors, on our palms and feet. We also wear a Virtual Reality (VR) headset that's attached to a backpack. "Now, stretch your hands horizontally," instructs Caecilia Charbonnier. The action, we're told, will help the 16 infrared cameras set up in the space to track our movements.
ADVERTISEMENT
Brought down by Swissnex India, the duo, along with Clementine Lo, are co-founders of Artanim, a Geneva-based non-profit founded in 2011, dedicated to development of motion capture. The real-life set up and gear are part of their latest project, Inside Real Virtuality, a 10-minute multi-user, immersive experience that combines the world of 3D and motion capture. Here, you can see your own avatar, walk in the virtual environment and even interact with the objects present in that world. Showcased at Sundance Festival and Cannes Festival 2016, the experience is open to public today.
The writer (left) holds a black stick that matches the movements of a flaming torch, used to navigate a fortress in the virtual experience
How it works
The demo features three scenes. In the first, we are in the cockpit of a spaceship. A booming voice instructs us to find two crystals and insert them in a kaleidoscope-like box to complete the mission. As we bend to pick up a glittering green one (in the real world, it's a small cylindrical rod), we notice our hands shining grey. Standing opposite us is an alien avatar of another guest, wearing dark glasses.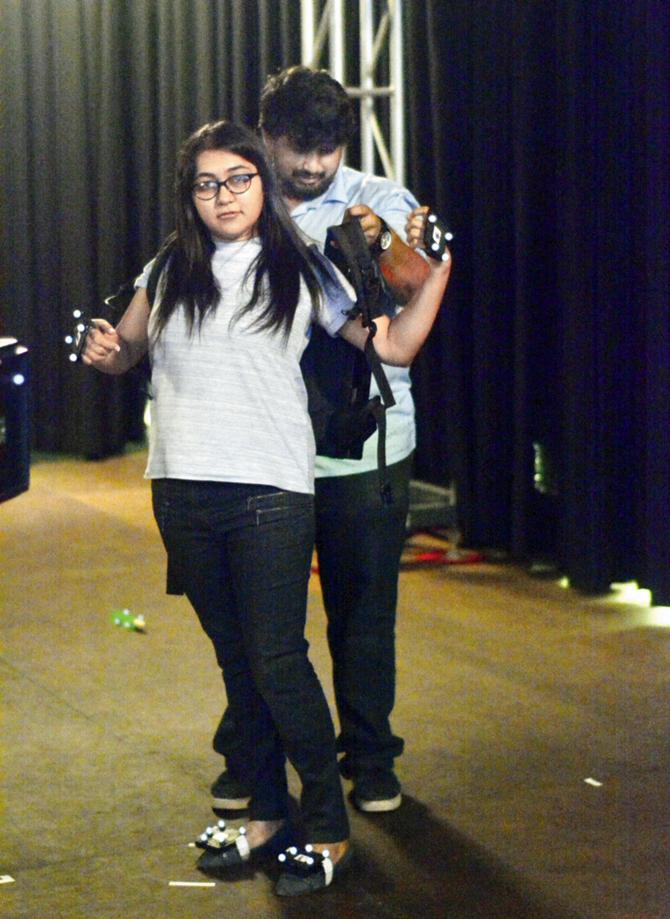 Meet the clones
Then, we cruise through a river flanked by a dark city — created by the team using references from the French film, Fifth Element. Monorails whoosh past us and skyscrapers tower over.
We turn around to see a couple ball-dancing next to us. We tread carefully to ensure we don't bump into them. Later, we're told that they weren't real; just virtual avatars of two Swiss choreographers that the team cloned for the game!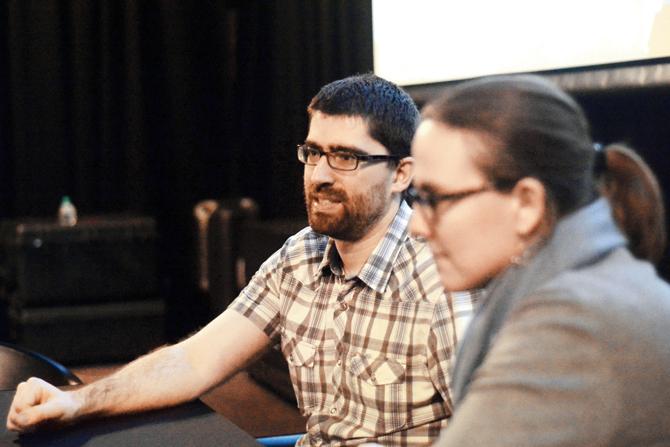 A team member helps the reporter strap on the gear; (left) Sylvain Chagué and Caecilia Charbonnier. Pics/Bipin Kokate
In the third scene, we find ourselves in a daunting fortress with broken wooden bridges and stone pathways, where if you miss a step, you'll fall into the unknown abyss. While a part of our brain knows that this is fiction, it's the game's life-like feel that tricks us into believing otherwise. So, we hold on to a flaming torch (a long stick) and tread carefully. Though flummoxed, we also take help from Chagué (who we can't see) to guide us through the virtual maze. Finally, when we touch a ball of fire and step back into real life, we realise the infinite possibilities that the world of Virtual Reality holds. "It's exciting, especially once more users have the equipment," says Chagué, as Charbonnier adds, "Guests from five to 92 years of age have experienced the demo. The technology can also be applied in various fields — in architecture, at cinema halls or in a museum." Now, wouldn't it be a dream to enter an Egyptian tomb virtually?