Once top contender for national bird of India, the great Indian bustard is struggling to survive. This weekend, you have the chance to spot it in Nannaj, it's only home in Maharashtra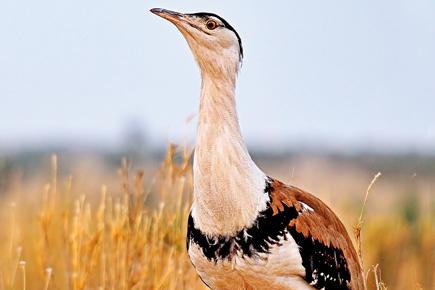 The great Indian bustard at Nannaj in 2012.
From being one of the top contenders for the national bird of India, to nearing extinction, the great Indian bustard (GIB) has had quite a tragic journey over the last few decades.
"There are only three of the species left in Nannaj (Solapur); one male and two females," says Makarand Ketkar, wildlife researcher with InSearch Outdoors. Led by a team of experts, the company has organised a two-day trip to Nannaj, the main habitat of the Great Indian Bustard Sanctuary, to create awareness about the bird, and to promote its conservation. "Chances of spotting it are very bleak, looking at their current status, but we remain hopeful," he assures.
ADVERTISEMENT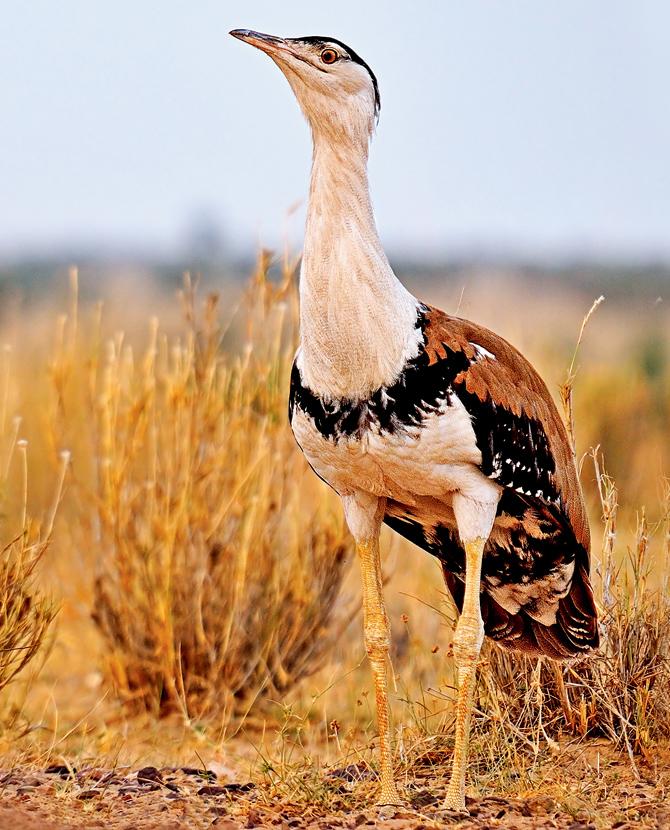 The great Indian bustard at Nannaj in 2012. Pic courtesy/Ashok Chaudhary

According to WWF India, its black crown on the forehead, contrasting with the pale neck and head distinguishes the great Indian bustard. The body is brownish and the wings are marked with black, brown and grey. Males and females generally grow to the same height and weight but males have larger black crowns and a black band across the breast. The great Indian bustard is one of the largest birds that can fly, and was originally an inhabitant of grasslands in India and Pakistan. However, it has disappeared from 95% of its original habitat, as well as the three sanctuaries in India — the Great Indian Bustard Sanctuary (Nannaj), Desert National Park (Jaisalmer) and Kutch Bustard Sanctuary (Gujarat) — that were declared for its protection.
Also read: Forest Department planned to chop trees at Nanaj Sanctuary to provide grassland habitat to dwindling, endangered Great Indian Bustards in 2009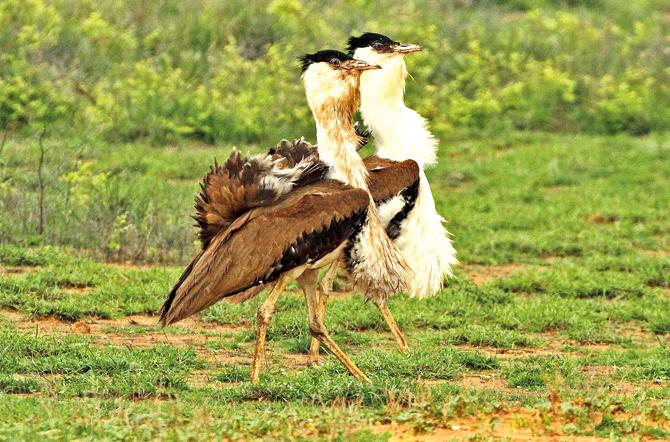 A photograph from 2012 of two great Indian bustard males fighting to stake claim on their territory in Nannaj.  Pic Courtesy/Ashok Chaudhary
Fight for survival
Ketkar informs that the current plight of the great Indian bustard in Maharashtra is a prime example of how conservation efforts can backfire, if the local population is not involved in it.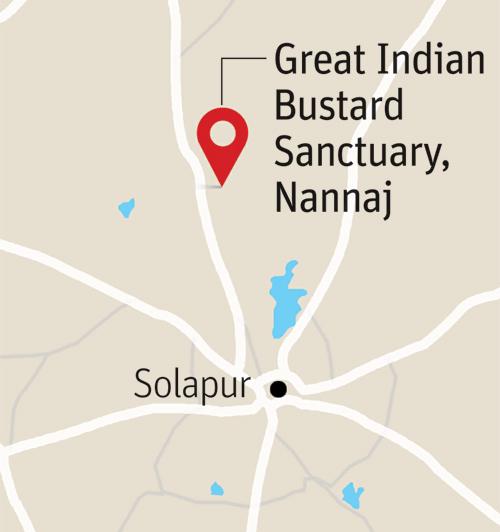 It's believed that, soon after Nannaj was identified as Great Indian Bustard Sanctuary in the 1970s, the locals begin killing the bird in fear of losing their land. "There were rumours that if its egg was found in your land, the government would seize it. This led to mass paranoia, and the locals started killing the bustard and destroying its eggs," he adds.
Now, the Nannaj bird sanctuary has been reduced from its original 8,496 sq km to just 1,100 sq kms, divided into three different pockets, informs Ketkar.
Growing population, depleting grasslands, industrialisation and power transmission lines didn't help either. Ashok Chaudhary, a known wildlife photographer and conservationist, informs that the Desert National Park in Jaisalmer, Rajasthan and Kutch Bustard Sanctuary in Gujarat are the only two places where the great Indian bustard is bred in captivity. But if HS Singh, member of the National Board for Wildlife, which reviews all issues related to wildlife, is to be believed, they aren't doing well either. In a recent interview, he stated that only 120 of them survive across three Indian states, where 70-80 can be spotted found in Rajasthan, 30-40 in Gujarat and about 4-5 in Maharashtra.
The fact that the great Indian bustard is a slow breeder is a major obstacle in the breeding programme. "It lays only one egg in a year, and that too, in an open area; hence it's prone to danger from man and other animals," informs Chaudhary, adding that he has has reservations against captive-breeding any way. "I do not agree with captive-breeding. The GIBs are the tigers of
grasslands; they need to live in the wild. I want them to survive in the wild," he shares.
Ketkar believes that awareness is the key. "If more people know about the GIB, and its current situation, we will be able to push harder for its conservation," he summarises.
Nannaj
From Mumbai 437 km
Overview: Nannaj is 22kms  from Solapur by road. It's part of the Great Indian Bustard Sanctuary that includes areas from North Solapur, Madha, Mohol and Karmala talukas of Solapur district, and Karjat, Shrigonda and Newasa talukas of Ahmednagar district.
Don't miss: Nannaj is home to the critically endangered great Indian bustard, usually spotted between August to January. A popular haunt for avian enthusiasts, Nannaj is home to more than 80 species of birds seen along with mammals such as Chinkaras, black bucks, hyenas, wolves and foxes.
Stay:  Solapur city
Checklist
>> Don't litter in the forest
>> Bring good quality trekking shoes
>> Carry sunglasses and sunscreen lotion
>> Take along drinking water