Sitar player Purbayan Chatterjee hopes to change the way Indian Classical music performances are experienced by adding theatrics to instruments; the start point being a transparent sitar made of Plexiglas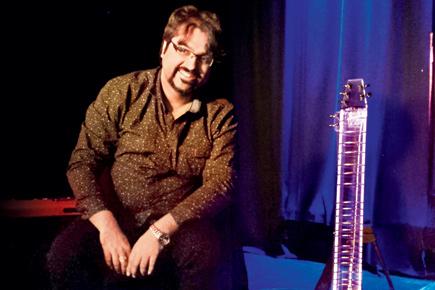 Purbayan Chatterjee
  Nearly a year ago, an idea hit musician Purbayan Chatterjee — it was to create an electric sitar that would react to every note played on it. He wanted a sitar that would sound alive and at the same time serve as a visual attraction on the stage.
Also read: Sitar, the Star Wars way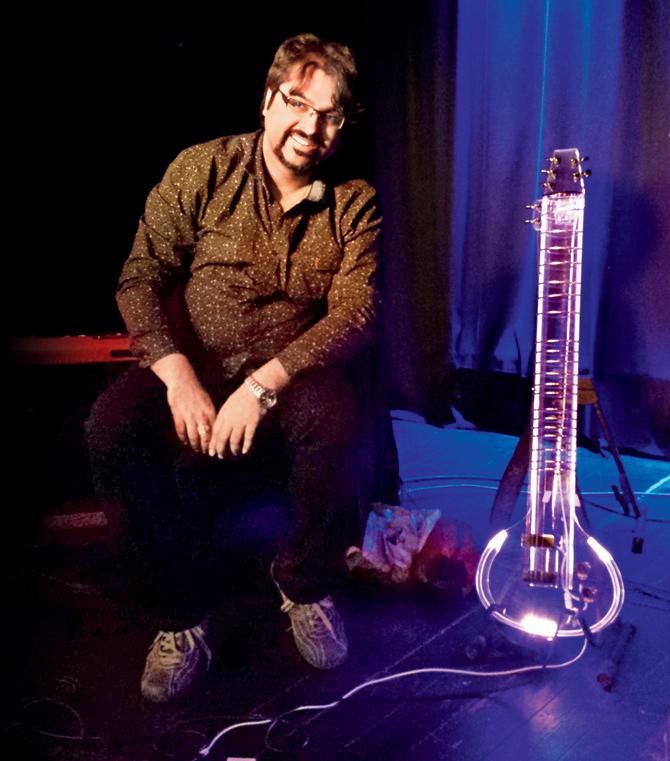 "Indian Classical music requires a lot of discipline from the listener, and we were looking for a way to enhance the experience of watching our concerts. We do lot of experimental music, so I felt, why not experiment with the instruments?" he shares.
The idea was to add a visual theatrical element to their music, and that's when the idea of creating a see-through sitar with lights on it came to be. He shared his idea with Klaas Janssens, a Belgium-based sitar maker who runs a small sitar-making shop called, Sitar Factory, and is known for making avant-garde sitars using materials such as Carbon fibre.
Janssens, however, found the idea weird, especially since he had never built a sitar with lights on it, or using Plexiglas, a transparent material also called Poly (methyl methacrylate) or PMMA. He also found Plexiglas too synthetic. But the challenge got the best of him, and after nearly a year of hard work, the solid-body Plexiglas sitar was completed in June 2015.
New sounds
Purbayan adds that he constantly looks for ways to link technology and traditional music together, and enhance the experience of traditional instruments. Currently, he owns eight sitars, of which six are modified versions of the traditional sitar including one electric sitar that sounds like a guitar.
"At present the See-Tar only converts music notes into different colours of lights, but there is so much more I want to do. An expert is working on an algorithm for me, to convert the music notes on the sitar into colourful graphics that would be projected on the instrument itself," he adds.
The See-Tar gets a solid body made of Plexiglas. Purbayan says that the electric nature of the sitar allowed them to experiment with newer materials including replacing traditional materials (such as deer horns for bridges) with artificial resins. The main parts, according to its maker, Sitar Factory, including the taardan, langot and jawari are made using black buffalo horn and modified PMMA. The machine heads are M6 Mini from Schaller Electronic and it uses the Slimbucker Jazz guitar pickup from Kent Armstrong, while the strings are silver plated steel.
Since the See-Tar is an electric sitar, it doesn't have some of the crucial elements found in a traditional sitar such as the kaddu (the large hemispherical shape at the bottom of a sitar) or the tumba (a smaller hemispherical shape attached to the neck of a sitar). It's 1070mm long, 300mm wide and 105mm high; the neck width stands at 90mm whereas the scale is 822mm long.
All about the music
But how does all this affect the final sound of the sitar? Purbayan informs that using Plexiglas has made the See-Tar more alive. "With a wooden sitar you get a dead body kind of tone, but with the See-Tar you get a very resonant sound," he adds.
But not all seem happy with his experiments on sitar, especially since Chatterjee on most occasions plays his sitar in standing-up position, and not in a sitting position as done traditionally. "Some people feel I don't play original music, while others think it's amazing.
Both parties are right. But I want a different kind of experience. Even though, I play most of the times standing-up, I don't disrespect my instrument. I keep it clean, and carry it with utmost respect," he reasons.
At the time of going to the press, Chatterjee was to perform with the See-Tar accmpanied by tabla player Suphala at a concert at BlueFROG, Lower Parel, scheduled on Wednesday evening.