Jiyo Parsi's ad campaign, which urges Parsi couples to marry early, within the community, and multiply, has raised hackles among many who accuse it of sexism and eugenics. Kareena Gianani tries to decode the debate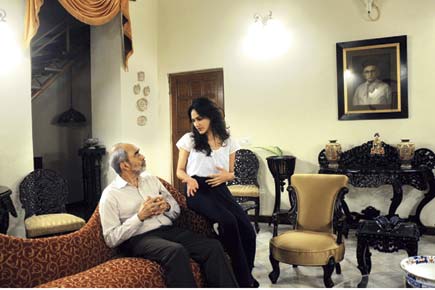 For the past three years, Simin Patel, a DPhil candidate at Balliol College, University of Oxford, has been ardently researching the social history of Parsis in the country, especially how they became modern - changes in the way they dressed, dined and how their domestic spaces evolved, too.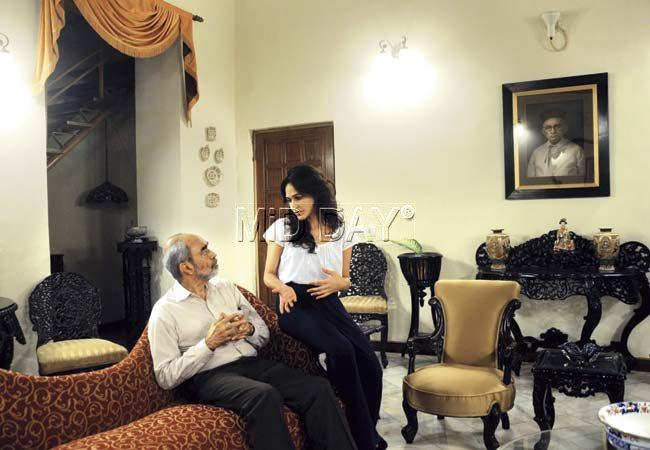 Simin Patel and her father, Jehangir Patel, editor of the magazine, Parsiana, at their Tardeo residence. Pic/Satyajit Desai
The 29-year-old Parsi was unamused when, on Monday, she woke up to an advertisement of a Parsi girl standing at a Parsi Colony, gazing at a signboard that read 'Hindu Colony' (the tagline: 'If you don't get married and have kids, this area will have a new name in your lifetime').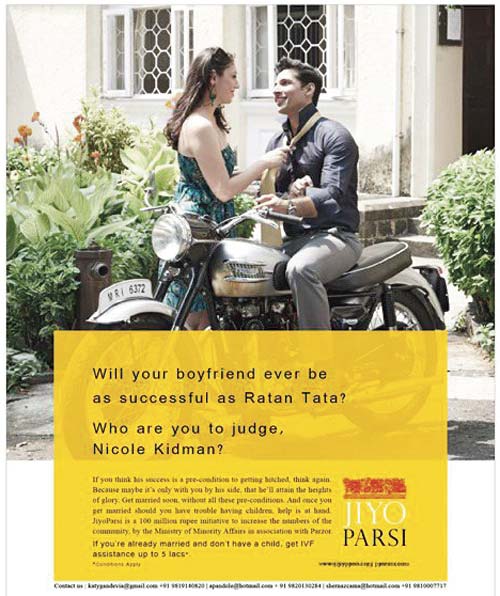 A Jiyo Parsi advertisement
Another ad asked Parsi girls to not worry if their Parsi boyfriend never became Ratan Tata. 'Who are you to judge, Nicole Kidman?' it quipped. Jiyo Parsi, the Rs 10-crore government-supported scheme launched in September 2013, hopes to restore the community's flat out decline - only 69, 000 Parsis remain in India - by encouraging the community to marry "well in time" and conceive. The incentive? It will endow Parsi couples up to Rs 5lakh every time they decide to undergo the IUF/IVF treatment.
'The campaign is sexist'
"But who is a 'Parsi' according to this scheme?" demands Simin. "A Parsi man, whether he is married to a Parsi or otherwise, and a Parsi woman, only if she has married within the community. A large part of the community lives on welfare schemes, and with Jiyo Parsi, the welfare space starts in the womb and ends at the Tower of Silence," she rues.
If one just went by the campaign's Facebook page and comments on related articles in publications over the last week, the campaign is finding eager takers. On Friday alone, three couples came forward to avail of
the scheme.
However, more liberal Parsis fail to see the 'humour' and 'wit' of these ads and feel the campaign's sexism is palpable. Apart from the sexism, adds Simin, The Hindu Colony ad is especially shocking given the history and camaraderie Parsis and Hindus have shared over time.
"I recently attended the book launch of India's leading architect, Kamu Iyer, and was moved by how fondly he remembered growing up near Dadar Parsi Colony; his is not an isolated case. Is this how we repay a community that has only been kind to the Parsis?" asks Simin.
Parsi orthodoxy is no laughing matter, believes Simin. "Growing up, I have seen a strong orthodox side - they're well-organised, well-funded and have a strong presence in diaspora. First, they denied Parsi women their rights, now it is racial purity and genetically engineered babies - what's next?"
'Hope for infertile couples'
Dr Shernaz Cama, honorary director of the UNESCO-funded Parzor Project, which will implement the Jiyo Parsi scheme, says she's baffled. "This scheme was thought of after going through research into our dwindling numbers. Parsis have a Total Fertility Rate (TFR) of 0.88 per couple, and a community needs a TFR of 2.1 to survive. We have a medical problem and Jiyo Parsi addresses that," she says.
Dr Cama, who, in 1999, was invited by UNESCO to initiate a project on the Preservation and Promotion of Parsi Zoroastrian Culture and Heritage, says an increase in their numbers is the only way to arrest the alarming and saddening loss of Zoroastrian culture she encountered over multiple field trips across the country.
"Once, as we documented the songs of an oral storyteller in Bharuch, he asked us who would care about this tradition, and we had no answer, because the city now has only 70 Parsis from 7,000. I maintain that Parsi culture is a hybrid of Irani, Chinese, Indian and European cultures - but who exactly will be left to preserve this culture if we continue dwindling the way we are?" wonders Cama.
She, however, faces tough questions from within the community itself, even from senior, religious Parsis. Parsiana editor and professor, Jehangir Patel, wonders why - if preservation of culture is the raison d'etre of Jiyo Parsi- does it not address the need for a good value system among young Parsis and urge them to be more involved in their culture.
"True, we are a minority, but imagine if, in the US, there was a campaign propagating the African-American community to marry within itself - and the kind of criticism it would be under," he says.
Mixed messages for women
Jehangir is also worried about the message the community is sending to Parsi women - women who are allowed to vote during the punchayet election but not allowed to contest them. "It tells them - procreate for us, but do not demand equal rights." Jehangir insists that the campaign again, sadly, only perpetuates the quantity, not quality of the community.
Dr Cama, however, insists that she is simply working under the purview of the Indian law. "Yes the law does not give rights to the children of a Parsi woman married to a non-Parsi - let Jiyo Parsi's critics change the Indian law, then," she maintains.
She adds that the data collected by Parzor in association with TISS, Bombay Hospital, South Gujarat University and Cancer Research Institute to examine the demographic, medical and sociological issues facing the Parsis, threw up issues to her "terrible consternation".
"In NCR, for instance, we found that while Parsi women married to non-Parsis conducted their daughters' Navjotes, they copped out when it came to their sons to avail of HUF (Hindu Undivided Family) benefits. The young adults we interviewed said they were terribly uncomfortable by the negativity created in matters of religion.
Moreover, over 95 per cent of children of a Parsi mother and non-Parsi father did not marry back into the community, which comes back to threaten Zoroastrian culture - we are looking at a genetic tipping point here," says Dr Cama.
Dr RP Soonawala, an eminent city gynecologist, wonders whether there could have been a middle ground here. He believes that the minority community is in dire need of a campaign or risks extinction, but has not missed the lacunae in Jiyo Parsi.
He questions what it offers to the likes of his daughter-in-law, a Gujarati, who is keen that her sons follow the Zoroastrian faith. But when she takes them to the fire temple, she waits outside.
'Focus on moral conduct'
"Agiaries in Iran and Canada allow non-Parsis to enter, so why can't we? Most temples, churches and synagogues don't keep anybody out. As a Parsi, my fondest childhood memories are those involving my family on festive occasions at the fire temple.
Religion's impact has diluted today, and exclusion is counter-productive. Secondly, we must direct such large-scale efforts toward promoting moral conduct because the argument that Parsis easily multiplied in the past and that's how the community grew, just doesn't hold true anymore; each family then had 12-15 children, which is unthinkable today," says Dr Soonawala.
The Jiyo Parsi campaign takes a dig at the men who "haven't broken up with their mothers" but Arshir Javeri, a 32-year-old make-up artist ("and a genetic Parsi," he jokes), says Jiyo Parsi has missed the point. "Consider this - there exist Parsi men and women with money and houses - why then are we still marrying outside the community?
Because it is only natural today. Imagine the scheme is a success and there are more Parsis - do you think a Parsi will stop looking outside and marry within to preserve heritage? That's like my parent holding on to her old cupboard!" he chuckles.
To Simin, the implication of such campaigns will be the rise in the number of right-wing Parsis who depend on the system all their lives. "The pressures on their children to continue in the same vein or risk being stripped of privileges will be immense," she says.