Dubstep sensation Sonny John Moore aka Skrillex is talks about his collaborations and is looking fiorward to his debut India tour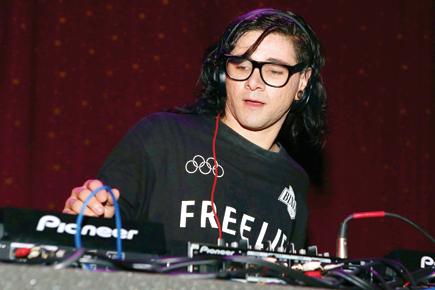 Skrillex showing of his skateboarding skills
  Q. What kind of music did you grow up listening to and how did it shape your career in music?
A. I feel like all my musical influences have come from people who have done things differently or emerge from an alternative side. I grew up listening to everything from Hip-Hop to Metal, Punk and IDM (Intelligent Dance Music). I first heard Aphex Twin when I was young and realised that you can do something all by yourself, and let your imagination run wild and use a computer or electronics as as instrument. That really inspired me to become a producer. When I heard Michael Jackson, I wanted to be a singer, and when my dad took me to see Metallica, when I was nine, I wanted to play the guitar.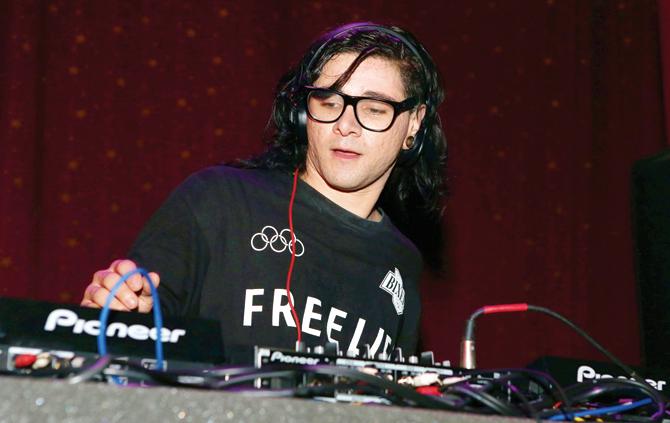 Skrillex performing at a private gig in New York City. Pic/AFP
Q. You've gained recognition and fame early. How has it affected your life?
A. If you constantly choose your next path, it will keep you busy, motivated, hungry and productive. You will be where you need to be. It's all I did in my life and will continue to. I wanted to leave home so I could make music right away and that was the first and quickest step.
Q. One of your biggest hits this season has been the Jack Ü (his project with Diplo) single with Justin Bieber.
A. I've always respected Justin Bieber as an artist and the fact that he was so young, and doing what he did. He intrigued me. When it came to Jack Ü, the whole point that Wes (Diplo) and I like to do together is that we don't really have any rules on who we work with or don't work with. We ran into Justin in a very organic way, so, it was awesome. I believe that Justin is one of those talented people in the world.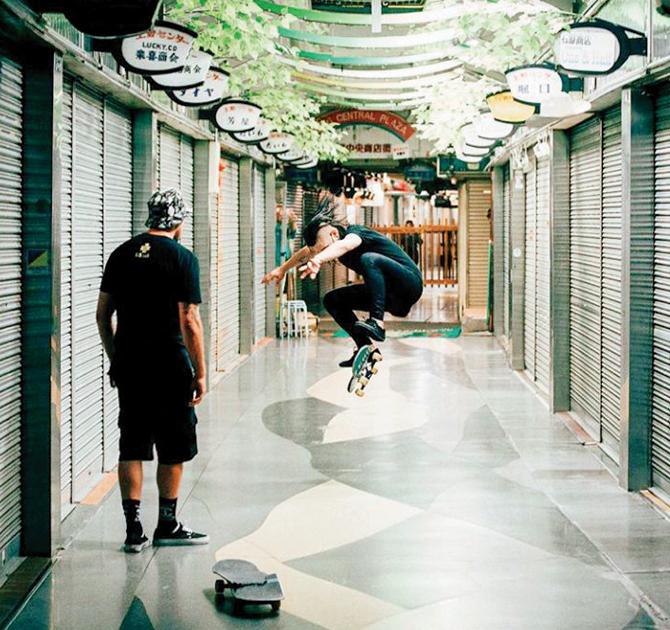 Skrillex showing of his skateboarding skills. Pic courtesy/instagram.com/skrillex
Q. You are a sought-after artiste for collaborations. Do artistes from other genres take EDM artistes and DJs seriously or is it difficult for young artistes?
A. It is all very new but not difficult. It's crazy because everybody works differently. [For me] No matter who I collaborate with, I always learn something new about myself and how to approach making music. For instance, while doing the song with The Doors — they were the strongest ones — Robby (Krieger) and Ray (Manzarek) were jamming together, so I made a drum loop and they were jamming; from there, we pieced stuff together. It's how they like to work. Online collaborations are a new way of making music.
Q. What do you like to do in your free time?
A. Skateboarding and cooking.
Q. What will be on your itinerary during this trip to India?
A. I am excited to take some Bollywood music back home. I love it. I watch Bollywood movies on flights.
Q. Have you come across any Indian artistes?
A. I have heard of the artiste Yo Yo Honey Singh. I know he is blowing up right now. His stuff is pretty cool. But maybe I'll find new artistes when I get to India and collaborate, to make a big hit.
Q. You have been touring forever. When do you plan to take a break?
A. Not in the near future (laughs). Skrillex will perform as part of VH1 Supersonic Arcade in Mumbai, Delhi, Hyderabad and Bengaluru.on October 10, 5 pm gates openat Reliance Jio Gardens, C wing, G Block, Bandra Kurla Complex, Bandra (E).
Log on to: www.meraevents.com