Here's a list of 25 famous people who have not only coped with hearing loss in their lives, but excelled in their fields. Hopefully, these people will inspire you teach you that hearing loss or any other impairment should not hold you back!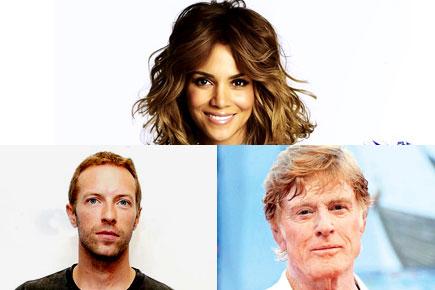 World Hearing Day: These 25 celebs with hearing disabilities are inspirational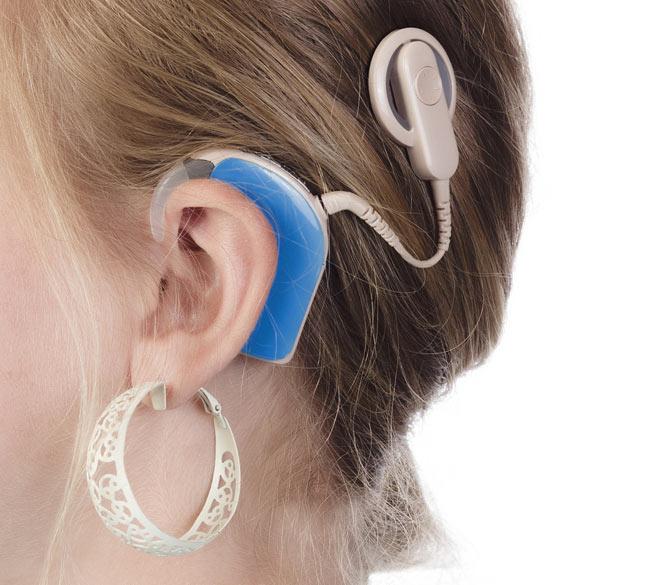 Representational picture
Do you feel down and depressed because you can't hear clearly? Well, don't lose heart. There are millions of people around the world dealing with hearing impairment on a daily basis.
ADVERTISEMENT
Here's a list of 25 famous people who have not only coped with hearing loss in their lives, but excelled in their fields. Hopefully, these people will inspire you teach you that hearing loss or any other impairment should not hold you back!
1. Helen Keller
Helen Adams Keller was an American author, political activist, and lecturer. She was the first deaf-blind person to earn a bachelor of arts degree. Helen proved to the world that deaf people could all learn to communicate and that they could survive in the hearing world. She also taught that deaf people are capable of doing things that hearing people can do. She is one of the most famous deaf people in history and she is an idol to many deaf people in the world.
2. Rush Limbaugh
Rush Hudson Limbaugh III is an American entertainer, radio talk show host, writer, and conservative political commentator. According to December 2015 estimates by Talkers Magazine, Rush Limbaugh has the most listened-to talk-radio programme in the US. In the 1990s, Limbaugh's books The Way Things Ought to Be (1992) and See, I Told You So (1993) made The New York Times Best Seller list. In 2015, Forbes listed his earnings at $79 million for the previous 12 months, and ranked him the 11th highest earning celebrity in the world. In late 2001, he acknowledged that he had gone almost completely deaf, although he continued his show. He was able to regain much of his hearing with the help of a cochlear implant in 2001.
3. Marlee Matlin
Marlee Beth Matlin is an American actress. She won the Academy Award for Best Actress in a Leading Role for Children of a Lesser God (1986) and is the only deaf performer to win the award. Her work in film and television has resulted in a Golden Globe award, with two additional nominations, and four Emmy nominations. Deaf since she was 18 months old, due to illness and high fevers, she is also a prominent member of the National Association of the Deaf. 
4. Bill Clinton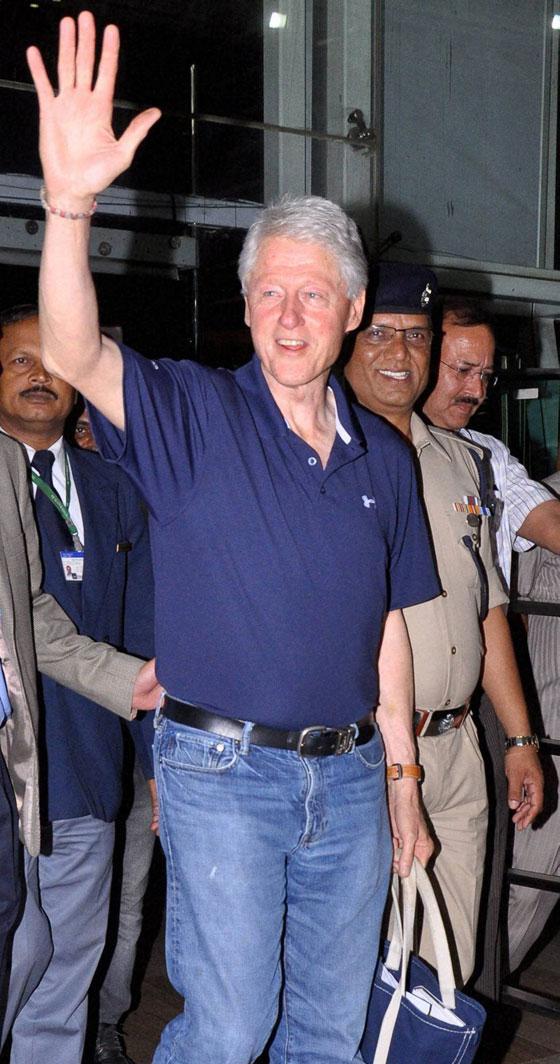 Former US president  Bill Clinton. File Pic/PTI
William Jefferson 'Bill' Clinton was the 42nd President of the United States from 1993 to 2001. Prior to the Presidency he was the 40th Governor of Arkansas from 1979 to 1981 and the state's 42nd Governor from 1983 to 1992. Before that, he served as Arkansas Attorney General from 1977 to 1979. In October 1997, he announced he was getting hearing aids, due to hearing loss attributed to his age, and his time spent as a musician in his youth.
5. Lou Ferrigno

Lou Ferrigno with Sahil Khan
Louis Jude 'Lou' Ferrigno is an American actor, fitness trainer, and retired professional bodybuilder. As a bodybuilder, Ferrigno won an IFBB Mr. America title and two consecutive IFBB Mr. Universe titles, and appeared in the bodybuilding documentary Pumping Iron. As an actor, he is best known for his title role in the television series 'The Incredible Hulk'. Soon after he was born, Ferrigno says he believes he suffered a series of ear infections and lost 75 to 80% of his hearing, though his condition was not diagnosed until he was three years old. Hearing loss caused Ferrigno to be bullied by peers during his childhood.
6. Holly Hunter
Holly Hunter is an American actress and producer. For her performance as Ada McGrath in the 1993 film The Piano, she won the Academy Award for Best Actress, BAFTA Award for Best Actress in a Leading Role, AACTA Award for Best Actress in a Leading Role, Golden Globe Award for Best Actress – Motion Picture Drama, and the Cannes Best Actress Award. She was also nominated for the Academy Award for Best Actress for Broadcast News (1987), and the Academy Award for Best Supporting Actress for The Firm (1993) and Thirteen (2003). A seven-time Emmy Award nominee, Hunter won Emmys for Roe vs. Wade (1989) and The Positively True Adventures of the Alleged Texas Cheerleader-Murdering Mom (1993). She suffered from mumps as a child, and lost hearing in her left ear. But she hasn't let being deaf hold her back. In fact, in an interview she attributed some of her success as an actor to her impairment.
7. Rob Lowe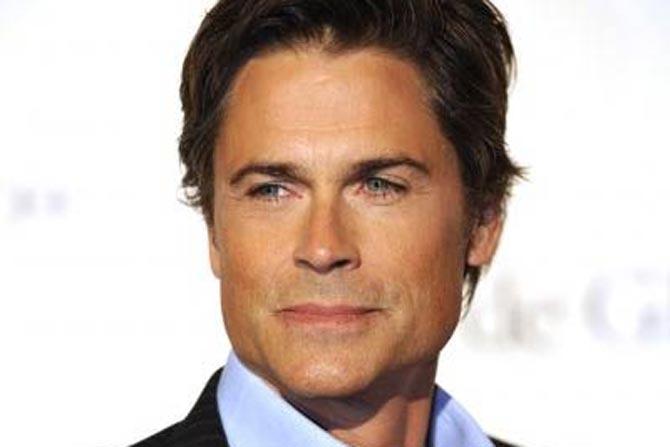 Rob Lowe
Robert Hepler 'Rob' Lowe is an American actor. He has garnered fame for appearing in such films as The Outsiders (1983), Oxford Blues (1984), St. Elmo's Fire (1985), About Last Night... (1986), Square Dance (1987), Wayne's World (1992), Tommy Boy (1995), Austin Powers: The Spy Who Shagged Me (1999), Austin Powers in Goldmember (2002), Thank You for Smoking (2006), The Invention of Lying (2009) and Sex Tape (2014). On television, Lowe played Sam Seaborn on The West Wing, Senator Robert McCallister on Brothers & Sisters, and Chris Traeger in Parks and Recreation. In addition to receiving an Emmy Award nomination in 2001 for his work on The West Wing, Lowe has been nominated for six Golden Globe Awards; his nominations span four of the seven categories for male actors. The actor has been completely deaf in his right ear due to an undiagnosed case of the mumps when he was an infant.
8. Ludwig van Beethoven
Ludwig van Beethoven was a German composer and pianist. A crucial figure in the transition between the Classical and Romantic eras in Western art music, he remains one of the most famous and influential of all composers. His best-known compositions include 9 symphonies, 5 piano concertos, 1 violin concerto, 32 piano sonatas, 16 string quartets, his great Mass the Missa solemnis, and one opera, Fidelio. By his late 20s his hearing began to deteriorate, and by the last decade of his life he was almost completely deaf. In 1811 he gave up conducting and performing in public but continued to compose; many of his most admired works come from these last 15 years of his life.
9. Danny Elfman
Daniel Robert "Danny" Elfman is an American composer, singer, songwriter, and record producer. From 1974 to 1995 he was the lead singer and songwriter for the band Oingo Boingo. Among his honours are four Academy Award nominations, a Grammy for Batman, an Emmy for Desperate Housewives, the 2002 Richard Kirk Award, and the Disney Legend Award. In an interview, Elfman had stated that he had significant and irreversible hearing damage as a result of his continuous exposure to the high noise levels involved in performing in a rock band.
10. Pete Townshend
Peter Dennis Blandford "Pete" Townshend (born 19 May 1945) is an English musician, singer, songwriter, and multi-instrumentalist, best known as the lead guitarist, backing vocalist, and main songwriter, for the rock band The Who. His career with the Who spans over 50 years, during which time the band grew to be considered one of the most influential bands of the 20th century. Townshend is the main songwriter for The Who, having written well over 100 songs for the band's 11 studio albums. Townshend has hearing loss and tinnitus in both ears, believed to be because of the loud noise exposure from performing at concerts and wearing earphones in the music studio while recording.
11. William Shatner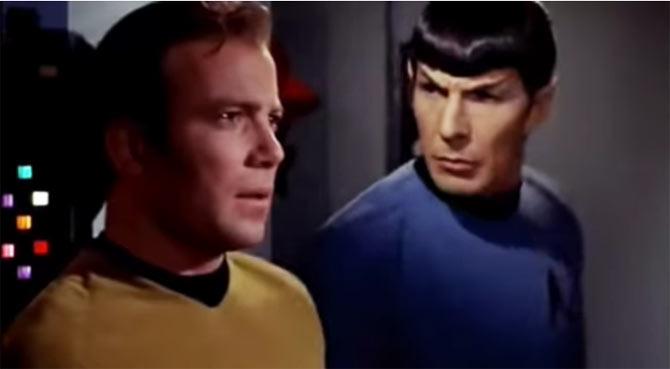 William Shatner and Leonard Nimoy as Captain James T Kirk and Mr. Spock respectively from 'Star Trek'. Pic/YouTube
William Shatner is a Canadian actor, author, producer, and director. In his seven decades of television, Shatner became a cultural icon for his portrayal of James T. Kirk, Captain of the USS Enterprise, in the Star Trek franchise. Shatner also played the eponymous veteran police sergeant in T. J. Hooker (1982–86), and then he hosted the reality-based television series, Rescue 911 (1989–96), which won a People's Choice Award for the Favorite New TV Dramatic Series. He starred as attorney Denny Crane in the legal drama The Practice and its spinoff series Boston Legal, a role that earned him two Emmy Awards. Shatner suffers from tinnitus, which he has speculated might be the result of a pyrotechnical accident on set while shooting the Star Trek episode "Arena".
12. Halle Berry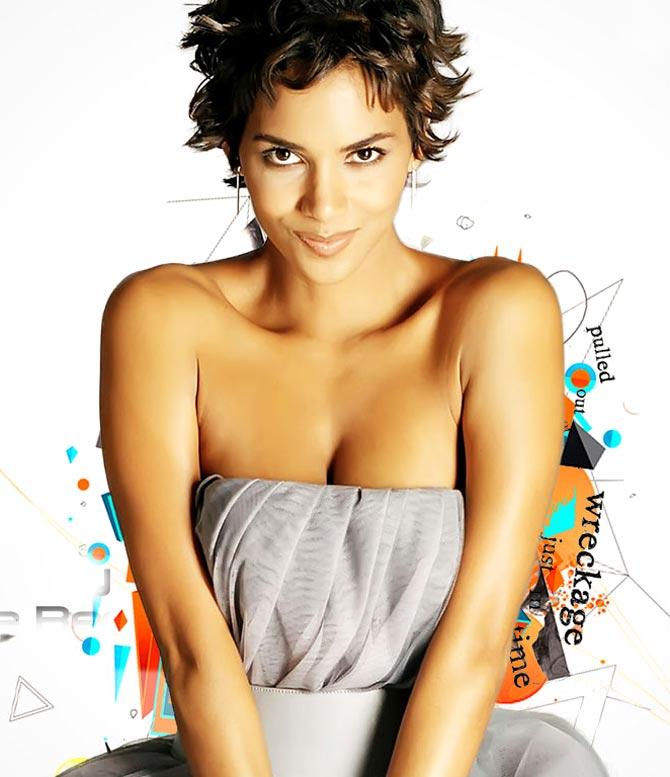 Halle Berry
Halle Maria Berry is an American actress, film producer, and former fashion model. She won an Academy Award for Best Actress in 2002 for her performance in the romantic drama Monster's Ball (2001), which made her the only black woman to win a Best Actress Academy Award to date, as of 2017. Berry was one of the highest paid actresses in Hollywood during the 2000s. Before becoming an actress, she started modeling and entered several beauty contests, finishing as the 1st runner-up in the Miss USA Pageant and coming in 6th place in the Miss World Pageant in 1986. The actress has an 80% hearing loss in her left ear, caused by being hit in the head by her boyfriend.
13. Thomas Edison
Thomas Alva Edison was an American inventor and businessman, who has been described as America's greatest inventor. He developed many devices that greatly influenced life around the world, including the phonograph, the motion picture camera, and the long-lasting, practical electric light bulb. Edison developed hearing problems at an early age. The cause of his deafness has been attributed to a bout of scarlet fever during childhood and recurring untreated middle-ear infections. Around the middle of his career, Edison attributed the hearing impairment to being struck on the ears by a train conductor when his chemical laboratory in a boxcar caught fire and he was thrown off the train in Smiths Creek, Michigan, along with his apparatus and chemicals. In his later years, he modified the story to say the injury occurred when the conductor, in helping him onto a moving train, lifted him by the ears.
14. Eric Clapton
Eric Patrick Clapton, CBE, is an English rock and blues guitarist, singer, and songwriter. He is the only three-time inductee to the Rock and Roll Hall of Fame: once as a solo artist and separately as a member of the Yardbirds and Cream. Clapton has been referred to as one of the most important and influential guitarists of all time. Clapton ranked second in Rolling Stone magazine's list of the "100 Greatest Guitarists of All Time" and fourth in Gibson's "Top 50 Guitarists of All Time". He was also named number five in Time magazine's list of "The 10 Best Electric Guitar Players" in 2009. The musician developed hearing loss and tinnitus in both ears as a result of years of performing at concerts.
15. Leslie Nielsen
Leslie William Nielsen was a Canadian actor, comedian, and producer. He appeared in more than 100 films and 150 television programs, portraying more than 220 characters. Nielsen received a variety of awards and was inducted into the Canada and Hollywood Walks of Fame. Nielsen was legally deaf and wore hearing aids for most of his life.
16. Jane Lynch
Jane Marie Lynch is an American actress, singer, and comedian. She is best known as Sue Sylvester on Glee. Her portrayal of Sue Sylvester in Glee has won numerous awards, including the Primetime Emmy Award, Golden Globe Award, Screen Actors Guild Award for Outstanding Performance by an Ensemble in a Comedy Series, TCA Award for Individual Achievement in Comedy, Satellite Award for Best Supporting Actress – Series, Miniseries, or Television Film, and the People's Choice Award for Favorite TV Comedy Actress. The Glee star is deaf in her right ear. While her impairment was most probably the result of a high fever as a baby, she realised she's deaf in one ear only when she was seven years old.
17. will.i.am
William James Adams (born March 15, 1975), known professionally as will.i.am (pronounced "will-eye-am"), is an American rapper, singer, songwriter, entrepreneur, actor, musician, DJ, record producer and philanthropist. He is best known as a founding member of the hip hop group The Black Eyed Peas, with whom he has received multiple awards. will.i.am suffers from tinnitus, which is a permanent ringing in his ear that can be caused by loud noise.
18. Stephen Colbert
Stephen Tyrone Colbert is an American comedian, television host, and author. Colbert has hosted The Late Show with Stephen Colbert, a late-night television talk show, since September 8, 2015. Colbert has won nine Primetime Emmy Awards, two Grammy Awards, and two Peabody Awards. Colbert was named one of Time's 100 Most Influential People in 2006 and 2012. His book, I Am America (And So Can You!), was #1 on The New York Times Best Seller list in 2007. Colbert underwent an operation as a child to repair a severely perforated eardrum, but the surgery was a failure and left him deaf in his right ear.
19. Jodie Foster
Alicia Christian 'Jodie' Foster is an American actress and filmmaker who has worked in films and on television. She has often been cited as one of the best actresses of her generation. Foster's breakthrough came in Martin Scorsese's Taxi Driver (1976), in which she played a teenage prostitute; the role garnered her a nomination for an Academy Award. Her portrayal of a rape survivor in The Accused (1988), won her several awards, including an Academy Award and a Golden Globe. She won her second Academy Award three years later for her role in the sleeper hit The Silence of the Lambs, where she played Clarice Starling, an FBI trainee investigating a serial murder case. Foster has spoken about her hearing loss, and been photographed wearing a hearing aid.
20. Whoopi Goldberg

Whoopi Goldberg in Sister Act
Caryn Elaine Johnson is an American actress, comedian, author and television host. She has been nominated for 13 Emmy Awards for her work in television and is one of the few entertainers who has won an Emmy Award, a Grammy Award, an Oscar, and a Tony Award. She was the second black woman in the history of the Academy Awards to win an acting Oscar when she won Best Supporting Actress in 1991 for her potrayal of Oda Mae Brown in the film Ghost. Goldberg wears hearing aids in both ears and believes her hearing loss is due to consistently listening to very loud music in the past. 
21. Robert Redford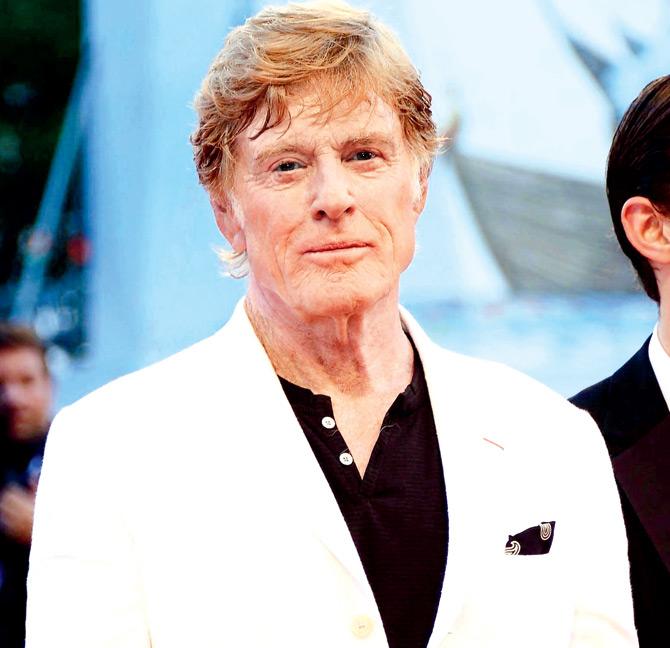 Robert Redford
Charles Robert Redford Jr. is an American actor, director, producer, businessman, environmentalist, and philanthropist. Redford is the founder of the Sundance Film Festival. Redfordearned an Emmy nomination as Best Supporting Actor for his performance in The Voice of Charlie Pont (1962). His greatest Broadway success was as the stuffy newlywed husband of Elizabeth Ashley in Neil Simon's Barefoot in the Park (1963). In April 2014, Time Magazine included Redford in their annual TIME 100 as one of the "Most Influential People in the World", declaring him the "Godfather of Indie Film". He starred in Butch Cassidy and the Sundance Kid (1969), which was a huge success and made him a major star. In 1972, he had a critical and box office hit with Jeremiah Johnson (1972), and in 1973 had the greatest hit of his career, the blockbuster crime caper The Sting, for which he was nominated for an Academy Award. The first film that Redford directed, Ordinary People (1980), was one of the most critically and publicly acclaimed films of the decade, winning four Oscars, including Best Director for him. He starred in Out of Africa (1985), which was an enormous critical and box office success, and won seven Oscars including Best Picture, proving to be his greatest success of the decade. He also received the Best Director and Best Picture nominations in 1995 for Quiz Show. He won a second Academy Award for Lifetime Achievement in 2002. Redford suffered from a severe ear infection that led to 60% hearing loss in one ear in 2013 when he insisted on performing his own water stunts in All Is Lost.
22. Gerard Butler
Gerard James Butler is a Scottish actor who has appeared on film, stage, and television. Butler gained worldwide recognition for his portrayal of King Leonidas in Zack Snyder's fantasy war film 300. That role earned him nominations for an Empire Award for Best Actor and a Saturn Award for Best Actor and a win for MTV Movie Award for Best Fight. Butler developed a 50% hearing loss in his right ear after surgery due to a childhood ear infection. He also attributed his crooked smile to that surgery, which left his right ear physically deformed.
23. Arnold Palmer
Arnold Daniel Palmer was an American professional golfer who is generally regarded as one of the greatest players in the sport's history. Dating back to 1955, he won numerous events on both the PGA Tour and the circuit now known as PGA Tour Champions. Nicknamed The King, he was one of golf's most popular stars and its most important trailblazer, the first superstar of the sport's television age, which began in the 1950s. He collected seven major titles in a six-plus-year domination, from the 1958 Masters to the 1964 Masters. He also won the PGA Tour Lifetime Achievement Award in 1998, and in 1974 was one of the 13 original inductees into the World Golf Hall of Fame. Palmer struggled with hearing loss for years after discovering it at the age of 40. HGe wears a hearing aid.
24. Chris Martin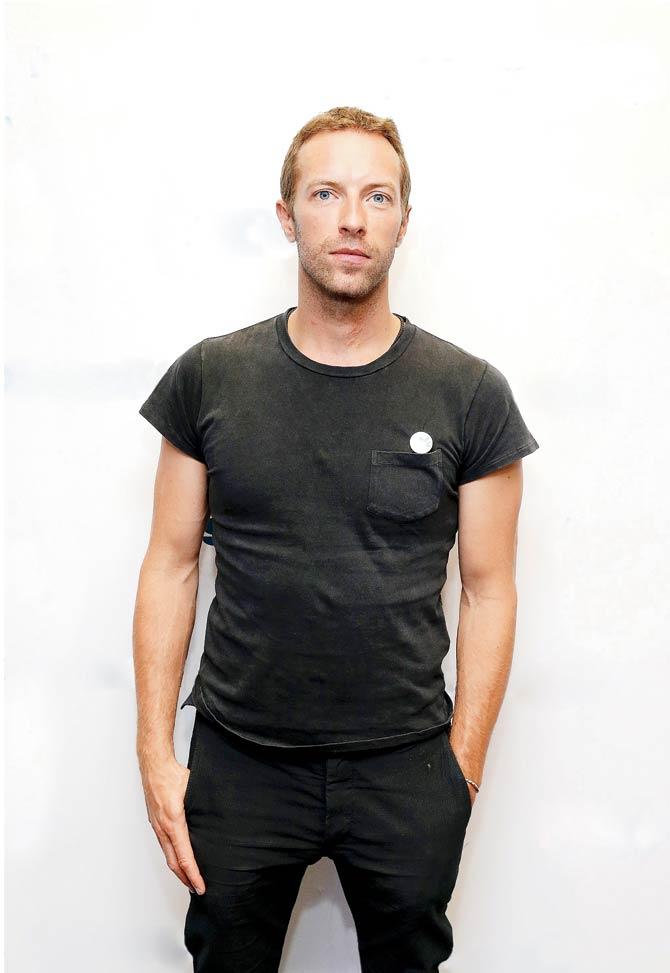 Chris Martin
Christopher Anthony John 'Chris' Martin is an English singer, songwriter, record producer, and multi-instrumentalist. He is the co-founder and lead singer of the British alternative rock band Coldplay. Coldplay achieved worldwide fame with the release of the band's single "Yellow" in 2000, a song that also earned the band their first Grammy Award nomination in the Best Rock Song category. The band won a Grammy for both A Rush of Blood to the Head and Viva la Vida. Coldplay has sold more than 80 million records worldwide, making them one of the world's best-selling music artists. Martin had in an interview revealed that he had been suffering tinnitus for many years. The musician blamed the painful ear condition on listening to loud music as a teenager.
25. Phil Collins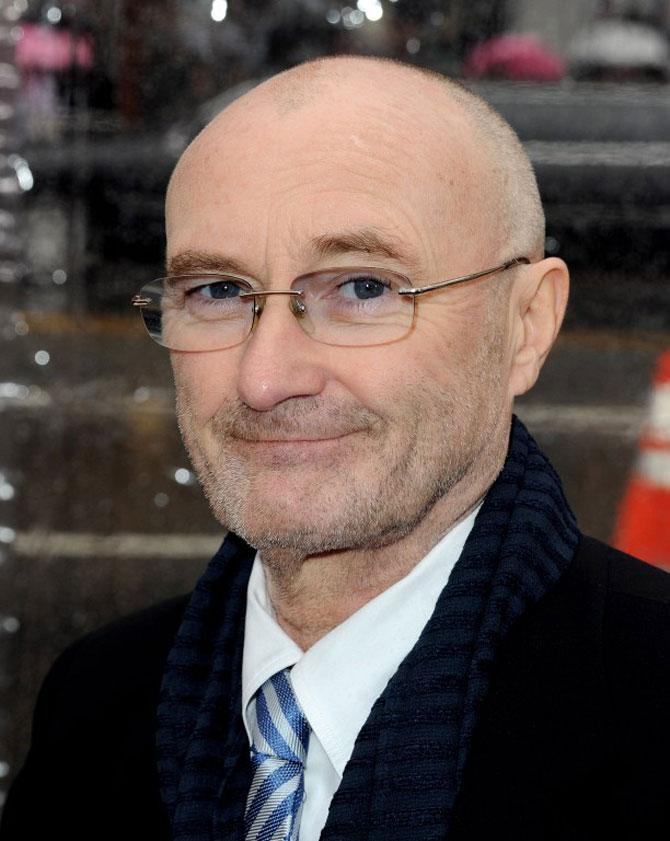 Phil Collins. Pic/AFP
Philip David Charles "Phil" Collins is an English singer, songwriter, instrumentalist, record producer and actor. He is best known as the drummer and lead singer in the rock band Genesis and as a solo artist. Between 1983 and 1990, Collins scored three UK and seven US number-one singles in his solo career. When his work with Genesis, his work with other artists, as well as his solo career is totalled, Collins had more US Top 40 singles than any other artist during the 1980s. Collins' discography includes eight studio albums that have sold 33.5 million certified units in the US and an estimated 150 million worldwide, making him one of the world's best-selling artists.[16] He is one of three recording artists, along with Paul McCartney and Michael Jackson, who have sold over 100 million records worldwide both as solo artists and separately as principal members of a band. He has won seven Grammy Awards, six Brit Awards, two Golden Globe Awards, an Academy Award, and a Disney Legend Award.