Artists from Hong Kong and Serbia shack up with locals in Aarey Colony for an exhibition on ecological erosion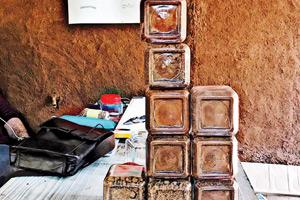 Glass containers in which Arora has collected soil from different parts of Aarey. PICS/ABIGAIL D'Souza 
A conversation with artist Vikram Arora throws up a vital piece of insight into the issue of deforestation at Aarey Colony. Arora, along with four artists from Hong Kong and a Serbian national based in Mumbai, is spending a few days living with locals in the city's jeopardised green cover, and he tells us, "The tribals here have a family that doesn't include only the people they live with. It includes the trees they planted, the animals and birds that depend on those trees, the leopards around them and so on. So everything is inter-dependent, and the fallout [of deforestation] is ecological in nature, because the birds don't have those trees any more. And the leopards will confront humans because their habitat has been taken away."
This is the issue that forms the backbone of a project called Forest Tales: Mysteries Hidden in Concrete. It involves the six people creating individual works of art based on their experience of living in the heart of Aarey Colony, immersing themselves in the local culture by tilling the soil that nurtures the food that their hosts cook for them.

Chim Chi Ho tilling soil
Arora tells us that one of his projects, for instance, requires him to collect 33 types of soil from different parts of Aarey, symbolic of the 33 hectares of land in the area that is lost to the demands of construction work for the disputed Metro project. "I will put these bits of soil into 33 different containers on which I will draw Warli art, a traditional tribal style. The idea is to archive the memory of the soil in case that land is also taken away in the future. I will present the different glass containers as an installation to show how, if we proceed without long-term planning, we will end up building a fragile future for ourselves," he says.
The other project he has embarked on is called Cut Me a Slice of That. For it, he will bake a pie inspired by savelya, a local sweet dish made with coconut and jaggery, which his host taught him to make. He will then serve that pie cut into different pieces when the various works of art are showcased to the public at an event later this week. "It's meant to reflect the sentiment of how the land grab is taking place, piece by piece. For example, every time there is an emergency in the city, the NSG commandos are given a space in Aarey. A veterinary college is also given space here if they want it. Now the Metro wants its chunk too for the car shed. So, they keep taking this land away piece by piece, through rampant deforestation," he explains.

(From left) Michael Leung, Vikram Arora, Gum Cheng, Yip Kai Chun and Chim Chi Ho, the artists living in Aarey. Katarina Rasic is not in the photo
Arora adds, however, that not everyone in the local community is against displacement. A few padas (settlement clusters), he says, are happy because they think they will get a house in a tower, though they eventually might never get to reach this carrot being dangled before them. "They are driven by economic sensibilities, thinking they will be moving into high society when, and if, they get those houses. But the whole idea is not only about them shifting base. Instead, it's about the trees that are being cut to facilitate that process," he says, pointing out how unless this urbanisation challenge is managed in a sensitive manner, ecological concerns are bound to be sacrificed at the altar of rampant concretisation.

Vikram Arora
ON May 20 AT Keltipada, Adivasi Pada, Unit no 18, Aarey Milk Colony, Goregaon East.
LOG ON TO artoxygen.org
Catch up on all the latest Crime, National, International and Hatke news here. Also download the new mid-day Android and iOS apps to get latest updates