A week after he was brutally thrashed by a biker just for doing his job, traffic constable Vilas Shinde breathed his last in Mumbai yesterday, succumbing to the head injury he had sustained in the attack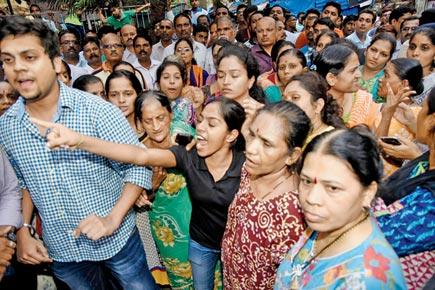 A week after he was brutally thrashed by a biker just for doing his job, traffic constable Vilas Shinde breathed his last yesterday, succumbing to the head injury he had sustained in the attack. The death has the kin of policemen up in arms, and 30-40 angry police wives even gheraoed the chief minister when he went to visit the grieving family.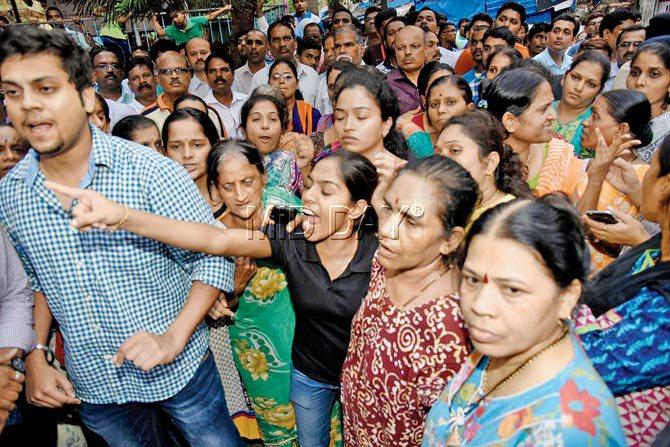 Relatives sought justice for constable Vilas Shinde during his last rites at Worli. Pics/Pradeep Dhivar
ADVERTISEMENT
Residents of the 28th building in the BDD Chawl in Worli were outraged by the death of Shinde, who was a dear friend and one of the most popular cops there. They are particularly enraged that it is only now, after Shinde's death, that political leaders were offering to help.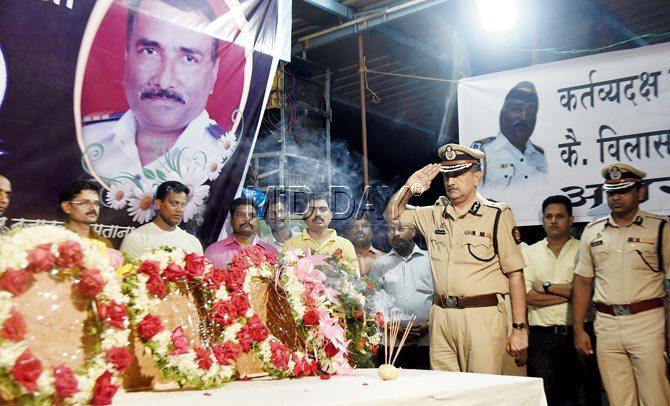 CP Datta Padsalgikar pays his respects at the funeral of Constable Vilas Shinde yesterday
CM Devendra Fadnavis's path was blocked a mob of about 30-40 angry wives of policemen, who screamed, "We want justice!" He assured the group, "Whatever inquiry needs to happen, will happen. I will make sure that the family gets compensation and government jobs."
Read Story: Mumbai: Traffic cop asks biker for personal details, gets beaten with stick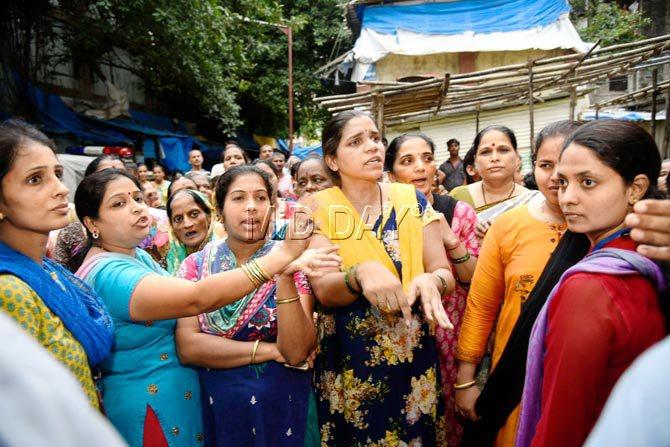 As many as 30-40 wives of policemen from the BDD Chawl in Worli gathered to express their grief and demand justice for the tragic death of Constable Shinde
But this did not soothe the enraged family members of the constable. "What will the cops do with this money? Keep it with you and give us safety. Make rules so that people don't take the police for granted," said one of Shinde's relatives, Chandrasekhar Sardesai.
He added, "The government hasn't done a single thing since the incident occurred, but as soon as he died, they came running. Does the person have to be dying to get his rights?"
'Cops can't protest'
One of the officers' wives pointed out that cops are neither allowed to form unions nor are they allowed to hold protests. "Their hands are tied and lips are sealed. One word out and they will be suspended. This is wrong and needs to be stopped immediately," she said.
Another woman, Janvi Bhagat said, "Look at each woman here, you can see the fear on their faces. We can never be sure whether our husbands will return from work or not. Now we don't even know if there will be justice. We don't want money, we want our rights."
'He deserved better'
Shinde had a daughter and a son. While his daughter is married with children, his son is a networking engineer. His friends and neighbours remember him as an honest and outgoing cop. He was a part of the 'Uday Bal Mitra Mandal' and an active cricket player. He was also fond of fancy dress competitions.
"We grew up together. He was one of my closest friends. Everyone loved Shinde. He was courageous, honest and kind; he didn't deserve this," said Bapu Gurav, one of his friends.
Also Read: Woman traffic cop gets no help from Cyber Police to catch man harassing her
Another close friend, Shailesh Kambhle, said, "Now the message to the youth will be that whatever you do, you can get away with it. The biker in this case will get away with the crime as well, since he is a juvenile offender. Then he will brag, 'Oh hey, you know I beat up a police man.'"
Top cops say
Commissioner of Police Datta Padsalgikar said, "It is a very unfortunate incident. The policeman died while he was on duty. His family suffered a huge loss. I offer my condolences to them."
"Considering the circumstances, the incident was highly unexpected. We give our personnel training in soft skills to ensure no argument occurs during implementation of traffic rules and laws. We have even told our personnel to just note down the number of the vehicle and allow the motorist to go in cases where an argument begins and could lead to violence. We will discuss remedial measures to avoid such an incident in the future," said Milind Bharambe, joint commissioner of police (Traffic).