Their houses in Thane were demolished for road widening and they were moved to an old building, which is also being demolished for road widening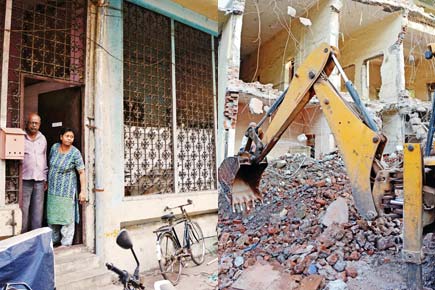 The Thane Municipal Corporation's demolition drive to widen Station Road, at Thane, is threatening the lives of two families, who are still waiting for permanent accommodation, 23 years after the previous such action for road widening, when their houses were demolished. The families had been given temporary accommodation in the Thane Municipal Council's old building. Though a civic official claims they were given alternative accommodation nearby, the civic body began demolishing it recently. The families, who are still waiting for permanent accommodation, don't want to move as they are worried that they may be 'cheated again'.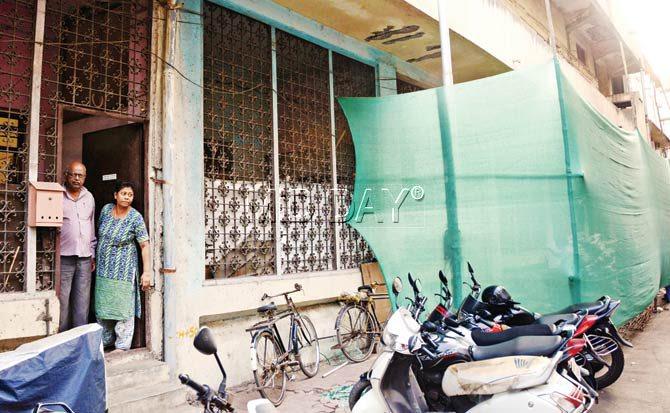 Agnel and Daisy Carvalho at their house in the old TMC building, where they were moved over two decades ago
Agnel Carvalho (64), who has retired from a private firm, resides with his wife and two sons on the ground floor of the then Thane Municipal Council's old building adjoining the Thane Nagar police station on Station Road. "Since past 23 years, we are staying in a temporary accommodation. In 1992, the then Municipal Commissioner, Madhukar Chaubey, carried out demolition work for road widening and our residence was demolished and we were shifted to the present flat on temporary basis. We were given two agreements promising alternative accommodation. We have been running from pillar to post to get our demands met, but it's the same situation after two decades and the municipal corporation is now asking us to vacate this flat," said Carvalho.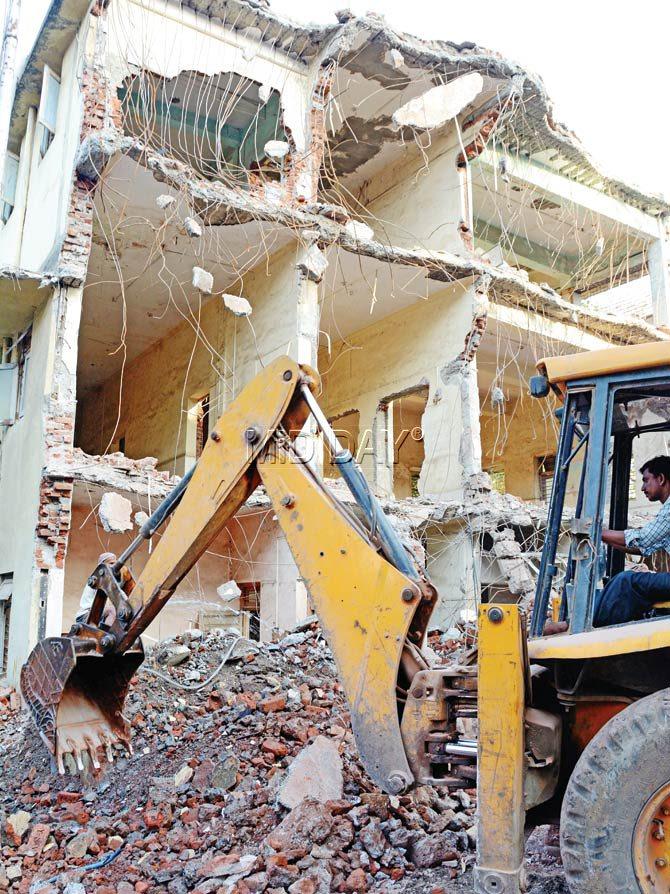 The TMC building being demolished from the front. Pics/Satej Shinde
Carvalho said they support the road-widening project, as it is for the betterment of the city. "But we want the authorities to fulfill our demands. We are not residing illegally or demanding more. We want the same thing that was assured 23 years ago and we have papers for the same. We have identified two flats of 269 sq feet, but the municipal authorities are just giving us one and asking us to vacate, which is not fair. They are doing what they want, which is illegal according to us," added Carvalho, stating that in a Right to Information query few months ago it was revealed that one of their neighbours was allotted two flats.
Daisy Carvalho (62), wife of Agnel, said the authorities gave them a notice in 2014 to vacate, but they did not as there was no alternative accommodation given. "The authorities are giving us a flat on 8th floor. Also, the demolition work has started on this building and they have put our lives in danger. We also fear that if we move we will be cheated again," said Daisy.
Also in same building
Another family, of Lynette Nunes and her five sisters, almost all senior citizens, are also living in danger in the same building. "In 1993, the then commissioner, Chaubey, without issuing any notice, demolished our ancestral bungalows which had monetary as well as sentimental value, without following due process of law," said Nunes.
Nunes further added three months after the demolition the TMC authorities executed agreements, which are registered, and temporarily shifted them in the old TMC building. She has also filed a case in the matter in the Thane Magistrate's Court.
"The agreement states that permanent alternative accommodation would be given later in one year, but till date they have not abided by the agreements. On October 9, 2013 TMC issued a notice to evict us stating that the building is in dangerous condition. But their structural report of 2011, stated that the existing building standing today is tendering towards semi-dangerous and that repairs/ strengthening work shall be carried out at earliest, if the building requires to be preserved from heritage point of view. There is also the order passed by MG Deshpande Ad-hoc district judge, Thane, that the TMC is restrained by temporary injunction till the disposal of the suits from the eviction, removing us from temporary accommodation," added Nunes.