The weather plays a crucial factor in the idol making process, say artists as orders fly in thick and fast from Mumbai and outside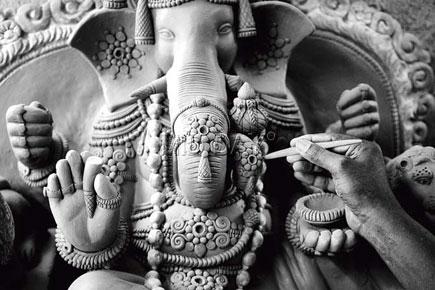 With just over two months left for the Ganesh festival, the buzz in Mumbai workshops has commenced. Sanket Mistry, an artist at Rajan Khatri Murtikar says, "We have 400 idol orders from all over Maharashtra and some from Gujarat also.
The biggest idol we are making is a 24 foot one and the smallest one will be of 2 feet made of mud. The idols will all be ready by August 15. Right now the moulding and intricate design work is on. Painting of the idols will start post August 1," he explained.
ADVERTISEMENT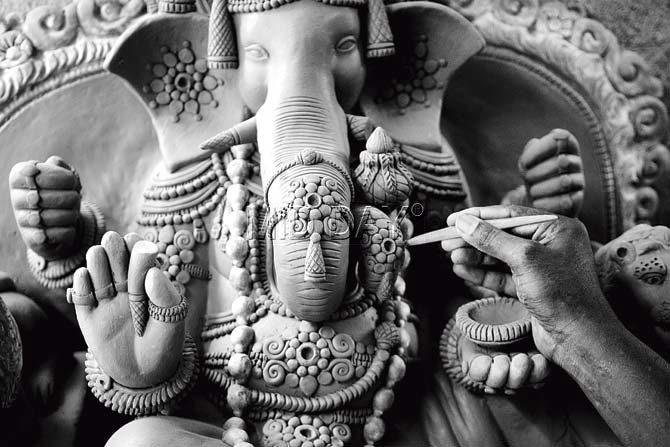 An eco-friendly idol at Madhuskar workshop in Girgaum gets some ornament detailing and intricate work that adds to the aestheticism.
Prabhakar Mhatre from Pen Mhatre Workshop says, "There are orders from mandals in Parel, Lalbaug and Malad, in the city as well as many from Gujarat especially Ahmedabad. I am making 500 idols this year with many orders coming from families rather than mandals this time.
View Photos: Mumbai artisans gear up for Ganpati season
Different idols are at different stages of work with moulding, painting, ornament detail, design and drying work on. As per the order, the idol is being made by me, my family and workers." The rains are dictating play when it comes to the idol making says Mhatre.
He adds, "The weather is a little unpredictable. So far, there was more sunshine in July so this has helped with the drying of the idols because of the sunshine. But now there is unexpected rain, so the date of completion of the orders will depend on how the weather fares. Indoors, the idols take more time to dry."
"Mandals will come as per their convenience and collect the idols. The Gujarat orders will be collected by August 20 since transportation is a factor. Most families prefer to collect the idols a day before the festival or on that day itself. Till then, it is nice to be surrounded by so many Lord Ganesh idols in the workshop," ends Mistry.