While nobody from Mumbai made it to the list of national toppers in the class 10 exams, city schools did end up recording very good results, with several students scoring 90 to 95 per cent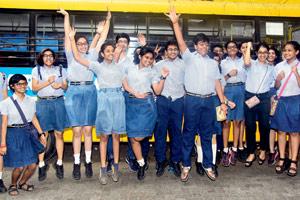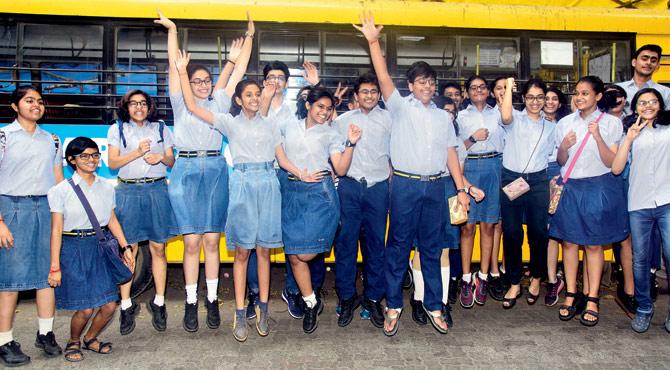 Students celebrate at the RN Podar School, where 176 scored above 90 per cent and 84 scored above 95 per cent. Pic/Sameer Markande
The Central Board of Secondary Education (CBSE) on Tuesday declared its results for the class X exams. While nobody from Mumbai made it to the list of national toppers, city schools did record very good results, with several students scoring 90 to 95 percent.
ADVERTISEMENT
According to city schools, considering it was a full syllabus examination this year, students have performed very well. "In my school, more than 90 students have scored above 90 percent and all students have scored above 70 percent," said Anjali Bowen, principal, Ryan International School, Kandivli.
No shortcuts
What do the students feel? Nivid Sablok, student of Rajhans school, who scored 98 percent, said, "Studying was rather difficult, but considering the huge syllabus, doing it regularly from the beginning of the academic year became imperative." Karrisa Khonglam, from Ryan International School, who scored 98.8 per cent, said, "The competition is increasing, so there was no way of taking a shortcut."
Cent per cent scores
At DPS School in Nerul, 154 students scored above 90 percent while 84 students have scored above 95 percent. Principal of the school, J Mohanty, said, "From a total of 233 students, 223 have scored distinction and above, which is a great success." At Rajhans school, 40 students scored above 90 percent. "While the topper of the school is at 98 percent, several students have scored cent percent scores in Sanskrit and science," said Dipshikha Shrivastva, principal, Rajhans school.