The mother-daughter duo, who were injured after the a roller coaster ride at Imagica theme park tipped to one side, have been shifted to the ICU of a Mumbai hospital. The daughter, whose jaw was fractured, needs an operation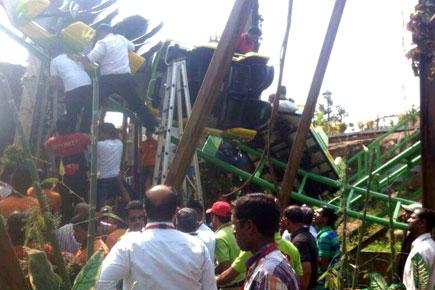 A joyful outing for the family from West Bengal went horribly wrong when a ride at a theme park they were visiting malfunctioned, and two of the family members ended up in the Intensive Care Unit (ICU) of a local hospital.
The duo on Thursday morning has been moved from the local hospital and shifted to a hospital in Mulund.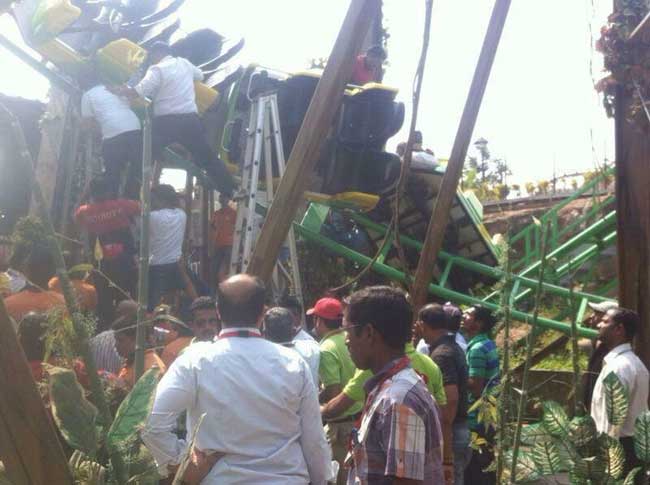 'Bandits of Robin Hood' is currently non-operational, but the rest of the park is open to visitors
The incident occurred at Adlabs Imagica theme park in Khopoli, where the Rathis had gone yesterday. Mukund Rathi, along with his family, had come to attend a wedding at Lonavla. Before returning to their hometown, Durgapur, in West Bengal, they decided on a trip to Imagica.
"We decided to have some fun at the theme park. We were seven of us, including three minors, who had entered the park after paying the entry fee of Rs 8,800. We sat on the first ride around 11.30 pm and then went on to the second ride Bandits of Robin Hood around 12.40 pm," recalled Rathi.
It was on this ride that things went haywire. Mukund's wife Purnima, his 16-year-old daughter Mamta and his sister Shobha Naga (40) went on 'Bandits of Robin Hood' and sat in the last few coaches of the roller-coaster. "There were about 10-12 schoolchildren occupying the seats in the front.
After the ride started and moved about 10 feet, it suddenly came to a halt and the entire contraption tilted to one side. A tyre of one of the coaches lodged off and in the process, my wife and daughter sustained serious injuries," fumed Mukund. His sister escaped with minor injuries.
He further alleged, "The children were crying in panic and nobody came to help for hours. The worst part was that there were no doctors or paramedical staff present at the park. There were no safety parameters in place, let alone the Standard Operating Procedures (SOPs). The whole situation was handled in an unprofessional manner." Saying he didn't want this to happen to anyone else, Rathi lodged a complaint with the Khalapur police.
PSI U R Bhosale of Khalapur police station said, "We have only taken statements from Mukund Rathi and the injured. We are yet to register any case; superior officers would be consulted before doing so. The rollercoaster ride is, at present, non-operational." Meanwhile the mother and daughter were taken to nearby Jakotia Nursing Home, where, though their condition is said to be stable, they have been kept under observation for the next 24 to 48 hours.
Incidentally, 'Pirates of Rohin Hood' was just the second ride they sat in at the amusement park.
Relatives claimed that the Rathi's were to leave the city by February 8 but this accident will force them to extend their trip further.
Doctors say
Dr Sagar Varude, attached to the hospital, confirmed to MiD DAY that the mother and daughter were admitted to the ICU and explained that Purnima sustained five to six stitches, as she had head injuries and was bleeding. The doctor clarified that she hadn't sustain any skull fracture, as was being claimed by rumours on social media websites.
Her daughter Mamta has fractured her right shoulder and her jaw, but is said to be out of danger.
Mamta who suffered a mandibular fracture would require an operation, claimed a doctor treating her, while adding that the mother was stable and was likely to be shifted out of the ICU soon.
"We have kept them under observation to rule out any complications that might erupt due to the trauma," added Dr Varude. When asked who was footing the medical expenses, he said, "We have registered the patient under Adlabs and the park officials had brought the injured to the hospital."