On the way home from school, all the students stepped out of the van with a girl who was to be dropped off at Parel; the driver got off to herd them back in, when a spark set off a blaze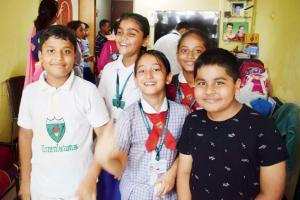 Some of the eight students of Green Lawns School who saved themselves and the van driver, when they sneaked out of the vehicle
The mischievous nature of children, which otherwise is a cause of great worry for adults, came to the rescue of eight kids on Tuesday, when a van ferrying them home from school caught fire near Parel Bus Depot. All of them had stepped out of it with the girl who was to be dropped off at the spot, and the driver stepped out to herd them back into it, when a spark set off a blaze that soon engulfed the vehicle. All of them escaped.
But the incident has again raised the question of the safety of children in the vans which are being used rampantly as school buses; even as on paper, any vehicle with a capacity of less than 13 seats is banned from use as a school bus.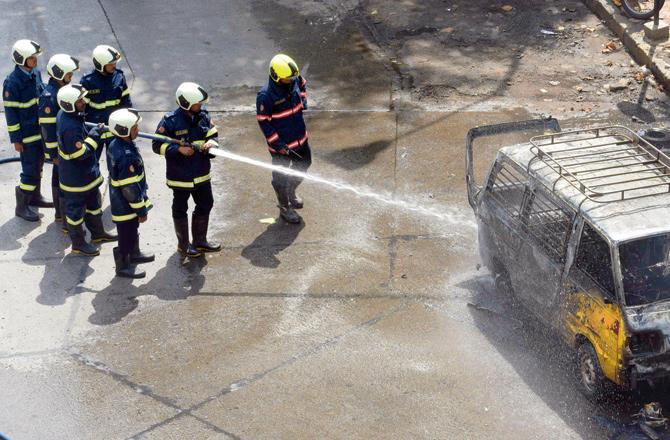 Fire Brigade personnel douse the blaze that gutted the van near Parel Bus Depot when the kids were being dropped back home. Pics/Ashish Raje
All kids got down
It was a pure stroke of luck that no child was harmed in the dangerous incident. "We had stopped to drop off one girl. When she got off, the other children also got off mischievously. To bring them all back into the van, when I got off, I saw a spark near the silencer," said Ravindra Vinerkar, the van-service provider. "I immediately took the fire extinguishers installed inside the vehicle and tried to douse the fire that broke out. But it increased. People at the spot had informed police, and the Fire Brigade too arrived and soon the fire was doused. Thankfully nobody was injured," added Vinerkar.
The van was ferrying students of Green Lawns School in Worli. Most of them are residents of Parel and Dadar, and have been using the private van for almost six years now. One of the parents, Shailesh Jain, a resident of Kabutarkhana in Dadar, said, "I was informed by the parent of another child and immediately rushed to the spot. Fortunately all children were safe." Jain's daughter is a student of Std V. The van had children from Stds V to VIII. PSI V A Waghmare from Dadar police station said, "We have recorded an accidental fire report."
'Maharashtra govt cares less'
Even as vans are banned under the central government's policy which allows only vehicles with a capacity of 13 or above to be run as school buses, in Maharashtra, vans are given permits, as there is a huge demand for them by parents who find school buses an expensive affair. "The Maharashtra government seems to care less about children's safety.
Though vans are banned because they are dangerous to run as school buses, the transport department is giving in to parents' demands and continuing the use of vans," said Anil Garg, president of School Bus Owners' Association, which has been fighting against the use of vans since 2012. He also pointed that vans are allowed to ferry only 6 children, all below the age of 12 years at a time, and yet this van had 8 children.
Make parents aware
Just a week ago, the Bombay High Court, which has been hearing a case filed by Maharashtra Parents' Teachers' Association over the safety of children in school vehicles, had commented about taking vans out of school usage by creating awareness among parents. Arundhati Chavan, president of the PTA, said, "The school bus committee is expected to create this awareness. RTO representatives on each school bus committee should take a strong stand, only then will this be taken seriously."
Also read: School bus catches fire near Andheri station, no one injured
Catch up on all the latest Mumbai news, crime news, current affairs, and also a complete guide on Mumbai from food to things to do and events across the city here. Also download the new mid-day Android and iOS apps to get latest updates