Ajay Prabhakar Gawand was hit repeatedly on the head with a wooden plank by the accused while he was climbing the terrace of a building the man had broken into, causing his death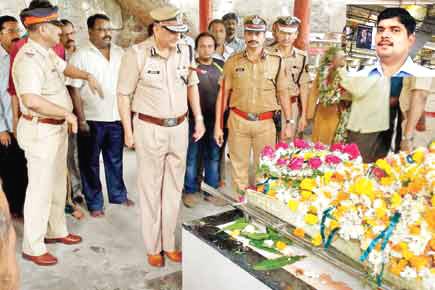 Ajay Prabhakar Gawand, constable murdered, Mumbai Police, Police Commissioner Rakesh Maria, funeral, drug addict accused, Mumbai crime, Mumbai news, Dongri, Mulund, Santosh Bajirao Salvi
A 35-year-old homeless druggie and alcoholic, known to be involved in petty thefts, allegedly beat an on-duty constable to death in the wee hours of yesterday.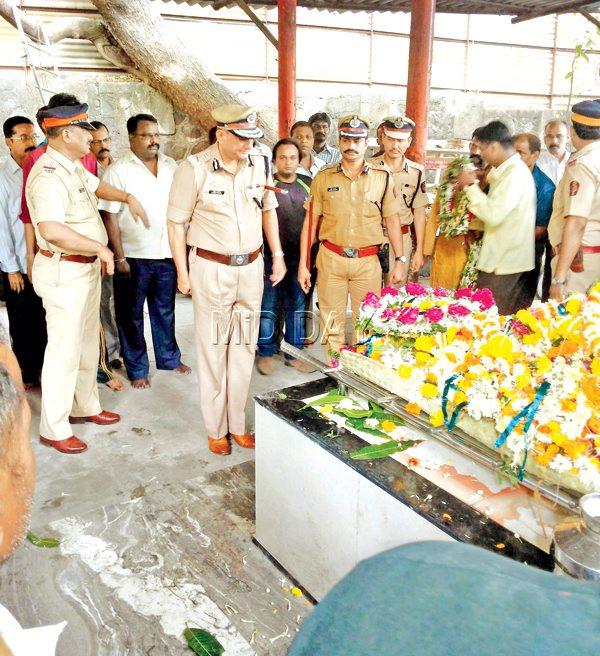 A hero's farewell: Police Commissioner Rakesh Maria and other senior officials at the funeral of constable Ajay Gawand in Mulund yesterday

The constable had gone to investigate after receiving information that the homeless man had broken into a three-storey building in Dongri and was holed-up on its terrace. The constable was hit repeatedly on the head with a wooden plank when he tried to climb onto the terrace.

Ajay Gawand

According to the Dongri Police, Constable Ajay Prabhakar Gawand (43) and three other policemen were patrolling the area around 2 am yesterday when they received complaints of Santosh Bajirao Salvi (35) having broken into Bharat Petroleum building on P D'Mello Road in Dongri.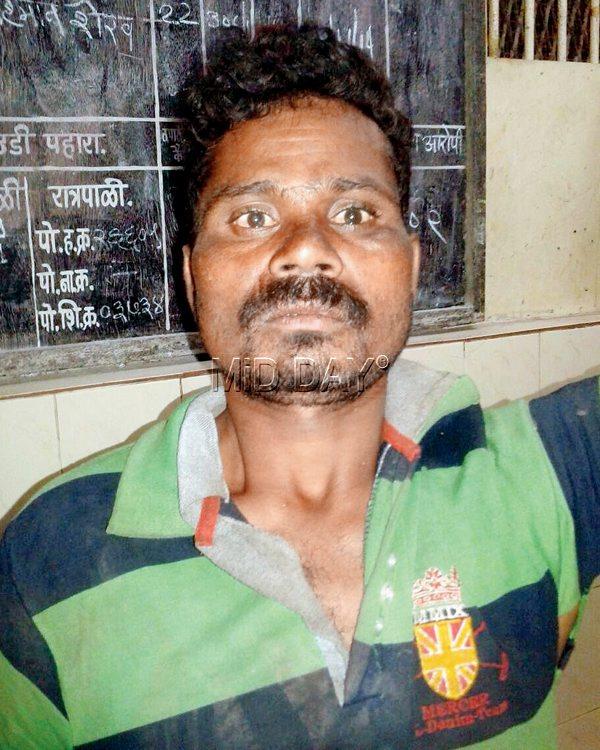 The accused, Santosh Bajirao Salvi

The building's security guard and a few other people had spotted Salvi and raised an alarm, following which he had begun throwing stones at them from the terrace.

Gawand and the other policemen reached the spot and tried to go up to the terrace using the stairs, but found that Salvi had locked the door leading to the terrace from the stairwell. Gawand then tried to climb up to the terrace from the balcony of the floor below, but nearly lost his balance. Taking advantage of this, Salvi began hitting Gawand brutally with a wooden plank.

Gawand was hit hard at least 4-5 times on the back of his head and he was taken to JJ Hospital by a constable who was with him and a local resident, both of whom were trying to climb up to the terrace behind him. According to police officials, he died on the way to the hospital and was declared dead around 3.30 am.

Sole breadwinner
Gawand, who had studied up to Std X, had joined the police force in 1993 on the basis of his accomplishments in sports (see box). He got married in 2005 and is survived by his wife — a housewife — and 8-year-old son. Despite having two elder brothers, he was the sole breadwinner of the household. The family used to live in Mulund East but Gawand, his wife, and his son had recently shifted to Jui Nagar in Navi Mumbai. His badge number was 32211.

Speaking to mid-day, Gawand's elder brother, Narendra Dawand, said, "I am shocked that my brother, who a was body builder and was physically very strong, was beaten to death and is no more. He was the sole breadwinner of the house in terms of steady income because I have a business and I never get money on time. His death is a huge loss for our family."

Blaming the government for not equipping constables with the right kind of weapons, Narendra said, "Our government is responsible for this. In our country, a constable who serves the people gets only a lathi. If Ajay had a proper weapon with him, he wouldn't have lost his wife. I don't think a lathi is effective at all. We have been promised that Ajay's wife will be given a job very soon and we will be helped with some money for the education of Ajay's son Harsh, who is in Std III, and we are hopeful that the promises will be kept. Chief Minister Devendra Fadnivis will also be visiting our house on Monday. "

Cremation
After the post-mortem at JJ Hospital, Gawand's body was taken to Nani Pada in Mulund and cremated near his old house. Police Commissioner Rakesh Maria, DCP (Zone I) Ravindra Shisve and other senior officials were present. After the cremation, the police announced that Gawand's wife will be given a job and she can join as early as Tuesday itself if she wants to. The Mumbai Police will also contribute money to Gawand's family, especially for his son's education.

History-sheeter
Police officials said that Salve is a druggie and an alcoholic and had probably come to Mumbai from Pune or Solapur. He was homeless and they suspect that he used to carry out petty thefts to make a living. He was arrested, produced in court and remanded in police custody.

Speaking to mid-day, DCP (Zone I) Ravindra Shisve said, "The main intention of the accused (in entering the building) was theft. We have presented him in sand got police custody till November 24. He had said his name is Santosh Bajirao Salvi but we are confirming that. We also suspect that he is a history-sheeter, not from Mumbai maybe, but from Pune or Solapur."

"Police Commissioner Rakesh Maria asked me to announce during the cremation that Ajay's family will be getting his salary every month, which will be given as if Ajay is on duty. After his retirement period, his family will be given pension and we are going to place his wife in Mumbai Police as soon as she applies. Rakesh sir is going to bear the expense of the studies of Ajay's son till graduation. Even the Mumbai Police will contribute towards his studies," he added.