MSRDC to install gabion walls along the entire stretch of the Expressway to prevent landslides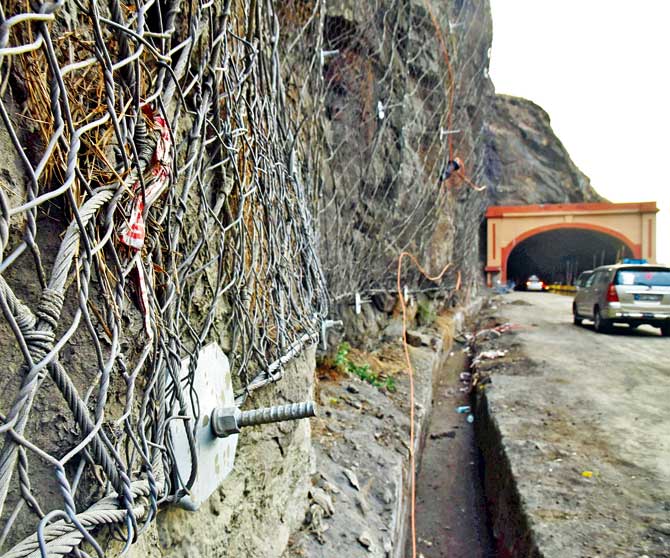 If you dread travelling along the expressway during the monsoon, here's some good news. MSRDC that has been at the receiving end over landslide-related accidents along this route, has decided to install gabion walls – stone walls in metal cages – along the entire stretch to stop rock fall accidents.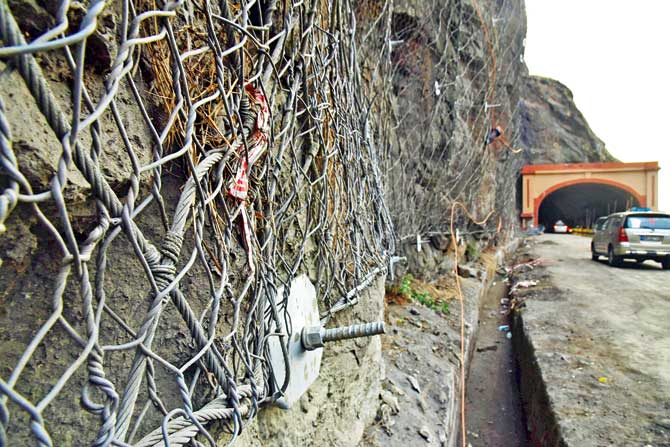 The MSRDC installed hexagonal iron mesh and rock bolting along the Mumbai-Pune expressway, ahead of monsoon this year, to hold loose rocks in place. File pics
Speaking to mid-day, sources in the MSRDC said the focus would be on landslide prone areas, such as the Borghat section, Amrutanjan Bridge and the Adoshi and Khandala tunnels.
Confirming the news, a senior MSRDC official said, "Several accidents along the Mumbai-Pune expressway are reported every year. Our aim is to reduce this figure before the next monsoon. We are inviting tenders for the appointment of a supervision consultant for this project. The company chosen by the authorities will be responsible for the construction of rock fall mitigation work at identified rock-fall risk areas, such as the Borghat section near Khandala. The firm will also install stainless steel mesh nets along the hills to avoid landslides and to stabilise the slopes."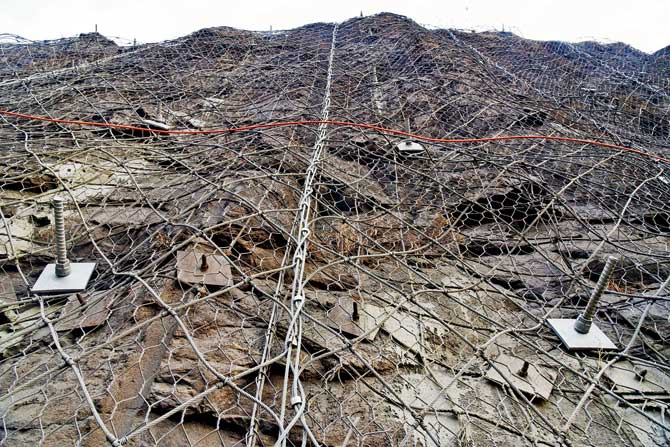 Over 50,000 vehicles ply the expressway every day. Incidentally, the MSRDC removed loose soil and boulders from the adjacent hills earlier this year to prevent road accidents on the Mumbai-Pune stretch. The MSRDC had formed a special team to carry out this task along the highway. This team also patrolled landslide-prone areas during the rainy season.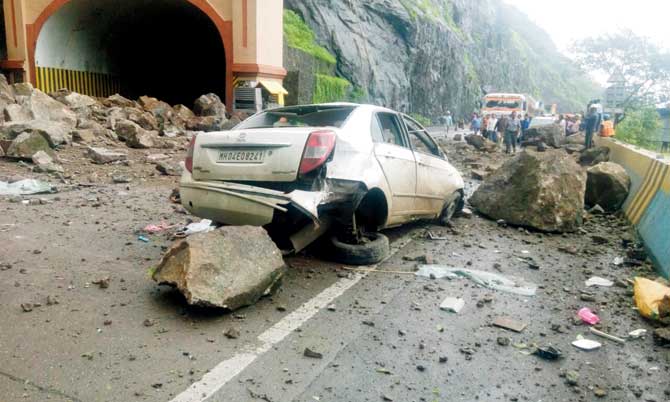 Car accidents are common near the Khandala tunnel
Earlier this month, MSRDC had put plans to install WiFi services on the expressway on hold, as certain precautionary measures had to be taken before providing internet services. "We are first looking at engineering safety and have to complete capacity augmentation of the expressway before providing internet services," the MSRDC official had said.