After the apex court banned the sale on firecrackers in Delhi and NCR, Environment Minister Ramdas Kadam wants a similar ban, but may not find support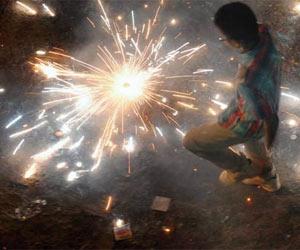 Speculations are rife that the sale of firecrackers is likely to be banned in Maharashtra this Diwali, especially after environment minister Ramdas Kadam mooted the idea and is expected to seek the chief minister's approval.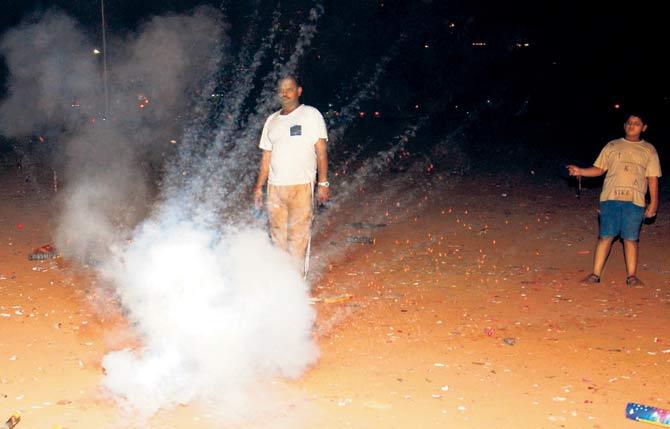 An aspect that worries the people in the know of the matter, is the anti-government sentiments that the ban could create among firecracker traders and consumers. File pic for representation
ADVERTISEMENT
Kadam told the media on Tuesday that following an apex court decision on banning sale of firecrackers in Delhi and the National Capital Region till November 1, he would go for a similar ban in Maharashtra. But various issues are likely to deter the government from taking this extreme step.
Also read: Yuvraj Singh urges fans to stay away from crackers this Diwali
"We want to make every effort to make festivals pollution-free. Firecrackers harm the environment and health. I request people to celebrate a pollution-free Diwali by avoiding firecrackers," said Kadam after a function in which school students were administered an oath in keeping environment pollution-free.
Interestingly, no speaker at the function, including CM Devendra Fadnavis talked about banning firecrackers, though they appealed to people to make Diwali pollution-free.
HC to the rescue
The Bombay High Court's directive on Tuesday to enforce the apex court's order to ban the sale of firecrackers in residential areas in Maharashtra, and take strict action against unauthorised vendors and reduce to half the number of total sale licences, has eased the government's task.
"It will be all about addressing the sentiments of a larger section of people who oppose banning firecrackers because they think that such a move would amount to encroaching upon their religious festivities," a BJP leader said. Another aspect that worries the people in the know of the matter, is the anti-government sentiments that the ban could create among firecracker traders and consumers, who are significant in numbers compared to those favouring the ban.
Also read - Mumbai: Diwali to cracker on with more noise pollution
The state's firecrackers business is said to be worth R2000 crore annually. A senior official in Mantralaya said the government would find it politically difficult to impose a ban. "At the most, we can make conditions for licensed traders more stringent and ask the local administration to enforce them diligently," said the officer.
Also read - Diwali: Chhattisgarh government bans use of firecrackers with high decibels
Divided Sena
The Shiv Sena leaders were divided on the issue. While Kadam is for banning firecrackers, the party's MP Sanjay Raut lambasted the ban saying the restrictions were detrimental. "So many families depend on this business (of firecrackers). Why deny them their rights? After all, they are all licensed vendors. We have seen what the ban on alcohol on highways has done. People have lost their jobs and business," said Raut.
Also read: SC bans sale of firecrackers in Delhi and NCR this Diwali
MNS chief Raj Thackeray has made the ban a religious issue asking why only Hindu festivals get such restrictions. "Do they expect us to burst firecrackers on WhatsApp?" Thackeray said.
Rs 2k cr
The state's firecrackers business annually
---
Also view - Honeypreet Insan: From Ram Rahim's 'Angel' To Haryana's Most Wanted