The glass-roofed Vistadome rail car with panoramic view and an observation lounge has arrived in Mumbai. To be put into service by the Central Railway soon, the route and the fare are yet to be decided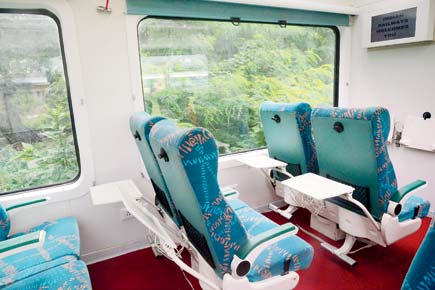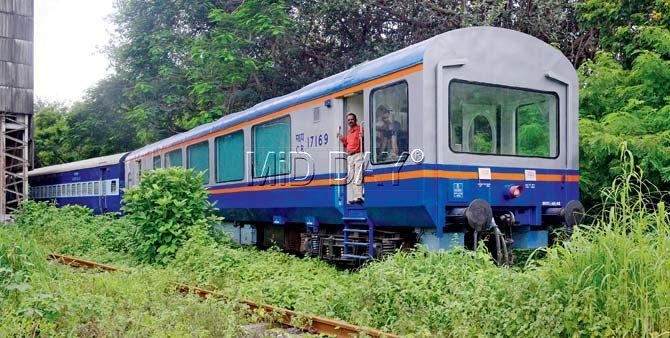 The glass-roofed Vistadome coach has an observation lounge and many other facilities. Pics/Suresh Karkera
The glass-roofed Vistadome rail car with panoramic view and an observation lounge has arrived in Mumbai. To be put into service by the Central Railway soon, the route and the fare are yet to be decided.
"The specially-designed Vistadome air-conditioned coaches are the first-of-its-kind in Indian Railways, with large glass windows and an observation lounge that offer passengers a panoramic view of the sites along the rail route."
Also read - Mumbai: Western Railway to conduct trials on first AC local, Diwali launch expected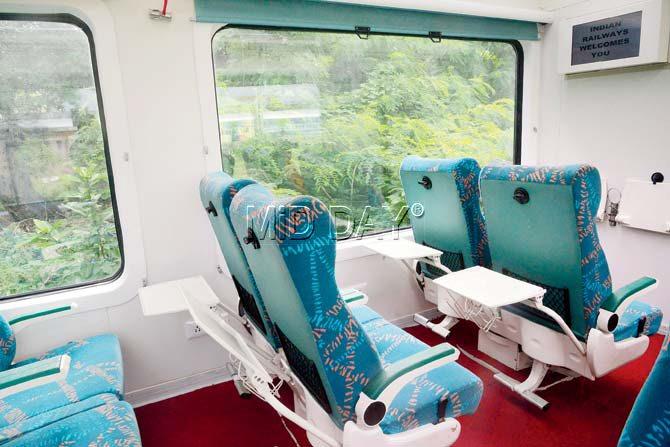 "A standout feature is the roof that boasts electrically controlled opalescence. It can be made transparent for the passengers to get a panoramic view of their journeys. And if passengers want a still better view, they can head to the special observation lounge. It also has a multi-tier luggage rack," Central Railway General Manager D K Sharma said.
Also read - Mumbai gets its first-ever A.C. local train
A fab pic of the vistsdome rail car at Visakhapatnam by Lalam Mandavkar @drmwat_ecor pic.twitter.com/zgKsGJBkDW

— Rajendra B. Aklekar (@rajtoday) September 3, 2017
"The seats are pushback and rotate 180 degrees. This is once again to enable passengers to take full advantage of the spectacular panoramic views that the coaches offer. The coaches also boast of several more features, such as automatic sliding compartment doors and LED lights among others."
Travel like a king. The vistadome coach on the move at Visakhapatnam @drmwat_ecor pic.twitter.com/Zo6I3gWxAS

— Rajendra B. Aklekar (@rajtoday) September 3, 2017
Manufactured by the Integral Coach Factory in Chennai, the first such coach is running between Visakhapatnam to Araku Valley hill station, attached right at the end of the Visakhapataman-Kirandaul passenger train, which gets detached at Araku.
Also read: Mumbai to get 12 air-conditioned local trains
Here it is. First look. @Central_Railway Mumbai gets its vistadome coach pic.twitter.com/PAI6XNLmNk

— Rajendra B. Aklekar (@rajtoday) September 3, 2017
CR officials are yet to decide the train behind which the coach that has arrived in the city will be attached.
---
You may also like - Mumbai Rains photos: Heavy showers drown city