From forcing trucks to install under-run bars to getting rear seat passengers in cars to wear seat belts, state sets sight on eradicating deaths on Mumbai-Pune road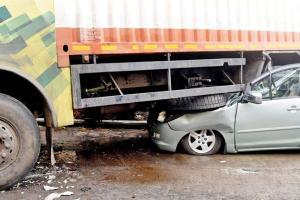 The government wants under-run and side-run bars (like the one seen in this photo) to be made mandatory for heavy vehicles
In a major development on road safety, the MSRDC has roped in SaveLIFE Foundation, an NGO working on improving road safety across India, to come up with an Emergency Response Protocol (ERP). The plan, which has to be submitted in 10 days, will address all parameters in case of an accident or emergency, nodal agencies involved, inter-hospital transfers etc.
The meeting was chaired by Radheshyam Mopalwar, Vice Chairman and Managing Director, MSRDC along with senior officials. Between Jan 2018 and July 2018, SaveLIFE Foundation and JP Research investigated 16 crashes involving cars which left 23 people dead on Mumbai-Pune Express way. Eight of these 16 crashes involved collisions with heavy vehicles, that were either moving too slow or had broken down. Almost none of the trucks involved had the mandatory under-run protection guard or proper reflector materials, which is a serious violation of the Central Motor Vehicle Act in India.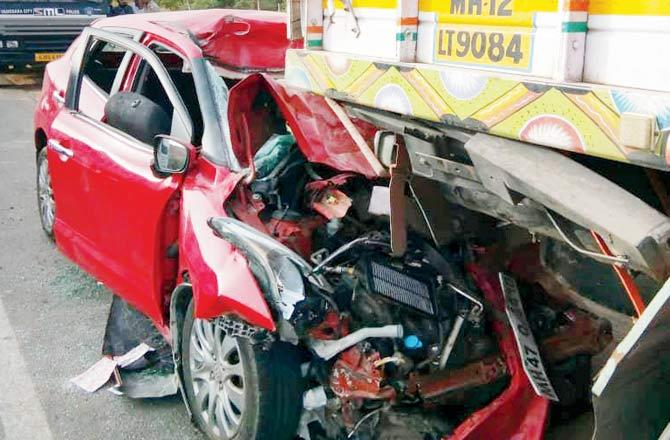 Between Jan 2018 and July 2018, SaveLIFE Foundation and JP Research probed 16 car crashes
"There's an urgent need to address crashes involving stalled trucks. Each year, close to 12,000 people are killed across India in crashes involving stalled heavy vehicles. Truck manufacturing companies must do more in terms of safety standards and equipment like under and side-run protection devices must become standard in all trucks," said Piyush Tewari, Founder of SaveLIFE Foundation.
Tewari added, "Heavy vehicles in foreign countries have inbuilt vehicle side guards which are intended to provide protection to pedestrians, motorcyclists and smaller vehicles which may get caught under the wheels." "The maximum impact in a collision happens when the smaller vehicle rams and enters the heavy vehicle. It becomes a Herculean task to remove an injured victim stuck beneath the heavy vehicle," the expert said.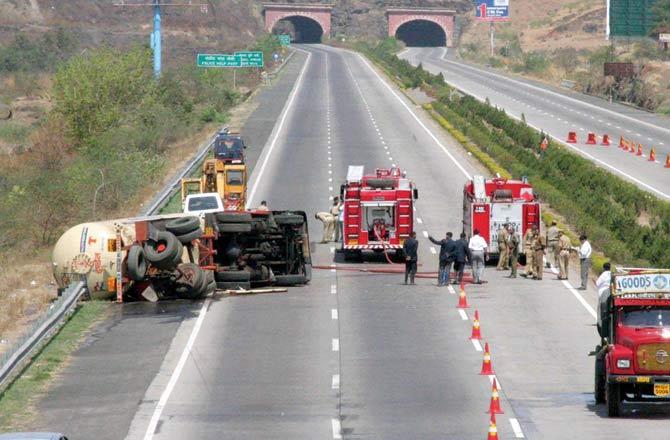 No seatbelts
Another factor in the recent analysis is that among the fatalities, most of the occupants killed were found not to be wearing seatbelts, especially rear seat passengers. "Heavy Vehicles need to have under-run protection guards and we will now be taking up this issue with the union transport ministry from a trucking standards perspective as well as with Society of Indian Automobile Manufacturers (SIAM) from a manufacturing perspective. This problem persists across India and needs urgent action," Tewari said.
2002
The year the Mumbai-Pune Expressway became operational
1,500
Deaths reported till date on the Expressway
Cases on Expressway
Dec 21, 2017: Three people died and seven were injured after the tyre of a car burst, landing it in the path of oncoming traffic.
Sept 10, 2016: Four people were killed when their car rammed into a trailer on the Mumbai-Pune Expressway near Lonavala in the early hours.
July 26, 2016: Five youths died when their speeding car dashed into a divider and fell in a quarry, some 200 feet below.
Sept 5, 2012: A Maruti car carrying five television actors from the Pune to Mumbai, rammed into the rear of truck ahead of it. Abhijit Vaydande and Deepti Tawade (23) died on the spot, while the other three sustained minor injuries.
Motor Vehicle Act
The central government made it mandatory for certain heavy vehicles to have speed governors, and during passing of these vehicles, RTOs check for the speed governance. However post clearance, the speed governors can be removed. The need of the hour is an amendment and a fine for tampering with speed governors.
Expertspeak
Nitin Dossa of Western India Automobile Association, (WIAA), said, "It is unfortunate that it has taken 17 years and over 1,500 fatalities on Mumbai-Pune Expressway for MSRDC to once again look into the heavy vehicle menace. For well over a decade, we have been informing the government that the tail lights of these heavy vehicles should be checked at the entry point before allowing them to come on to the Expressway. But even today you can find that most of the tail lights on heavy vehicles are non functional at night. We had also suggested that by paying a nominal rate at the toll itself the mechanic would provide assistance to such heavy vehicles, but our suggestions were never considered and it is unfortunate." Dossa further added, "Few years ago we had affixed reflector stickers on nearly 220 heavy vehicles plying on the express way during a Road Safety Week. The concept of having mandatory under-run protection guard on heavy vehicles is a must and the transport ministry should ensure that this happens."
Minister says
State Transport Minister Diwakar Raote said, "Following a major accident on the Expressway in June 2016, Eknath Shinde (PWD Minister) who is also the head of MSRDC, and I had visited the stretch and discussed various safety issues concerning heavy vehicles." One of the concerns raised was the shortage of RTO and highway police manpower to check traffic violations by heavy vehicles. The IRB was directed by Eknath Shinde to hire 100 staffers to monitor violators. As far I know these men have been appointed, but I don't have further details." "I can provide additional funds under the road safety program in case they need further assistance," he said.
Also Read: MSRDC's 15-year promise of trauma centre on E-way turns out to be empty
Catch up on all the latest Crime, National, International and Hatke news here. Also download the new mid-day Android and iOS apps to get latest updates