The one-of-its-kind initiative Chai for Cancer is the brainchild of Viji Venkatesh, who lost her grandma and mother-in-law to the killer disease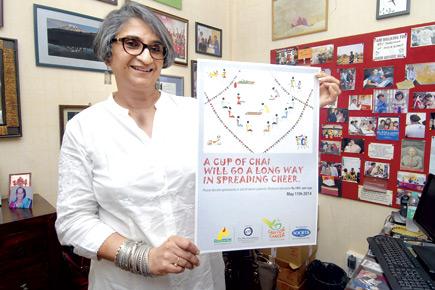 After losing her grandmother and mother-in-law to cancer, several years ago, Viji Venkatesh decided to make a difference to the lives of those suffering from the killer disease.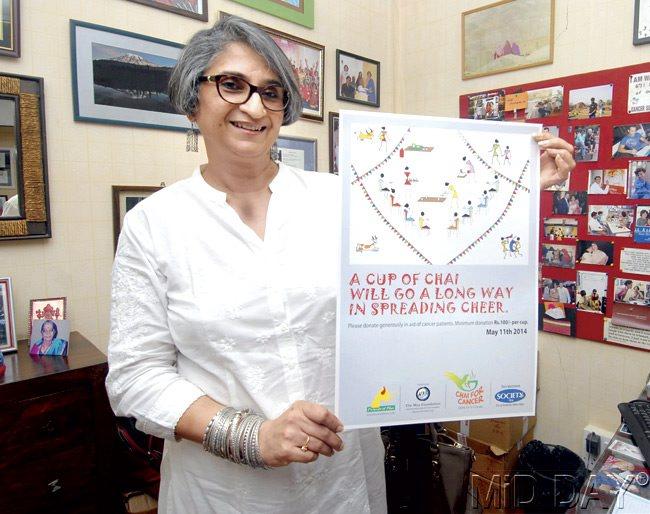 Viji Venkatesh displays the poster of Chai for Cancer at her office in Worli. Pic/Sameer Markande
The 62-year-old country head of The Max Foundation, which treats and counsels cancer patients, has now come up with a unique initiative to help raise money for poor patients.
"Many of our patients come from remote parts of the country and can't afford proper treatment. While we have been providing free drugs to leukaemia patients for all these years, I felt we could do more to help patients suffering from blood and intestinal cancer," Venkatesh said.
Elaborating on her one-of-its-kind initiative Chai For Cancer Venkatesh said she wants to encourage people to buy specially designed teacups for a minimum of R100, and the proceeds generated from the sale would be directed towards treatment of the cancer patients.
"Since this is the first time that we are trying something like this, the event will be held at residences of seven cancer survivors from and around Mumbai on May 11. Similarly efforts are being put to execute the initiative across 23 different cities to raise money," she said.
Venkatesh added she was expecting at least 80 people to buy cups from her residence in Thane. She reiterated that the initiative was to make people aware that donating money was as simple as buying a cup of tea. A leading tea brand would be sponsoring the tea for the donors.
An auspicious start
In what appeared to be an encouraging start for the initiative, a group of 120 bikers from the Brotherhood of Bulleteers Motorcycling Consortium (BOBMC) in Kalyan, donated about R15,000 on Sunday.
"One of our patients' son is a biker and he was informed about Chai for Cancer by her. He soon approached us saying they were having a celebration on Sunday and if we could arrange for setting up our stall there. Thanks to the generous donors, who attended the event, we got a promising start to our drive," said Venkatesh.