Tim Schellberg, an expert on DNA analysis technology, says the much-talked-about Rapid DNA Analysis System is not suited to Indian conditions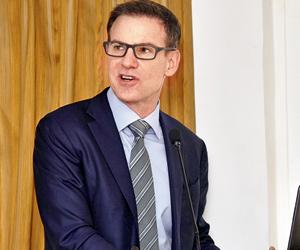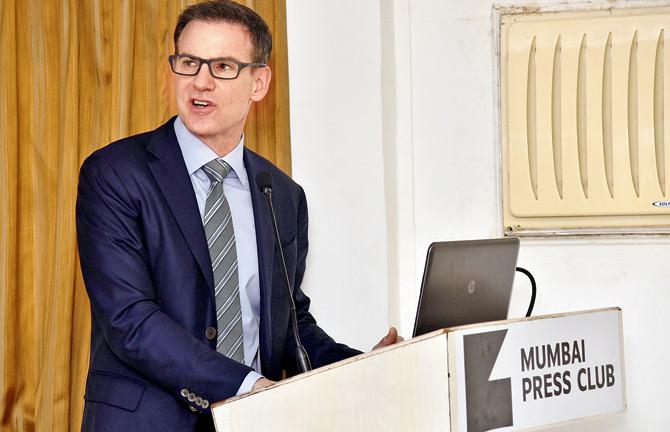 Tim Schellberg at the seminar on DNA: The Gamechanger in forensics past, present and future, at the Mumbai Press Club. Pic/Pradeep Dhivar
While the state Forensics Science Laboratory (FSL), Kalina, is in a tizzy over the possible acquisition of the sophisticated Rapid DNA Analysis System that is said to help speed up criminal investigations, an expert on the issue believes the decision is unwise.
Tim Schellberg, President of Gordon Thomas Honeywell, Governmental Affairs, USA, strongly feels that the machine cannot be used for actual crime scene analysis, and it is at present used only for reference sample analysis in advanced countries where DNA profiling data banks are available. India may make use of this technology, in years to come, when they have the data bank ready.
Schellberg heads an advocacy company that advises the US government on the use of technology in criminal investigations. mid-day had reported about India's forensic experts panning the machine in its March 9 report 'State bats for DNA kit shunned by all'.
He said, "We are uncertain about the legal validity of results coming from Rapid DNA examination and will have to wait until it is used for actual case work. No doubt that the DNA findings will be credible and reliable, but anything done in haste will only impact public trust adversely." He said, "DNA is a powerful science and is the best solution for getting biological evidence from crime scenes, which will ensure higher conviction rates. But, this needs to be done with the combined effort of law-enforcement agencies, courts and the public at large."
Tim added, "In western countries, everyone from the public to the police, by default, thinks of preserving the crime scene in cases of sexual abuse or any bodily offences. Therefore, it is possible to collect valuable scientific evidence from crime scenes and the samples are matched with the voluminous stored DNA profiling data of criminals. For instance, USA has a data bank of 3.5% of its population who have been held in some offence or the other."
Finally, Schellberg has advice for those pushing hard for acquiring the Rapid DNA system. He said, "These technologies claim quick and accurate DNA analysis, which is sometimes misleading. The machine currently has limitations regarding sensitivity and is not suitable for casework sample reporting. It is six times more costly than the current high throughput Capillary Electrophoresis technology. It is important to look at the available technologies best suited for giving high quality results in both casework and database creation at minimal cost."
"Can India develop a passion for DNA casework similar to other countries without criminal offender databases?" he asked. Meanwhile, the FSL is set to submit its detailed tender report for procuring the system to the state home department in the next few days and the final decision lies with Chief Minister Devendra Fadnavis, who also holds the state home portfolio.
Acting Director of State FSL Dr K Y Kulkarni, said, "If we get the go-ahead from the state government by March 31, the machine will be brought to FSL in two-three months. In-depth training on the usage of the machine will then be conducted for the core team."