According to the report, 78 percent of rural girls are currently studying, compared with 87 percent of urban girls, highlighting how education is of importance across the country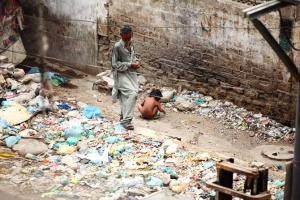 Representational Picture
At a time when the government is claiming success for its flagship Swachh Bharat Mission, a survey has revealed that around 40 percent of the teenage girls in the country still have to defecate in the open. The survey also found that 46 percent of teenage girls use unhygienic materials during mensuration and that one out of every second girl was anemic. The study, named TAG (Teen Age Girls) Report 2018, was carried out among 74,000 girls in the age group of 13-19 years, across 600 districts, by Project Nanhi Kali, and compiled by Naandi Foundation, with grant support from Mahindra group.

"There was a pressing need to understand our teenage girls better. I am confident that the TAG Report will serve as an important reference document for those in both the public and private sectors that are working towards the upliftment of girls and women across the country," Anand Mahindra, chairman, Mahindra group, said at the launch.

According to the report, there are 80 million teenage girls in the country at present. "40 percent of teenage girls are still having to defecate in the open, while 46 percent use unhygienic materials during menstruation. Also, only 46.3 percent of the rural girls surveyed had access to hygienic methods of menstrual protection," according to the TAG report.

It can be noted that Prime Minister Narendra Modi recently had claimed that till four years ago, India's share in the world's population that practised open defecation was 60 percent, which has now come down to below 20 percent. Normal levels of hemoglobin are almost the same in both urban (51.5 percent) and rural (46.8 percent) girls, highlighting that the situation across the country is
worrisome, it said.

Besides, one in every two-teenage girls has a low body mass index (BMI), it noted, adding, just about half the population of both urban (50.5 percent) and rural (44.6 percent) girls have a normal BMI. In terms of education, the survey found 81 percent of teenage girls to be currently studying. Of the teenage girls who were still studying, Andhra Pradesh, Kerala, Telangana, and West Bengal scored the highest, with 100 percent of the respondents saying they hadn't given
up their education.

Besides, nearly 78 percent of rural girls are currently studying, compared with 87 percent of urban girls, highlighting how education is of importance across the country, the report said. It also revealed that 96 percent of teenage girls are unmarried with barely any difference in the percentage of rural girls of whom 95.5 percent were unmarried, compared with 96.6 percent in urban areas.

While 70 percent of the girls surveyed said that they want to pursue higher studies, as much as 74 percent wish to work after their studies and have a specific career in mind. Career aspiration is as strong in rural girls (71.8 percent) as in urban girls (80.2 percent), it said adding in rural as well as urban India, 73 percent of girls aspire to marry only after they are 21 years old, by which time they would expect to be earning a living.

The survey findings have been used to prepare a TAG Index, which compares the performance of each state on the status of their teenage girls. According to the Index, Kerala and Mizoram were the top two states, while the top three cities were Mumbai, Kolkata and Bengaluru.
Catch up on all the latest Crime, National, International and Hatke news here. Also download the new mid-day Android and iOS apps to get latest updates
This story has been sourced from a third party syndicated feed, agencies. Mid-day accepts no responsibility or liability for its dependability, trustworthiness, reliability and data of the text. Mid-day management/mid-day.com reserves the sole right to alter, delete or remove (without notice) the content in its absolute discretion for any reason whatsoever