Indian-born Toronto-based alternative rocker Vivek Shraya is in Mumbai for a reading of his just launched book, God Loves Hair. Navigating sexuality, gender, racial politics, religion, he talks about coming out not just as queer, but also as Indian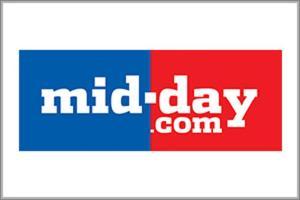 Indian-born Toronto-based alternative rocker Vivek Shraya is in Mumbai for a reading of his just launched book, God Loves Hair. Navigating sexuality, gender, racial politics, religion, he talks about coming out not just as queer, but also as Indian
God Loves Hair is a collection of 20 short stories following a tender, intellectual, and curious child. Author Vivek Shraya tells us how the book wrote itself and about coming out as queer Indian in a freewheeling interview. Excerpts:




First of all, congratulations on a delightful little book. A lot of it resonates very strongly with what queer people encounter growing up in India. How did it come about?
It wasn't a conscious step. I never set out to write 'a' book. Certainly not this book. I was taking a step back from music, but still needed to be creative. Growing up, my mom always said 'an idle mind is a devil's workshop', and this can be very true in my case. I had often joked with friends about the various occurrences in my life that may or may not have led me to being queer i.e. being mistaken for a girl for the first two years of my life etc. So, I began writing these stories. The project eventually grew into something larger.
Why were you taking a step back from music? You were poised to be the next big thing. This isn't usually a career move expected of the average stage-managed pop star.
Well, I was running into some barriers with my then-label. The business side of art can, at times, take the fun out of the creative side. I didn't want to be writing songs or performing. Being queer is part of who I am and part of who I am as an artiste. But that in itself wasn't the intention of the book. For me, in a strange way, the bigger 'coming out'u00a0 wasn't the queerness but the Indian-ness. Unfortunately, when you are of a different background, people want to exoticise you, and assume your music is 'world music', and your producers want to put tablas on everything, which is not really what I do. That said, I am very proud of my background.
Are you more comfortable around women? I just had a glance at the credits in the book, and there are a string of women mentioned, including your mother.
(Laughs) Yes absolutely. I have always had a connection with women. I find it easier to relate, communicate with them. With men there is this barrier, perhaps self-imposed. I find it difficult to make a connection with straight men because I don't really drink (except on Saturday nights!), watch sports, or care about cars. Obviously, I am generalising here. And with gay men there is always this tension; do you like me, do I like you ufffd this assumption that you should/could hook up or at least, have a sexual desire for each other. Sometimes that tension is exciting, but I have found, when trying to establish a friendship, it can get in the way.
At times you seem to imply that the Indian ethos you grew up in was a bit oppressive. But in other ways, was being queer easier because of your upbringing?
Yeah, I mean I think there is something about being Indian that leaves room for queerness in a way. When I visited India, I was so moved by the way men hold hands. I saw more men hold hands on the street than women, and it seemed to be just a natural extension of friendship. Obviously, I recognise that this doesn't translate to acceptance of Lesbian Gay Bisexual Transgender Queer (LGBTQ) in India, but you never see men holding hands in Canada, certainly not just as friends.

On the flip side, being a child of immigrants, my parents wanted us to succeed in this country and while that mostly meant excelling academically, it also involved staying under the radar in a way. They were always concerned with 'what everyone will think'. So living at home, with my parents, did create this wonderful space for me to express who I was... i.e. Madonna posters on the wall etc. But I still worried about bringing any unwanted negative attention to them.

Plus my parents were pretty conservative. I remember mom saying something like, 'even Oprah is talking about LESSSSSSbians!' And there was something about the way she said the word lesbian. It was clearly a bad word, and no one should say it out loud, let alone on TV. My mom adores Oprah and somehow her talking about lesbians was a disappointment for her.
When you stepped out of the 'Madonna-poster' comfort zone, did you have to re-invent yourself for the world of music?
When I was starting out, I was definitely overtly and subtly encouraged to blend i.e. play down the queerness and Indian-ness. At the time, I had blonde hair, wore blue contacts. That was a 'look' that my managers supported. I was pretty much flat out told that there wasn't really room for an Indian pop singer. If you look around, that's not entirely false even in 2010, but the huge independent music boom has created room for not only the artist to be who he is but also give music lovers a huge range of options that aren't always visible.
The writer is former editor, Bombay Dost