With the Supreme Court confirming the death sentence to the four convicts in the Nirbhaya rape case, we look back at that cold and dark night of December 16, 2012 when the tragic event took place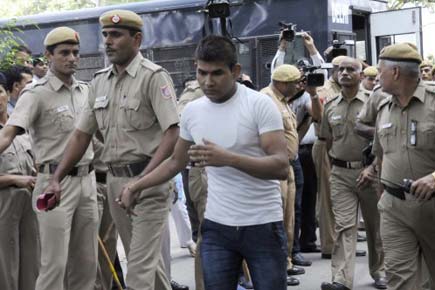 Nirbhaya rape case: What happened on that dark fateful night of December 16, 2012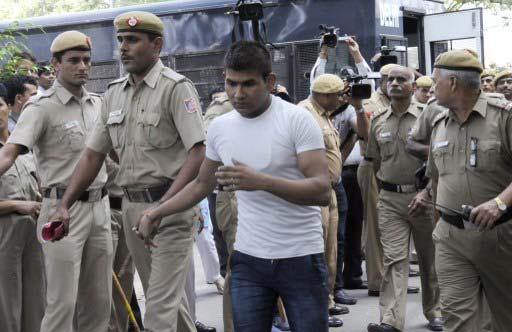 Vinay Sharma, one of the four men sentenced to death for gang-rape and murder in the Nirbhaya case. File Pic
ADVERTISEMENT
Nirbhaya and her male friend had just finished watching American survival drama "Life of Pi", little knowing that their own lives will change forever after moving out of the south Delhi theatre on the cold and dark night of December 16, 2012.
As the 23-year-old physiotherapist intern and Awindra Pratap Pandey waited at Munirka in south Delhi looking for an auto-rickshaw to reach their home in Dwarka, an off-duty charter bus, with six male occupants, including the driver, stopped by and offered them a ride.
The bus moved in a direction which was off the route. The unsuspecting friends noticed something was wrong as the doors of the vehicle had been shut tightly.
Pandey, who spoke about the incident later, objected. He was shouted down. But he resisted and a scuffle broke out as the men, who were drunk, began molesting Nirbhaya - the name given to the woman later by the media which means fearless.
Nirbhaya's friend was knocked down with an iron rod.
What happened later shook the nation, sparked off widespread protests and led many women to break their silence over sexual violence that goes widely unreported in the country.
As Pandey lay half unconscious, the drunk men dragged Nirbhaya to the rear of the moving bus and took turns to rape her. As she fought back, one of attackers - a juvenile - inserted a rusted, L-shaped rod - used with a wheel jack - into her private parts, pulling and ripping her intestines apart. Her medical reports later revealed that she had septic injuries on her abdomen and genital organs also.
Done with the savagery, the attackers then threw the two out of the moving bus and even tried to run the vehicle over the half-naked blood-soaked woman. But her friend, himself injured, pulled her aside on to the pavement.
A passerby found the two laying half dead and informed Delhi Police. Doctors at the Safdarjung Hospital found the woman with only five per cent intestines left inside her body.
The crime triggered massive protests across the country. Angry young men and women took to the streets in Delhi. On December 21, thousands gathered at India Gate and Raisina Hill seeking justice for Nirbhaya as she battled for her life. The protests went on and on.
Nirbhaya, born and brought up in Delhi to parents from an Uttar Pradesh village, was flown to a Singapore hospital. She died there on December 29. Her friend survived after being treated for broken ribs.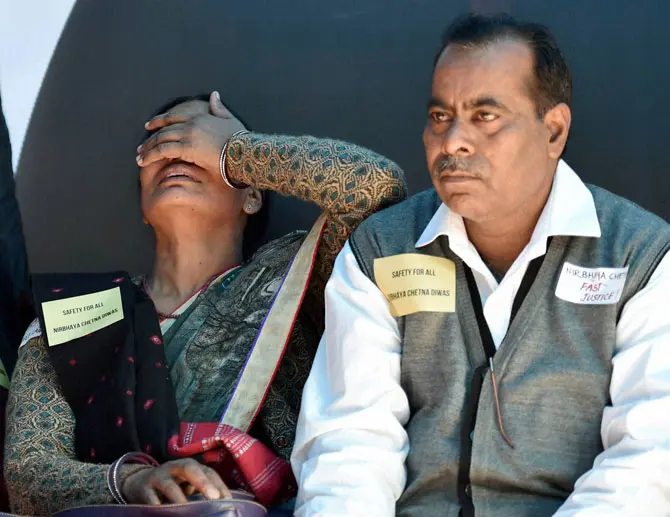 Nirbhaya's parents Badrinath Singh and Asha Devi at a programme to observe the third anniversary of her gangrape as 'Nirbhaya Chetna Divas' at Jantar Mantar in New Delhi. Pic/PTI
As the nation demanded women's safety, the dreams of her parents lay shattered. Her father, who worked in a private company in Delhi, had sold ancestral land to help his daughter continue her education. She herself took tutions to earn extra money.
The incident shook the Manmohan Singh government and a judicial committee headed by former Chief Justice of India J.S. Verma was set up to propose stiff laws to deal with rape cases. Fast-track courts were introduced and even stalking, voyeurism and intentional touching were listed as crimes.
The accused were quickly caught and identified as Ram Singh, Mukesh Singh, Vinay Gupta, Pawan Gupta, Akshay Thakur and a juvenile. Ram Singh, the bus driver, committed suicide in Tihar Jail during the trial.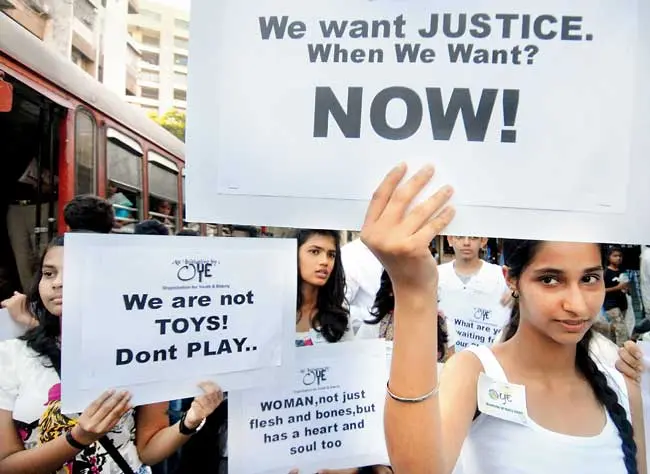 Protests after the Nirbhaya rape. File pic
The juvenile was sent to a correction home and has been released since. The four others were sentenced to death in 2013 and their capital punishment was upheld by the Supreme Court on Friday - four-and-a-half years after the incident.
It may still take months before the punishment is meted out.
But Nirbhaya's parents feel that justice has been served -- not only to their daughter but for everyone in a country where, according to official statistics, nearly 34,000 rape complaints and 84,000 sexual harassments cases were registered in 2015.