Minister for Public Works Naeem Akhtar was on a tour of Tral when his cavalcade was attacked by terrorists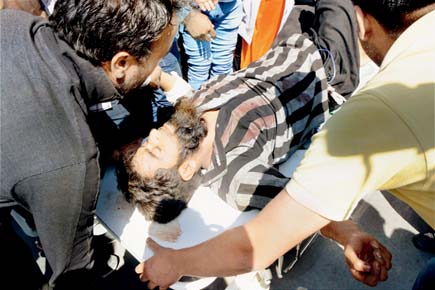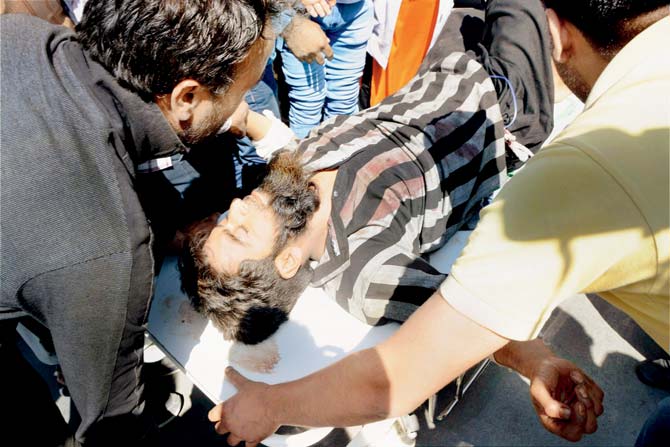 One of those injured being taken to a hospital. Pic/PTI
Terrorists yesterday carried out a grenade attack on the motorcade of a senior minister of Jammu and Kashmir in Tral area of Pulwama district, killing two civilians and injuring 34 others, police said. Jammu and Kashmir Minister for Public Works Naeem Akhtar, who was on a tour of Tral, escaped unhurt in the attack.
"The grenade was reportedly hurled at 11.45 am," a police official said. He said two people - Ghulam Nabi Trag, 56, and 17-year-old Pinky Kour - were killed, while 34 others including two policemen were injured in the blast.
'Cowardly attack'
"Innocent Kashmiri blood has been shed. They (terrorists) have chosen the eve of Islamic New Year to carry out this cowardly attack. Those who carried out the attack are friends of neither Kashmir nor of Islam," Akhtar said.
The public works minister broke down while talking about the deadly explosion. "Two people have lost their lives. I will not forget it my entire life."
Akhtar also said that the security forces exercised restraint while dealing with the aftermath of the explosion.
"The security forces respond to situations keeping in mind that lives of many people are at stake. I do not think anyone died of a bullet injury today," he added.
CMâu00c2u0080u00c2u0088condemns attack
Condemning the incident, Chief Minister Mehbooba Mufti said, "It is unfortunate that the attack took place when a minister had gone to the town to assess the development needs of the area which has remained neglected for decades." In a statement, the chief minister said, "we shall have to ponder over as to how long this senseless bloodletting is going to consume us." She added, "The vicious cycle of violence, which unfortunately has engulfed the state for three decades now, needs to be broken to stop the bloodshed and provide a breather to the people who have been choked by it."
34
No of people injured in the attack