Ani Dr Kashinath Ghanekar, a biopic which has created a stir in the popular discourse, succeeds at two contrary levels - it celebrates a bygone era of Marathi theatre, but also investigates the nostalgia-fuelled Marathi self-image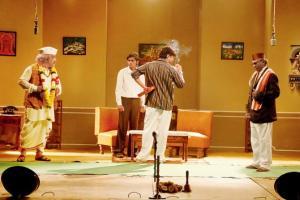 Subodh Bhave portraying Kashinath Ghanekar on stage in a still from Abhijeet Deshpande's Ani Dr Kashinath Ghanekar

Around the time Bollywood's first superstar, Rajesh Khanna, created a storm in 15 consecutive hit Hindi films (1969-71), another short good-looker with piercing blue eyes created rare records on Marathi stage and films. A dentist by profession, Dr Kashinath Ghanekar (1930-86) started as a part-time prompter, only to rise as a crowd-pulling presence marked by what litterateur P L Deshpande called "an unparalleled intensity that deserved to be studied."
Known to go to extreme lengths to get into the skin of a character — be it warrior prince Sambhaji or a vagabond Laalya — Ghanekar enjoyed a fan following that, till date, remains enviable; people chased him at unearthly hours, landed at his Worli home, collegians clapped, cheered and whistled at his stage entries, auditorium managers black marketed tickets to his houseful shows; female fans queued up (women from rich families took turns) outside Mumbai's Shivaji Mandir to take him home after the shows.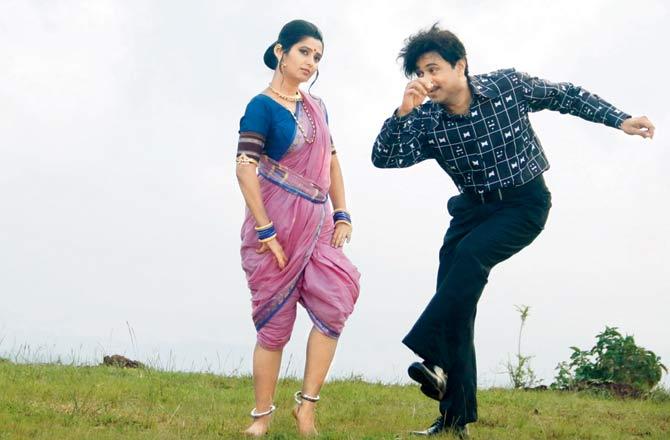 Bhave recreates the Gomu Sangtina song which was one of Dr Ghanekar's film avatars
In a "so what?" swagger, he smoked on stage and tossed late-night performances with the fabled Ghanekar peg — a concoction of milk and hard liquor that gained notoriety as a fashionable antacid by the end of the sixties. One-liners from his plays Raigadala Jevha Jaag Yete or Ashroonchi Jhali Phule entered the lexicon of everyday discourse. His name, a marketable commodity, was pronounced last (after a deliberate pause) before the curtain call, which electrified an eager audience. Ghanekar, thus, became a much-quoted myth in Maharshtra's cultural history; kept intact in fans' anecdotes; invoked in his wife's best-selling biography Nath Ha Maza, memorialised in an auditorium built in his name in Thane in 2011; and now celebrated in the newly-released biopic Ani Dr Kashinath Ghanekar (AKG), which enjoys record box-office patronage across metros.
The idea of AKG took root five years ago in the mind of Bollywood writer Abhijeet Deshpande, who by then "did not have a body of work that I was particularly happy about." He was in search of a subject that could rid him of the burden of "not being able to make it in life in general". Though born to well-read academically-inclined parents who were consumer activists, and brought up in a well-to-do CKP family living in a Versova flat, Deshpande was an oddball in the Parle Tilak Vidyalya; not that he flourished as a commerce student in the M L Dahanukar college or when he completed his MBA in the Dalmia Institute, not even as an apprentice in the scriptwriting module in Pune's Film and Television Institute. He doddered with screenplays for some not-so-mentionable films; and as he made many mistakes, also made some friends. Director Sanjay Gupta shared key insights on the sets of Shootout at Wadala; actor Paresh Rawal bonded beautifully over Vonu Lager beer in the far-off Fiji shoot of Table No 21! He teamed well with maverick Mahesh Manjrekar, but only to realise how indiscriminate work can stunt growth.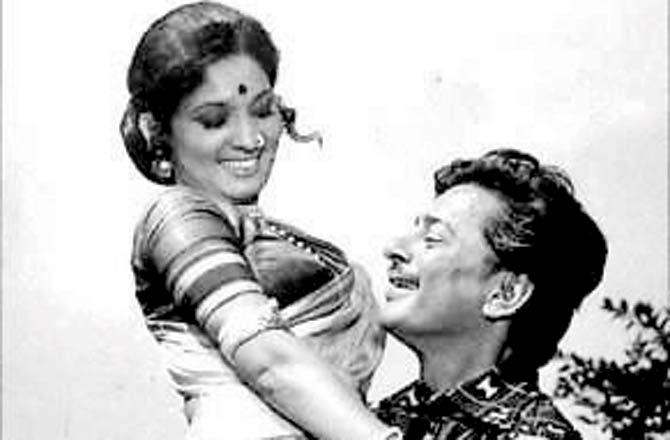 A still from the original
"After being raised on a diet of Kuch Kuch Hota Hai, FTII exposed me to world auteurs. But again I was struggling for a foothold in a star-studded business where a script was an elective accessory," he recalls, adding that Dr Ghanekar, as a subject, gave him a sense of larger purpose and propelled him into film direction. He experienced the joy of tracing a test case in psychology; a stage-screen hero seeking validation and audience applause in order to compensate for the lack of endorsement by his father; a protagonist whose decade-long superstardom (in a career spanning 35 plays and 21 films) led to his professional decline and loss of civility; a much-loved figure who played with the emotions of three women who supported him most — both his wives and his mother-in-law (actress) Sulochana.
How could an actor abandon a popular play just because removal of his head gear delayed mingling with the fans after the show? Why would a popular star stoop to interrupt a contending performer? More such questions besieged director Deshpande's mind as he decided to showcase the co-existence of great acting skills alongside spiteful narrow competition. Dr Ghanekar was a package that was not just zapping but super-relevant to the Hindi-Marathi film industries, marked by professional jealousies, megalomaniac behaviour and actors' over identification with screen-stage roles. The film doesn't come down heavily on Ghanekar's romantic flirtations and misdemeanor (only one scene indicates his violation of an actress on stage), but it ridicules the vain and vacuous ways of a thespian who was too undisciplined and self-centered to avert his downfall. At a time when a senior actor like Nana Patekar is out of business, because of allegations of sexual misconduct, the movie is an apt comment on male privilege in those times.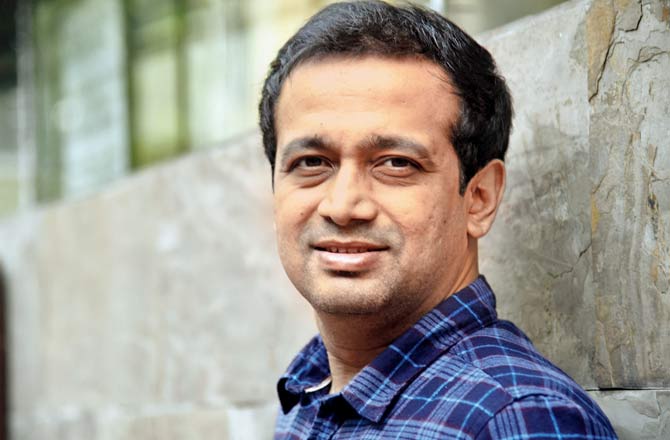 Abhijeet Deshpande
Ani Dr Kashinath Ghanekar is a ringside view of Marathi theatre aesthetic of the sixties and seventies — the world of dingy theatre halls, auditions running on cutting chai, dog-eared manuscripts, rehearsals behind garish curtains, low-scale economics of per-night rates (Dr Ghanekar paid highest R500 per show) and repertoires travelling in rickety state transport. Without much of an intellectual pose, the film captures the Marathi self-image nurtured on the drama form. In a defining scene, two theatre stalwarts part ways and threaten to take to begging as an alternative. Even in their most calamitous moments, begging is their creative choice; so much for lack of enterprise and imagination of Marathi manoos.
But, as the film lightly rebukes an insular world of modest means, it also pays a rich tribute to the cultural sphere in which playwrights like Vasant Kanetkar crafted captivating scripts. Some of these plays are not perceived as classics in today's cultural parameters, but that doesn't take away their power to hold an audience for massive spans; also their strength to counter Hindi film monopoly. Dr Ghanekar's rise coincides with the birth of Shiv Sena (1966) as a political force, which again has a connection with the first-ever influx of youth for his shows.
"Like Dr Ghanekar, the plays in which he acted — Ithe Oshalala Mrutyu, Garambicha Bapu, Anandi Gopal — remained in popular consciousness. They should be celebrated because of the sheer staying power. Even if our cultural tastes have changed or rather evolved, as we like to believe, there is no harm in revisiting older slices of history," feels Deshpande whose film presents a nuanced view of Marathi commercial as well as experimental milestones. His script zeroes in well on the real-life conflict between Dr Ghanekar and Dr Sreeram Lagoo, who stood on different sides of the political and social spectrum. Deshpande's sparkling dialogues never let the rivalry turn silly or loud; he has come a long way from kitschy jejune lines penned in films like Natasamrat or Mee Shivajiraje Bhosale Boltoy!
AKG shines because of lead actor Subodh Bhave's ability to rise above physical attributes. Much taller and stouter than Dr Ghanekar, he 'becomes' the lead character for every second of the two hour forty minute biopic; touching the zenith in Gomu Sangtina Mazhya Tu Yeshil Ka number. Actress Sonali Kulkarni dissolves in Sulochana's persona with immaculate ease, despite being much leaner than the real-life veteran. To borrow Dr Ghanekar's epithets, the teaming of talents makes the experience... ekdam kadakkk.
Sumedha Raikar-Mhatre is a culture columnist in search of the sub-text. You can reach her at sumedha.raikar@gmail.com
Catch up on all the latest Crime, National, International and Hatke news here. Also download the new mid-day Android and iOS apps to get latest updates