French Bridge in Gamdevi vaults over a precinct of communities close to Bombay's cultural heyday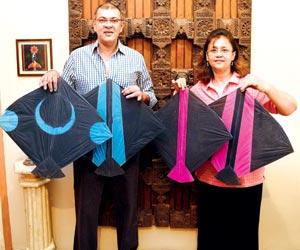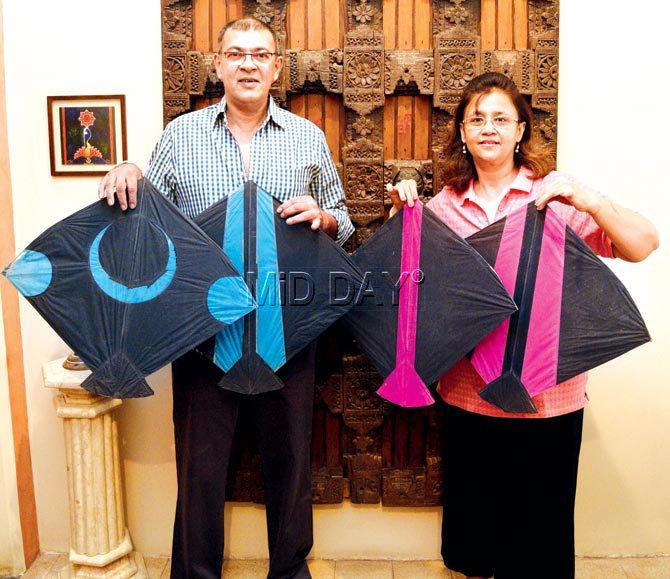 Dev and Neha Ghia in Saraswati Niwas against a 300-year-old carved wood door from her grandfather Chandrakant Shroff's ancestral home in Khambhat, Gujarat. A cotton exporter to Aden, Shroff once owned Amar Bhuvan in this wadi, named for his grandfather. The couple hold four kites from Dev's collection of 1,000 — these are 75-year-old Fighters made by Raias Khan at BDD Chawl, Worli, who sometimes exchanged his creations for cigarettes. Pics/Shadab Khan

French Bridge has as little to do with anything Francaise as Colaba's Pasta Lanes with la bella Italia's delectable dish. Constructed in 1866, this bridge in Gamdevi is named for Colonel Patrick T French, British founder chairman of the BB&CI Railway. It retains a small stretch of original wall, residents on either side of which are surprised to learn of the colonel's interest in Indian musicology. French submitted essays expounding on the genre, like Catalogue of Indian Musical Instruments, to the Royal Irish Academy.
ADVERTISEMENT
"It was a thrill redoing French Bridge exactly 100 years after it came up," recalls 74-year-old Manhar Paradia of Chembur. On the engineering team which widened and raised the bridge with pre-stressed girders in 1966, he says, "A fourth track was added and margin kept for new electric locomotives." The Indian Railways Fans Club Association records that when steam train production stopped in 1970, the last puffing out was Antim Sitara.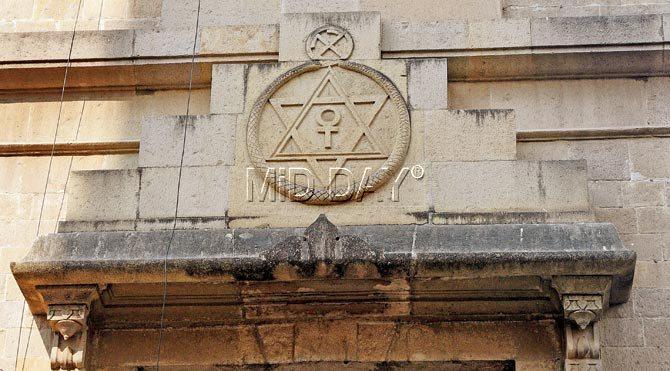 Close-up of the Theosophical Society seal which blends eclectic elements: the Greek allusion to infinity with the Ouroboros symbol of a serpent biting its tail, the universal Hexagram star, the Crux Ansata from Egypt suggesting resurrection, the Swastika and Om emblems
Reached from its Opera House foot — flagged by voice culture virtuoso BR Deodhar's School of Indian Music — or turning in from Hughes Road, French Bridge runs through two wadis frozen timeless. Paint-peeled 19th-century verandas wave in 21st-century life around the sign "Kalamaharshi SL Haldankar Bridge, Low Level South". Across north, Raghav Wadi was Haji Kasam Chawl till sailor Haji Kasam sold it to Bhatia trader Chhatrabhuj Raghavji. The 1950-established Patidar Samaj hall and hostel fronts the wadi which also witnessed the Goa Hindu Association's inaugural August 1919 meeting.
"Raghav Wadi was inspiring," says actor Sharad Wagh, here since 1942. "Our great personalities were portraitist Sawlaram Haldankar whose thatched studio you yet see, playwright Mama Varerkar invited to the Rajya Sabha by Nehru, poet Mangesh Padgaonkar and Sudha Karmarkar who started the Marathi children's theatre movement." Stalwarts saluted, Wagh spins a spooky tale. That needs a bit of scene setting. The bungalow of textile tycoon and horse owner Mathradas Goculdas was where his daughter Sumati Morarjee grew to become the first woman of Indian shipping, heading Scindia Steam Navigation Company and the Indian National Steamship Owners' Association. In 1965 she famously provided a passage to America, aboard the Jaladuta, for Swami Prabhupada, Acharya of the International Society for Krishna Consciousness (ISKCON).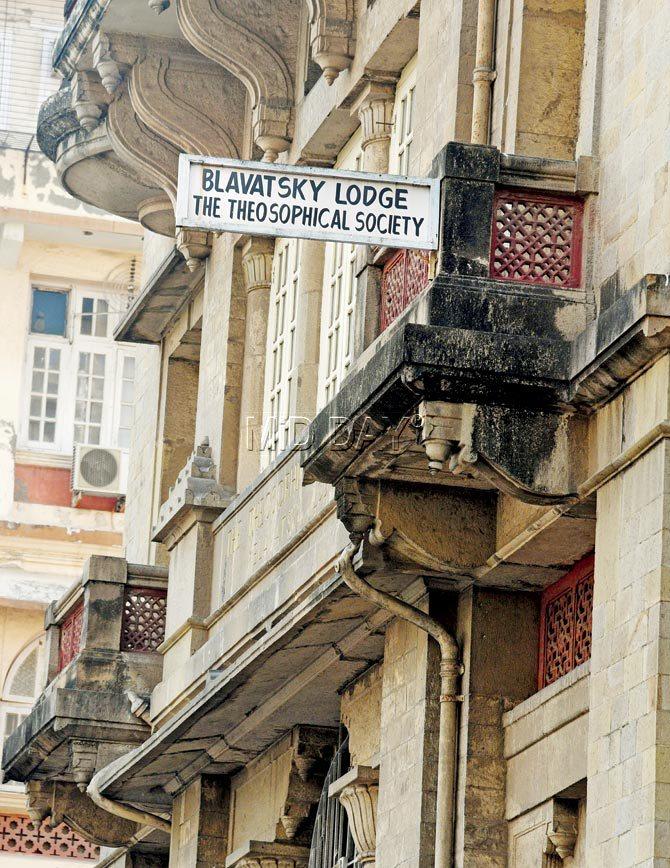 Blavatsky Lodge, built at the French Bridge junction in 1928, belongs to the Theosophical Society of India. Started as a philosophical movement in 1875 by Russian clairvoyant Madame Helena Blavatsky, the Society's motto is: "There is no religion higher than truth"
Rumour followed a fire in the Goculdas stables fatally burning some horses. Months after, local lads asking a ganderi wala for sugarcane were shocked. The palm he scooped to weigh their pieces was a horse hoof. Scared witless, the boys bolted to a waiting Victoria. The hand that tongawala extended to help them up was yet another horror of a hoof!
But, the bridge has enough substantiated history too. Most luminous is Blavatsky Lodge, the Malad stone-encased 1928 home of Russian philosopher Madame Blavatsky's Theosophical Society. With Indo-Saracenic touches to its European facade and a spiritual legacy led by theosophists Annie Besant and Rukmini Devi Arundale, Blavatsky Lodge boasted brilliant concerts.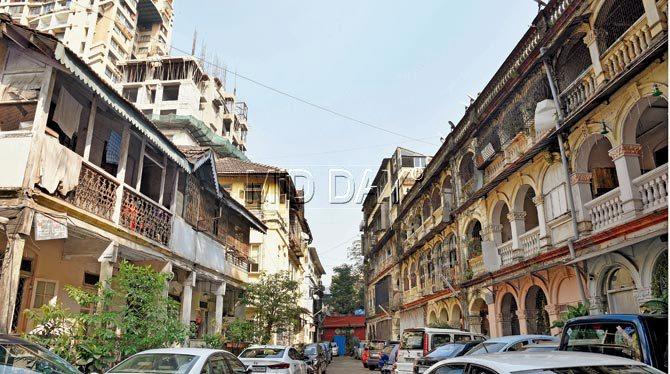 Raghav Wadi, under one flank of the bridge, has been home to cultural luminaries of national significance
A memorable 1934 show saw Jaipur Atrauli gharana pioneer Alladiya Khan performing with Abdul Karim Khan of the Kirana gharana and Faiyyaz Khan of the Agra gharana. This was a vibrant art adda as well from the 1950s, with SH Raza, SM Pandit and KK Hebbar visiting AA Almelkar who helmed Nutan Kala Mandir — the art organisation started by painter GS Dandavatimath which had rented space here. Almelkar was internationally lauded for The Almelkar Line, a tender-thin black contour defining his watercolours. Today the lodge hosts budding ballerinas poised en pointe at Tushna Dallas and daughter Khushcheher's School of Classical Ballet and Western Dance.
Across stands a stunning Urban Heritage Award winner, an archtypical Maharashtrian mansion from 1889. Jayantibai Raut's husband Dr Sakharam Raut's modest LIC policy funded the home five generations cherish, antique chandeliers and stained-glass windows intact. Dr Raut was regarded radical then for marrying a widow with children.
French Bridge denizens detach from the din of passing trains. Octogenarian Amar Kazi at Jaya Mahal in Raghav Wadi refers to it as "background music", preferring pleasanter memories —"Cars of governors and viceroys drove over our bridge. At Independence, we rode brightly lit trams from Opera House to feel the city's excitement and happiness." Indira Shroff in Amar Bhuvan is reconciled to her furniture shaking to rail vibrations. Garment exporter Raju Sonpal vouches for two-feet-solid walls of buildings like Sarla Sadan, once belonging to his family, named after his mother.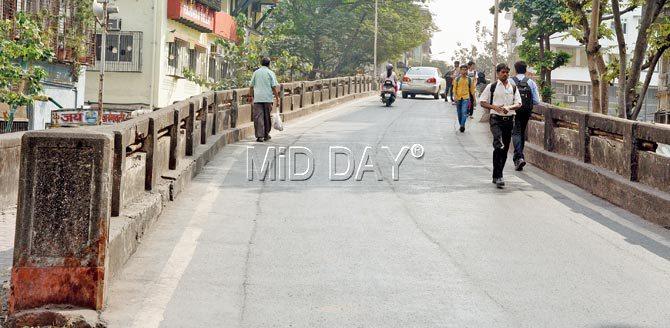 View of French Bridge, which was redone exactly 100 years after it was first raised in 1866 and honours Col. PT French, founder chairman of the BB&CI Railway
Shroff meets me at the Dhurandhar home three floors beneath her terrace flat. With his nephews Sanjiv and Sushil, Dr Jatin Dhurandhar describes Amar Bhuvan as Jamna Niwas earlier. The gynaecologist sister of their physician grandfather Waman Dhurandhar, Jamnabai was the Pathare Prabhu community's first lady doctor. "She delivered babies of royal families who paid her in jewellery," says Jatin Dhurandhar. Dying young, she willed the money from Jamna Niwas, after it sold, to Cama Hospital for Women and Children.
At the hospital, I read the plaque acknowledging R1 lakh from Jamnabai Desai (her married name) near her statue in the wing dedicated to her dream. Dr Waman Dhurandhar's other obstetrician sister, Jayabala, was the mother of ENT surgeon Milind Kirtane who consults on the first floor. Theatre critic Dnyaneshwar Nadkarni lived right below. The building was called Amar Bhuvan after Indira Shroff's father-in-law Chandrakant bought out the Dhurandhars and named it for his grandfather Amarchand.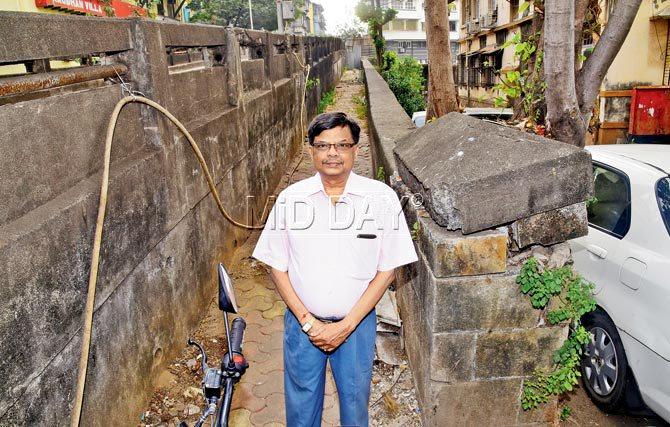 Ketan Gandhi from Sarla Sadan near the triangular-topped stone pillar of French Bridge he would sit on during childhood games of gully cricket. Labourers have not succeeded in dislodging this last precariously perched piece of the bridge wall. Pic/Atul Kamble
"No room of mine is right angled with another and the floors slant slightly," says Indira Shroff's daughter Neha, looking at Saraswati Niwas' Italian tiles, still glossy from 1933. Spoken like an architect's daughter — Snehkant Shroff, her father, designed Juhu Vile Parle Development Scheme villas in the 1950s-'60s, featured in Bachchan blockbusters like Kabhi Kabhie. Her husband Dev says, "My pockets were full of marbles and I lived and breathed kites." Datta Talchelkar in Shankar Bhavan opposite was his mentor, from whom he has inherited 1,000 kites. "I held the firkee for Dev and we fell in love," laughs Neha.
Shy rooftop romances were charmingly common. My ears ringing with "So-and-so Kaka exchanged glances with So-and-so Kaki", I settle to watch Aapli Wadi. The documentary traces everything endearing and enduring about life in the lane: from shared meals and board games to neighbourhood natter about kids breaking windowpanes in robust rounds of cricket. Other juniors caught stealing grass from Victorias for Holi bonfires got lashed with tongawalas' whips. The film was shot at a Gudi Padva celebration by music composer Anant Amembal of Sarla Sadan. His father Dinkarrao introduced All India Radio's orchestra and passionately fused Indian classical with Western arrangements. He partnered Czech refugee Walter Kaufmann who immortalized AIR's 1936 signature tune based on raga Shivaranjini.
I'm gifted the documentary DVD by Sumit Chaudri in Saraswati Niwas. Their family firm, International Tyre Service, on nearby Mathew Road, was set up by his grandfather Suhrid of Calcutta, with his brothers Sunder and Surath. In fact, Surath Chaudri trained under Harvey Firestone himself in 1922 Detroit. After his father Sujon, Sumit makes the third generation helming the company.
"French Bridge offers peace, with main road conveniences just a step beyond," Sumit says, glancing out from his airy apartment.
Few enclaves are blessed by such extraordinary ordinariness. Amar Bhuvan heralds the one-tree cul de sac ending at a pretty gulmohur. Rowed along it, Shankar Bhavan and Sarla Sadan face Saraswati Niwas. "These four buildings are our world. We are proud and possessive of them," says chartered accountant Ketan Gandhi. Immersed in gully cricket (a gaslight base for stumps) in his childhood, he points to the triangular top of a bridge pillar.
"I sat on it, awaiting my turn." Teacher Bhushan Mengle has a less savoury cricket story. His grandfather, Dr Mohan Mengle, was the first in 1940 to tenant Shanti Sadan on the other side of Blavatsky Lodge. "The gutter our balls bounced into is now a dosa shop. Customers create a nuisance honking loudly to be served in cars. The wadi character has changed." His concern echoes with Jagdish Rele, civil structural engineer with the World Bank in Washington DC, temporarily in Bombay to oversee Asian projects. The Reles previously owned Shankar Bhavan and Sarla Sadan, designed by GA Kamtekar. "Returning after 20 years, I think how poor our public mentality is. Who can walk on footpaths piled with defecation and garbage? Vehicles ply the same bridge, so pedestrians are unsafe."
Padmini Nayak in Parmanand Chawl, the relatively recent proprietor of 103-year-old Lokmanya Hindu Hotel, updates me on the area's Udupis. Her grandfather Ramkrishna Nayak came from Mangalore around 1915, making Hind Vijay (currently Guru Lunch Home) his workplace. She remembers Mamma Mia Pizza was Manmohan Dairy, and SR Sweets was A-1 Laundry and Sun View, the Irani cafe hawking pink and white sweets kids enjoyed in a "Dus paise ka dus" deal.
How close French Bridge, Kennedy Bridge and Sandhurst Bridge are, was clear in the August 1983 collapse of Akashdeep building behind Amar Bhuvan. "It came down like a pack of cards," says Jatin Dhurandhar. "Thrown with his bed, John, a recruiting agent, flew onto Sandhurst Bridge, to survive the crash which claimed many lives." With Dharam Palace on Hughes Road, maddened merchants of gem polishing units in Akashdeep apparently threw bags of cash at anyone retrieving their diamonds buried under slabs.
Diamonds in the dust, rumbling trains, horsy ghosts et al. This is where they come together — below-the-bridge wonders of "aapli wadi".
Author-publisher Meher Marfatia writes fortnightly on everything that makes her love Mumbai and adore Bombay. You can reach her at mehermarfatia@gmail.com
Catch up on all the latest Mumbai, National and International news here
Download the new mid-day Android and iOS apps to get updates on all the latest and trending stories on the go