Many gay Israeli couples travel abroad to have children with surrogates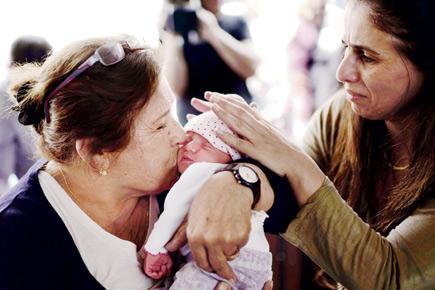 Israeli couples
Kathmandu: Israel began repatriating its nationals from quake-hit Nepal on Monday, including two groups of babies born to surrogate mothers in Kathmandu whose fathers are homosexual Israelis.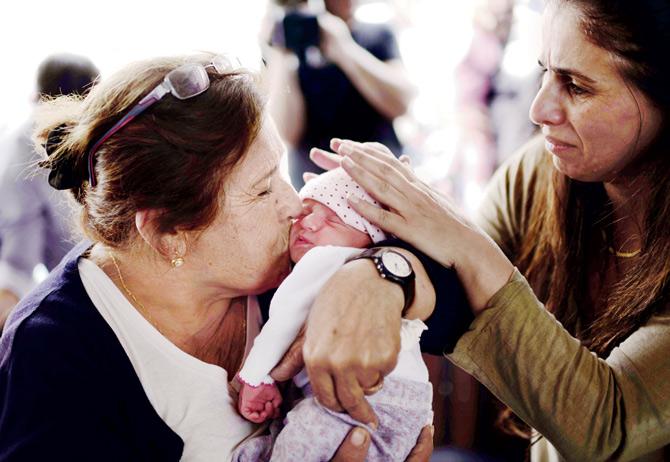 We're home! Many Israeli couples have traveled to Nepal to have children with the help of surrogate mothers because in Israel the procedure is limited by law to only heterosexual partners. Pics/AFP
ADVERTISEMENT
Three of the newborns arrived on a military plane in the morning, and five others landed at noon on an aircraft commissioned by Magen David Adom, Israel's emergency medical service, which had brought medics to Nepal on Sunday.
The babies would undergo DNA testing to confirm their parentage and then receive Israeli citizenship.
Also read: Death and destruction as massive earthquake hits Nepal

One of the men beams as he carries his daughter, while his partner carries their newborn baby.
Under Israeli law, only heterosexual couples can legally have children through surrogate mothers, meaning homosexual couples and single people often seek help overseas.
The foreign ministry says 25 babies were recently born in Kathmandu — four of them prematurely – to surrogate mothers from India, and it would be doing everything possible to bring the remaining 17 babies and their Israeli parents to Israel.
Tammuz, an Israeli firm offering surrogacy services, said meanwhile it had sent a delegation from India to ensure the well-being of the approximately 80 pregnant Indian women in Nepal who are serving surrogate mothers to the company's primarily Israeli clients.
Israel's justice ministry said it would allow the surrogate mothers in advanced states of pregnancy to fly to Israel, but only on the condition they were doing so of their free volition and after the dangers of flying in their condition was explained to them.