South African cricket legend and Mumbai Indians fielding coach Jonty Rhodes says this country's rich culture prompted wife Melanie and him to name their daughter India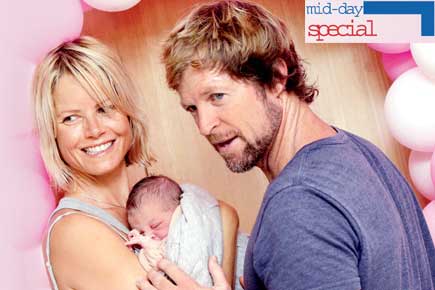 Jonty Rhodes and wife Melanie Jeanne with their baby India
Jonty Rhodes seems to have made a life-long connection with India after he named his newborn daughter 'India Jeanne Rhodes'.
Also read: Jonty Rhodes becomes father, trends on Twitter for naming baby girl 'India'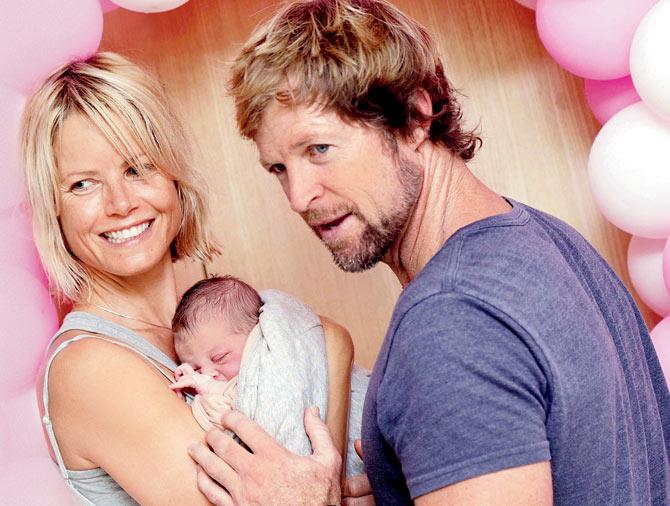 Jonty Rhodes and wife Melanie Jeanne with their baby India. Pic/Yogen Shah 
ADVERTISEMENT
The legendary South African fielder enjoys as much fan following as Indian cricketers after joining Mumbai Indians as its fielding coach.
Now, by naming his daughter India, he has only taken his love for his 'second-home' a notch higher.
Speaking to mid-day after a Mumbai Indians training session at the Wankhede Stadium on Friday, Rhodes (45) explained why he chose to name his daughter India.
"I have spent a lot of time here. What I love about India is that it's a rich mix of culture, heritage and tradition. It is a very spiritual country, very forward-thinking nation. I really like that combination. You have to have a good balance of life.
Best of both worlds
"With the name like India, she will have the best of both worlds and that sort of balance," an excited Rhodes said, before he took off on his Royal Enfield Bullet bike.
The former South African legendary fielder's wife Melanie gave birth to a baby girl at Surya Mother and Child Care Hospital in Santacruz on Thursday.
The baby delivered through water birth was born at 3.29 in the afternoon, and weighs 3.7kg. "What we really like about India is that everyday we discover something new about this country. As people, we like discovering things about yourself and that's hopefully what she (the baby) will also discover," added Rhodes.
Rhodes said his wife had no issues with naming their daughter after a country.
"She really enjoys coming to India. She's learnt yoga. She loves the fact that you can go from mountains to oceans… there is a lot of diversity (in India). So, we weren't really concerned (about naming her India)," said Rhodes. However, he is not the first player to name his child after a country.
Not the first
West Indies batting legend Brian Lara named her daughter Sydney after scoring his first Test century in the Australian city, while former New Zealand pacer Dion Nash also named his daughter India.
"So, we are not the first ones. In fact, there are some kids in South Africa (too) named India. But I have my reasons to give her this name. It's more to do with the cultural and traditional diversities of India," Rhodes signed off.