Poetry in motion and poultry in motion
Some inane, others insane and just one or two profound, the Mumbai Marathon is all about some run and some fun
Now that clock is ticking for the Standard Chartered Mumbai Marathon to be run on Sunday January 19 2014, here are a few thoughts -- some odd, the others which might make you say: oh my gawd! this is sooo idiotic. Yet, most of these are designed to make you think that life, including the torturous 42.195 km can be, of all the things, quite a laugh. So, as the start line looms this columnist is wondering...

Elite Indian athlete Binning Lynkhoi. Pic/Atul Kamble
>> Whether runners are praying that the weather Gods of Manhattan would move to Mumbai on Sunday, January 19 and make Mumbai experience New York weather at 2 to 4 degrees Celsius? Brrring it on, o ye the divine.
>> Whether people doing the punishing full marathon distance of 42.195 km have started feeling butterflies doing a little dance of self-doubt in their stomachs?
>> Whether you know the colleague next to you is training for the marathon because he comes to work smelling of balm and pain relief ointment instead of perfume or deodorant?

Elite athletes take the flyover real easy-peasy. Pic/Suresh KK
>> Whether one plate of pasta winks at the other and says…mere carbo mein joh aayein… since is time for carb loading, necessary for long-distance running
>> Whether Lata Mangeshkar and Asha Bhonsale will stand out on their balcony of the Prabhu Kunj building just as the punishing Peddar Road Hill climb begins and sing to encourage flagging runners…
>> Whether the Maharashtra Govt. would one day make the Kenyan and Ethiopian runners pay the Bandra Worli Sea Link (BWSL) toll, considering how fast they are. Then, whether the African nations and India would get into a diplomatic row?

A participant with a horse head piece runs in the marathon. Pic/Atul Kamble
>> Whether runners can give a special signal 'Save Our Soles' (SOS) as their feet start giving way after a certain distance?
>> Whether you would get into the marathon spirit and keep your car off the road for six hours at least, showing respect for the runners trying to finish the race?
>> Whether you know it is not the runners but Mumbai's cheering crowds lining the road that exemplify the spirit of the city. Come out on the roads and cheer, do you hear?
>> Whether the horses at the Mahalaxmi racecourse would snigger at the amateur runners trotting along, saying -- they need to go full gallop, like us?
>> Whether Sachin Tendulkar would once run the full marathon distance, now that he is retired. Would he run like an ordinary mortal without a full security ring around him? Tenlya, aiga!
>> Whether marathon race director Hugh Jones who has been with the event for 11 years, would one day become UK's ambassador to India, thanks to his marathon (pun intended) association?
>> Whether we dare to dream about our army personnel beating the ebony-hued Africans, or all comers for that matter, to claim the ultimate prize in this marathon?
>> Whether one day, runners will all have Global Positioning Systems (GPS) built into their running vests, guiding them to the finish line?
>> Why we all do not have GPS devices telling us the direction our lives should take?
>> Whether we can think of something profound like our soldiers running the marathon with blades instead of legs, which have been blown away in defence of the country and stop to give them a very special salute?
>> Whether you laugh, watching the elite women runners coming to the finish line approximatelt 20 minutes over the 2-hr mark, because a few years ago, women were not even allowed to run the marathon at world class events (they competed as late as 1984 in the Olympics) because they were thought incapable of finishing the gruelling event?
>> What 101-year- old former marathoner Fauja Singh is doing at his home in the United Kingdom? What marathoner and astronaut Sunita Williams who once ran a marathon tethered to her treadmill while in space, is doing on Sunday?
>> Why runners cannot stop at numerous petrol pumps across the city to 'refuel' if they run out of gas on the course?
>> Why if those effortless elite runners are poetry in motion, why can't hens, flying through the air be called poultry in motion?
>> Why are you reading this tripe, anyway?
The marathon spirit
Fired up by the spirit of the Mumbai Marathon, there are a number of charities who are revolving their events around the day. Just one day before the marathon, January 18 to be precise, the Association of Masonic Ladies Mumbai Centre, is having a Garage Sale (where crockery, apparel, appliances, toys and stationary are sold at competitive prices) in aid of charities.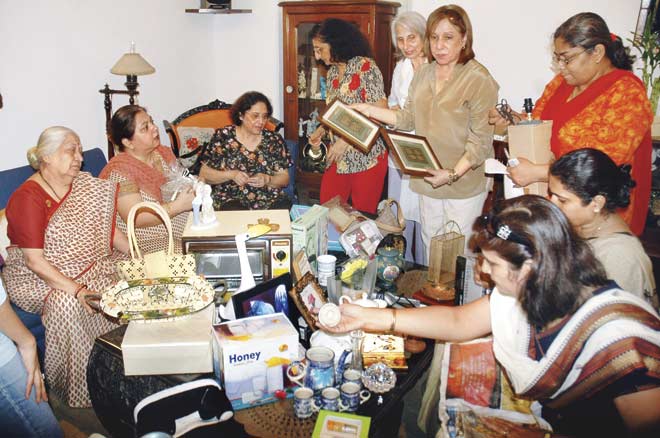 Heena Udeshi (l) with others collating items for an earlier garage sale
Says Heena Udeshi of the Association, "Though we did not plan it that way, it is a happy coincidence that our sale is just a day before Mumbai comes to a standstill to demonstrate its competitive and charitable spirit. We too, benefit a number of charities and are proud of the fact that this city proves it has both -- heart and soul, or maybe that should be sole," she says with a smile, referring to the marathon. Some of the charities benefiting from past sales are Multiple Sclerosis Society of India (incidentally, full marathoner Milind Soman runs to raise awareness about MS) and the Ostomy Association of India.
Details: The Association of Masonic Ladies Mumbai Centre Garage Sale, at: Sheth Jamnadas Vasanji Marriage Hall, Damul Nivas, Bhulabhai Desai Road, Opp, Nallis Sari Store, Mahalaxmi.
On: Saturday, January 18 2014, from 10 am to 6 pm.
Going for 20
United Way of Mumbai (UWM), official charity partner for the 11th edition of the Standard Chartered Mumbai Marathon (SCMM), has already logged over R 16 crore for 269 NGOs, it was announced yesterday at a press conference at the Press Club in the city. The figure is expected to cross Rs 20 crore.

Oldest and youngest Dream runners Rumi Taraporevala (83) and Meera Mehta (15). Pic/Shadab Khan
Jayanti Shukla, director, UWM said, "We make sure the right amount reaches the right charity and we want to promote responsible giving." At 83, Rumi Taraporevala, the seniormost member of the Dream Team said he is just putting his best foot forward. "I am associated with the Society for the Education of the Crippled. In 2005 I ran for SEC but this time I don't think I will run, I will now just shuffle in 2014!
With so many charities, everyone needs help so there is no question of stopping. I want to go on. No matter what my age is." IITian and Chief Risk Officer at IDFC, Sadashiv S Rao is supporting Isha Education which provides education to underprivileged children. "Last year, I raised a total of R 5 lakh and I saw how the funds were used. This inspired me to raise Rs 10 lakh this year."
- Fatema Pittalwala