We want Uddhavji's government in Maharashtra: Aaditya Thackeray
At a convention of Shiv Sena's youth wing yesterday, Yuva Sena president Aaditya Thackeray said to party workers that he wants his father's government in the state
Though there have been persistent whispers that Uddhav Thackeray is the chief ministerial nominee from the Shiv Sena, no one in the alliance speaks out loud about it. But on Thursday, the second day of the two-day convention of Yuva Sena office bearers in Alibaug, Uddhav's son and the party youth wing's chief Aaditya said, "In Delhi, we want Modiji's government, and Uddhavji's government in Maharashtra."

Aaditya Thackeray addresses party workers at the Yuva Sena's first state convention in Alibaug in Raigad district. Pic/Bipin Kokate
He also said, "The CM and PM have listened to Janpath till now, but now they will have to listen to the janmat (people's vote)." Asked what he meant by his statement, Aaditya said, "We want a chief minister from the Shiv Sena, and Uddhavji being the party president, will decide on this." But, when Uddhav was asked to remark on his son's statement, he said, "I haven't heard the statement, so I can't comment on it."
For a very long time, there has been speculation about who'd lead the state if the saffron alliance of the Shiv Sena, BJP and RPI would come to power. There has been no announcement officially, but with Aaditya's statement, things seem to be falling in place. While addressing his party men, Aaditya said, "People should stop adding bhau, dada and such appellations to their names on political banners. When I sign off on social media sites, I don't use any such terms."
Aaditya said he'd ask if suspended Mumbai University professor Neeraj Hatekar, who is campaigning against the varsity's mismanagement under its vice-chancellor R M Welukar, would like the support of a political party in his protest. "The V-C should go. He isn't capable of handling the university. I will talk to Hatekar. But, I don't want to meddle, since not everyone likes interference from political parties," said Aaditya.
No infighting
Referring to Sheetal Mhatre and Shubha Raul the Sena's women corporators who have expressed their disappointment in other party leaders Uddhav said, "It is our internal matter and we will look into it. There's no need for anyone to worry about it. The women's commission should look after other important issues. We can handle our issues."
'Modi hogging attention'
There was a session at the convention where a representative of the BJP's social media cell, Arvind Gupta, spoke to Yuva Sena members. He had specially come from Delhi to Alibaug for the meet. But, he became a target of party members' discontent with being pushed out of public attention. For example, Vinay Shukla of the IT cell of Yuva Sena asked Gupta why the BJP was only promoting Modi and not the alliance and its work.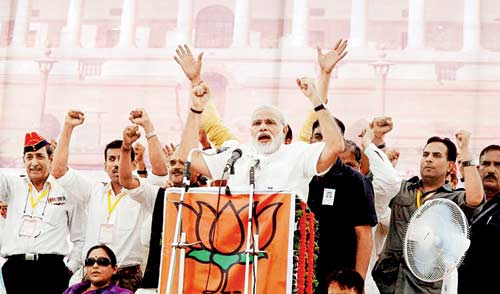 Another Sena member, who had come from Kolhapur, said to Gupta that the Sena supports BJP when their candidate is contesting polls, but the BJP doesn't return the favour. Rahul Narvekar, spokesperson and organiser of the convention, had to step in to stop the Q&A round from turning vitriolic. When Uddhav was asked if there was any discontent among the Sainiks regarding Modi, he denied it. But, party members claimed that the way Modi is being projected is demeaning to the alliance parties.