Recently, APSIS International revealed an interesting insight in one of its reports.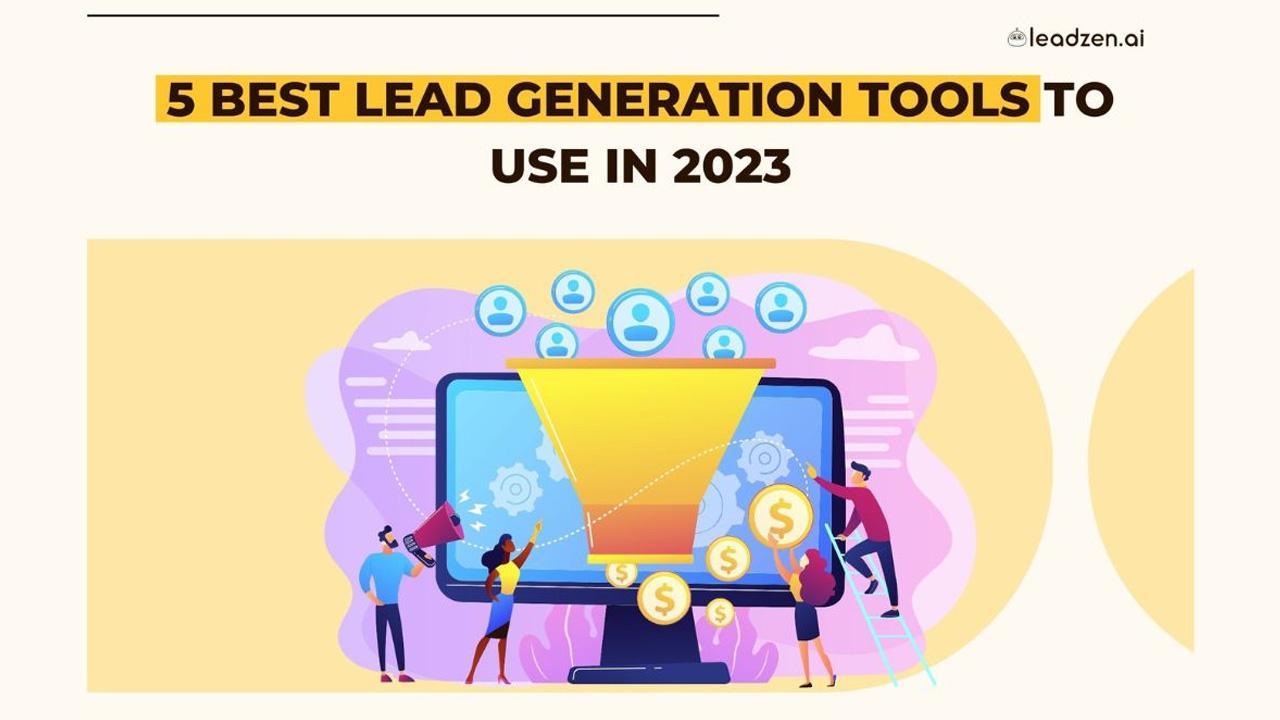 It says, "Almost 77% of marketers who use automation software for prospecting successfully convert more leads than those that don't use an automation tool!"
Fascinating, right?
Well, it is. And that too, for all the obvious reasons.
You see, generating quality leads is necessary for a business to stay ahead in the market. Without doing that, it will keep missing out on good sales and a strong consumer base. Numbers speak facts and impeccable strategies need to be at the core to attract the types of customers a business desires.
Apparently, there has been a drastic shift in lead generation trends. Yup, it is the introduction of automation. Today we have lead prospecting tools, lead management software, and CRM that assist marketers/sales teams in their campaigns.
So, if you are also looking forward to adding a "Touch of automation" to your prospecting journey, stay with us till the end of this article. We are about to take you through some of the gems you can use in 2023! 
But wait, do businesses REALLY need lead generation tools? If yes, why so?
There's one simple answer to this - ABSOLUTELY YES!!
Now let's see WHY!
B2B marketing is critical to sales development because it generates AND converts product demand. Without a strategy, your business will be unsure of who it should be targeting - and without this identity, your business will struggle to generate leads!
But the problem is…these processes are often tiring and challenging because it's not feasible to manually find good quality leads all the time.
And this is where lead generation tools come to the rescue.
They help a business survive the trends and the uncertainty of the market. It is a time-saving marketing and sales platform that allows you to generate more leads and route them to the appropriate team. The best is that all this happens automatically!
Ultimately, it helps also in raising brand awareness, attracting more qualified leads, and closing more sales deals.
Now that you know WHY LEAD GENERATION TOOLS ARE IMPORTANT, let's look at the current best picks to help you better understand where this industry is headed.
5 Best Lead Generation Tools To Use In 2023
Here are 5 of the best lead generation tools you should look forward to in 2023!
 1. Leadzen.ai
Leadzen.ai is an intelligent lead generation tool, powered by artificial intelligence that completely takes away the pain of prospecting. It delivers real-time prospecting updates so that you stay up-to-date with the latest verified data.
Here are some of the amazing features it offers -
a. Largest MSMEs database in India
b. Access to trending leads across various industries and categories. It is the quickest and smartest way to find your prospects and collect their contact information.
(Pro tip - You can also use this information for nurturing leads and converting them into loyal customers!)
c. Robust tools like geolocator, bulk search, and prospect search to help you enrich your b2b databases with all verified and current data.
d. A chrome extension that can be downloaded from the chrome web store. It makes your life easy by converting your browsing on LinkedIn into prospecting!
To sum it up, Leadzen's AI technology gives you access to over 500+ data sources and comprehensive data that make decision-making processes easier and your decisions more statistically accurate!
 Pricing Plans:
Leadzen's paid plans include the three subscription plans listed below:
1. Standard: 300 credits for $133
2. Starter: 1100 credits for $399
3. Growth: 2600 credits for $798
2. Eazyleadz
Easyleadz is a powerful platform that increases the profitability of a sales cycle by creating highly accurate and customized B2B contact databases for your lead generation campaigns.
All you need ready is an ideal customer profile, and EasyLeadz will build a lookalike audience based on your ideal customer persona. Amazing, right?
Additionally, here are some more interesting features you get -
1. Details of recently funded startups, and fintech companies,
2. Verified data about SaaS (Software as a service) companies, and eCommerce companies globally, particularly in India and the US
3. Using this data as a reference to build personalized and targeted B2B lists for your sales campaigns.
Here's an important catch - You can install the Easyleadz Extension with a 5 Day Free Trial. APIs and datasets from EasyLeadz start at $29. Contact a member of the EasyLeadz team to acquire unique pricing choices, data subscription fee details, and quotations for EasyLeadz's data offering tailored to your use case.
 Pricing Plans:
Pricing Structures of different ranges that they currently offer are:
A. $500 for 250 credits
B. $1000 for 450 credits
C. $2500 for 1050 credits
D. $5000 for 2000 credits
 3. Lusha
Lusha was formed to create the world's largest data collecting procedure society for B2B salespeople. Its network now includes over 670,000 salespeople and 223,000 sales businesses, notably Zendesk, Google, Dropbox, and Uber.
Lusha's self-service tools provide accurate and easily accessible data to B2B salespeople of all sizes. To find, engage, and close prospects, sales professionals can use Lusha's generating leads platform, chrome extension, and API.
Note - You can sign up for free and search for contact information about prospects. The free plan includes 5 free credits per month, and the paid plan begins at $79.0 per month.
Pricing Plans:
Lusha offers these 3 subscription plans:
a. Professional ($79.00 per month)
b. Personal ($99.00 per month)
c. Premium ($199.00 per month)
4.   Apollo.io
Founded in 2015, Apollo.io is a leading intelligence and sales engagement platform trusted by nearly 9,000 paying customers. These typically range from rapidly growing startups to some of the world's largest corporations.
Additionally, their approach to crowdsourcing data ensures data accuracy while providing users with maximum coverage!
Its database contains over 220 million contacts and 30 million companies with reliable and accurate data. Here's how their functionalities help with prospecting -
For Teams - Effectively scale outbound activity and sequences.
For Sellers and marketers - Find new customers, connect with contacts, and develop a modern go-to-market strategy.
Pricing:
You can use Apollo software in free mode as Apollo.io offers you an introductory offer of One Month's Free Trial.
Additionally, there are 2 subscription choices:
✅ Apollo Pro: $5 (one-time payment option that unlocks additional features in the software)
✅ Apollo Ultra: $1 per month membership (or $10/year, or a lifetime unlock option is also available)
5.   Zoominfo
ZoomInfo is another amazing provider of go-to-market intelligence solutions.
By combining best-in-class technology with unrivaled data coverage, accuracy, and depth of contacts, this platform enables business-to-business sales, marketing, and recruiting professionals to hit their targets.
Over 20,000 customers from global enterprises, mid-market companies, and small businesses make up the company's large and diverse customer base.
ZoomInfo provides a free trial for all of its programs, but the website does not specify how long the trial period lasts.
Moreover, its packages begin at $14,995 per year with a two-year minimum commitment. If you only sign up for a year, the price rises by a small fraction.
Pricing Plans:
Their three plans are:
A. Professional ($14995)
B. Advanced ($24995)
C. Elite ($3995)
To conclude…
Relying on instincts is not it anymore, you also need to be statistically right and understand market trends. To achieve that, it has become very important to be backed up by a good technology toolkit.
The tools discussed in this article are best in their respective fields, so you don't have to worry about usability or features. They all deliver on these fronts. All you would need to figure out is the right tools that can help you achieve your business/marketing objectives.
We hope you found our suggestions helpful. If you do, make sure to implement these in your business, and you'll see wonderful results!
Happy Prospecting!